Posted on
Sun, Mar 27, 2011 : 5:59 a.m.
The hands that guide: Trey Burke could see key minutes next season for the Michigan basketball team
By Michael Rothstein
Courtesy of Benji Burke
COLUMBUS, Ohio — His hands are coarse and calloused, almost bruised to the bone. Trey Burke's flesh wraps around his digits like the hands of a factory worker who bangs away shift after shift.
These hands are something special.
Burke plays point guard, so his hands are everything. These hands have controlled the dribble since he started playing basketball as 5 years old. They have carried Trey Burke wherever he has gone in basketball, from dominating recreation leagues in Columbus to making him Mr. Basketball in Ohio this year.
Now these hands are part of the future of Michigan basketball, where he will play in the fall after committing to the program last August. And right now, they look like they belong to a man twice Burke's age.
"That's one of my most important features, really," Burke said. "Ball-handling wise, passing and catching, that all has to do with your hands.
"That's the most important thing."
The rims around Columbus, Burke says, wore his hands out, although he later says they have always been that way. No one is complaining.
These thieving hands These hands forced his youth basketball league, Youth For a Positive Image, to keep him from pressuring the ball as a kid. The league's directors eventually stopped Burke from going near opposing ballhandlers before they crossed half court.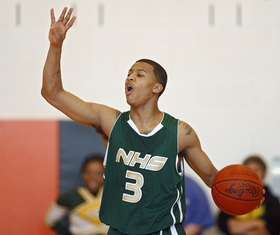 Courtesy of Benji Burke
When he did get close, a turnover usually followed.
"He had just started playing basketball," Burke's father and AAU coach, Benji, said. "And he would steal the ball all the time.
"He stole the ball all the time and laid it up."
Burke was 6. He barely knew what he was doing on a court except he could dribble with both hands, make layups and take the ball from whomever he pleased.
The only thing he didn't know was the score.
After every game, Burke ran up to his father and asked if his team had won. He rarely did. When Benji told him, Burke lost it, collapsing into a ball of tears and frustration.
"The thing that got me was how he hated to lose," Benji said. "You had parents saying, 'You should stop him,' because he shouldn't be acting like that. I didn't mind because he didn't like to lose.
"I would just have to talk to him all the way home, say, 'You know, you're not going to win every game. It's OK to lose, never like it.' Every weekend, I would have to explain this whole story."
Burke couldn't understand it. Just a kid, he saw he was scoring most of his team's points and playing the majority of defense. All of this came from his hands and a natural ability.
He's just always had it.
When the hands lost control Burke and his best friend, Jared Sullinger, were play-fighting in the basement. A year older and almost twice Burke's size, Sullinger would cause problems when they played basketball on a Little Tykes hoop in the basement.
They hung out, often staying at each other's houses on weekends, becoming AAU teammates, high school teammates and they now consider themselves brothers.
And on this day, when Burke was in fifth grade, they bonded.
Joking around, Burke's hands lost control. As good as they were on the court, they were bad off of it.
"We were playing around, and he had no hand control when he was young, when we would play around and fight," Sullinger said. "He hit me in my nose and my nose started bleeding."
Burke, realizing what he had done, didn't stick around to see his friend's reaction. He bolted up the stairs.
"It was a funny situation now that we look back on it, but then, it was a serious moment," Burke said. "He got real mad, and I took off as soon as I did it because he was way bigger than me. And at the time, he was kind of fat back then."
They laugh about it now and neither can really remember what it was over, although the two prevailing theories are basketball or a mistakenly eaten cheeseburger.
The incident bonded the two and created a friendship both say made them better on the court. It's a relationship that yielded three of the better seasons in Northland memory, one of the top high school teams in the country. And now they both have Big Ten scholarships.
Sullinger went to Ohio State, where he became one of the top players in the country as a freshman. Burke is heading to Michigan, where he'll likely see early minutes because of those hands crafted in Columbus.
"The Michigan family will be really happy with what they got in Trey Burke," Sullinger said. "He's an awesome basketball player."
Hands of the future All season, Michigan coach John Beilein referenced the future, what his Wolverines team will look like once the kid with the great hands actually plays in Ann Arbor.
The hands are what you'll notice first, but the 6-foot-1 Burke's game is about more than that. When he arrives, he'll be one of the Wolverines' fastest players.
He'll add another shooter to the mix — and he's a guy who can spell all-Big Ten guard Darius Morris at point guard. It was that speed and, yes, those hands, that attracted Beilein to Burke once he decommitted from Penn State last year.
Playing for the first time without Sullinger in high school, Burke averaged 23.6 points, shot 47 percent from the 3-point line and averaged 6.8 assists a game, leading his team to Saturday night's Ohio state championship game.
And he believes he can play right away in college — in part because of his hands.
"If I go in next year and I be aggressive and play my game, it'll translate smoothly," Burke said. "Me being as close as I am to coaches and Coach Beilein and Coach (Jeff) Meyer, I know they'll kind of let me play my game next year. And me being a point guard on the court, that's what they need right now, to get others involved.
"I feel like I'd fit in great and make a great impact as a freshman."
Michael Rothstein covers University of Michigan basketball for AnnArbor.com. He can be reached at (734) 623-2558, by e-mail at michaelrothstein@annarbor.com or follow along on Twitter @mikerothstein