Posted on
Sun, Apr 25, 2010 : 8:23 p.m.
Getting to know new Michigan assistant basketball coach Bacari Alexander
By Michael Rothstein
Michigan named Bacari Alexander its new men's basketball assistant coach on Saturday. Among the things Alexander is known for is a two-year stint with the Harlem Globetrotters.
He traveled to 13 countries and worked as an ambassador for the 'Trotters, often doing media and public relations appearances for the traveling basketball show.
When AnnArbor.com caught up with Alexander, asking about the Globetrotter experience was paramount.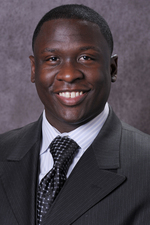 Q: The Globetrotter experience, does that come up in recruiting, how much do you pull on it?
Bacari Alexander: "I don't pull on it much. I have one former teammate at the BCS, high-major level if you will, and that is Orlando Antigua. We both played with the Globetrotters and he's at Kentucky now under Calipari's leadership. You don't really draw on it as much. It becomes more of a conversation piece as kids are getting to know you in the recruiting process but I don't know if it's a dealmaker or dealbreaker. It's just fun to talk about from time to time."
Q: When Flight Time was on the Amazing Race, did that help bring it up at all. Were you like 'Hey, do you watch the Amazing Race? I played with that guy, too.'?
BA: "It's funny. Flight Time is a good buddy of mine. I was sitting there (watching). Definitely no recruiting advantages come from it, man, but it always a great conversation to have with kids, whether you are recruiting them or they are on the current roster. They always want to poke fun and see you show them a thing or two."
Q: What was the best Globetrotter experience you had?
BA: "You don't realize what the significance of the Globetrotter experience is until you travel abroad. When I went to Stockholm, Sweden and there was a capacity crowd in the arena to the tune of 18, 19,000 sold out, I said 'Wow.' You don't realize that you're a part of something so much bigger than yourself."
Q: I talked to a Globetrotter last year and he said there are times overseas where you get bumrushed by fans. Did you have those experiences, where you say 'Whoa, this is much bigger' than you realized?
BA: "Certainly and then the other part of things for me in particular, we all have dreams of playing at the NBA level, the professional level. I had the great fortune in playing in just about every NBA arena. So you had the crowds, the atmosphere. Going through the Globetrotter experience is something I'll cherish for the rest of my days."
Q: Did you have a Globetrotter nickname?
BA: "Yeah. B A. It stands for Bacari Alexander. A lot of people get creative and think it stands for other things. So 'BA' or you can say 'Best Attitude.' That's some pretty good stuff."
Q: Perry (Watson) probably had a large influence in you and the way you've developed as a coach. Are there other people who have influenced how you coach now?
BA: "Certainly. I played high school ball under the guidance of Larry Pierce at Detroit Southwestern and coach Pierce and his staff were very influential. You fast-forward on, the time I spent under Jarrett Durham at Robert Morris under his staff, that was a great experience even though we struggled to win games. Then when you fast-forward, man, to the staff that I had played under. Coach (Mike) Jackson, Coach David Greer the head coach at Wayne State. Mickey Barrett, the athletics director of U of D Jesuit high school. All those guys were a significant influence. Not to mention Detroit is a pretty unique place because every head or assistant coach on the high school level has a hand in your development. So I really attribute a lot of my successes thus far to the community as a whole in metropolitan Detroit and the surrounding suburbs, every coach is pulling you to the side, giving you advice. It's been really significant. You talk about the time with Tim O'Shea and Steve Hawkins in the Mid American, you couldn't ask for better leadership during those times."
Michael Rothstein covers University of Michigan basketball for AnnArbor.com. He can be reached at (734) 623-2558, by e-mail at michaelrothstein@annarbor.com or follow along on Twitter @mikerothstein.