Posted on
Wed, Mar 28, 2012 : 9:34 a.m.
Grading the 2011-12 Michigan basketball freshman class
By Nick Baumgardner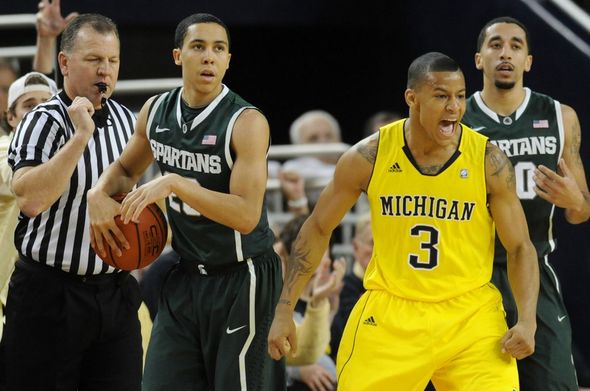 Melanie Maxwell | AnnArbor.com
The Michigan basketball program only really got valuable minutes from one of its four freshmen this season.
But, boy, did that one rookie produce.
Freshman point guard Trey Burke finished the year as the team's first All-American since 1998, capping a banner season that also saw him grab co-Big Ten Freshman of the Year honors.
Now, the Wolverines and coach John Beilein must sit and wait as Burke decides his potential NBA future.
As for the rest of the freshmen, Carlton Brundidge will transfer, and both Max Bielfeldt and Sai Tummala will look to benefit from a redshirt season in 2011-12.
Here's a look at how Michigan's four freshmen fared last season:
MICHIGAN BASKETBALL GRADES
This is the fourth of a four-part season-review series of each Michigan basketball player in 2011-12, looking at what they did well, where they struggled and what's next.
Sunday: Seniors

Monday: Juniors

Tuesday: Sophomores

Today: Freshmen

Trey Burke
Final numbers: 14.8 ppg, 3.5 rpg, 4.6 assists per game, 43.3 FG%, 34.8 3FG%
High points: Burke had exactly one freshman-like moment this season at Michigan. Prior to the team's regular-season opener against Ferris State, Burke was late to a team walkthrough, prompting Beilein to remove him from the starting lineup.
From there, Burke never acted his age again.
The rookie point guard firmly burst onto the scene while on Maui, leading Michigan past Memphis before going for 17 points and nine assists against Duke.
From there, slowly but surely, he became the team's best player. He lit up Minnesota for 27 points early in the Big Ten season, single-handedly closed out Northwestern in mid-January and then went for 20 in a narrow win over Michigan State a week later.
Night in and night out, Burke proved to be Michigan's go-to scorer, and go-to closer -- as he helped knockout Ohio State at Crisler in late February.
His finest hour of the season came in Indianapolis, though, as he dropped a season-high 30 points on Minnesota to lead Michigan to an overtime win in the Big Ten Tournament quarterfinals.
He finished the season with a freshman school record for assists in a season, the co-Big Ten Freshman of the Year award and an honorable mention spot on The Associated Press' 2012 All-America team.
Not a bad debut.
Low points: Though the stage never seemed too big for Burke, he did have his moments of frustration throughout the year, and Michigan usually suffered as a result.
Ohio State and Michigan State both used collective physicality to squeeze Burke in on ball-screens during the regular season, resulting in poor shooting nights, too many turnovers and a pair of Michigan losses.
The same happened again against OSU in the Big Ten Tournament, as Burke went 1-for-11 with eight turnovers in the team's most lopsided defeat of the season.
Though he was a dynamic point guard for most of the year, Burke often relied too much on the ball screen, and had a tendency to pound the ball -- resulting in several stale possessions and questionable shot attempts.
He had an incredible freshman season, but in the end, he was far from perfect.
Future: Currently, everything surrounding Burke's future is in limbo.
He's currently exploring the idea of leaving school early for the NBA draft, a process his father said was still ongoing earlier in the week.
Should Burke come back, he'd instantly be -- along with Tim Hardaway Jr. -- Michigan's best player again, and a likely team captain candidate. He'd have to continue to work on a few of his aforementioned shortcomings from a year ago, but the Wolverines would be happy to have him.
Additionally, if he returns, Burke will have to be all in with the college season. He can't go through the year with one eye on his draft stock and the other on the team. I'm not suggesting he would, just saying it can't happen.
If he opts to leave, Michigan is obviously in trouble. The team still currently has no established reserve point guard, and with the transfer of Brundidge, the graduation of Zack Novak and Stu Douglass, it has no other established backcourt ball handlers.
Needless to say, his decision is a very, very important one for Michigan basketball's immediate future.
Final grade: A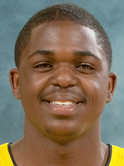 Carlton Brundidge
Final numbers: 15 games played, 2.9 minutes per game, six points, eight rebounds
High points: Beilein appeared ready to give Brundidge a serious look at the backup point guard slot in mid-December, giving the freshman a season-best 13 minutes of action against Alabama A&M.
He then saw spot duty again against Bradley, Minnesota and Purdue as well.
It was never anything extended, and his play didn't register much on the stat sheet, but it seemed to be a sign in the right direction toward his development in Beilein's system. At one point, Beilein declared that if Brundidge was going to get on the court in 2011-12, it'd have to be as a backup point guard.
And in late December and early January, it appeared that might become a reality.
Low points: Brundidge was never a serious rotation player from the get-go, and found himself out of place as an undersized shooting guard -- behind both seniors Douglass and Novak.
Michigan claimed he was in the running with Burke for the open point guard slot before the year began, but that wasn't a reality, as Brundidge had never really played point guard before.
Brundidge missed Michigan's trip to Michigan State on Super Bowl Sunday with asthma complications, something that kept him sidelined for most of February.
He eventually returned to action later in the season, but never again threatened to crack Beilein's lineup.
Future: Brundidge will seek a transfer this offseason after getting little to no play last year, a move that may benefit him, but may also hurt Michigan.
It was clear that Brundidge was going to have to switch positions to play in Beilein's offense going forward, as the Wolverines having plenty of current and future scoring options on the wing and at the off-guard spot moving forward.
Beilein was making an attempt to turn Brundidge into a college point guard, and perhaps would have been successful in time, but now we'll never know.
A once four-star prospect -- and a higher-rated signee than Burke -- Brundidge is looking for a new home, and Michigan is still searching for another point guard for next season.
Final grade: Incomplete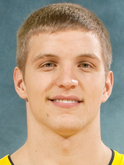 Max Bielfeldt
Final numbers: Did not play in 2011-12
Looking back: Since Bielfeldt redshirted the entire season, it's rather difficult to offer him a grade.
During the early portion of the schedule, Beilein was rather firm with his plans to redshirt Bielfeldt for the entire year, allowing him to catch up to the overall speed and pace of the college game -- something that certainly worked for Jordan Morgan in 2009-10.
Beilein hinted at possibly removing Bielfeldt's redshirt once Jon Horford went down with injury in December, but never went through with it.
Later in the season, it was revealed that the 6-foot-7, 240-pounder had been battling through knee tendonitis, and was spending a great deal of time rehabbing the injury in preparation for next season.
Looking ahead: Bielfeldt certainly has the girth to help Michigan on the glass next season, and Beilein routinely raved about his ability to rebound in space during periodic media sessions this past season.
If his knees can fully heal, and his summer conditioning and skill workouts are exceptional, it's not a far-fetched thought to see Bielfeldt providing Michigan with 10-15 minutes of interior help next season.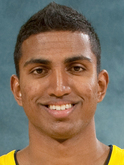 Sai Tummala
Final numbers: Did not play in 2011-12
Looking back: Tummala, like Bielfeldt, didn't register a minute this past season. So, again, he can't really have a grade.
After going through some concussion symptoms early in the season, it became easier for Beilein and staff (and Tummala) to decide on a redshirt year in 2011-12.
Looking ahead: We don't know much about the 6-foot-6, 190-pound preferred walk-on, outside of the fact that he's left handed, he'll be just 19 when next season starts and Beilein loves his athletic ability.
"He may be our most athletic player," Beilein said early last December. "Aside from maybe Trey Burke, he's one of our quickest players and has really showed some good signs.
"I really like what he's done so far in practice."
Tummala's still a wild card, and whatever jump he makes next season, it'll likely have to be big enough to steal minutes from Tim Hardaway Jr. and Glenn Robinson III.
But, hey, one never knows.
Nick Baumgardner covers Michigan basketball for AnnArbor.com. He can be reached at 734-623-2514, by email at nickbaumgardner@annarbor.com and followed on Twitter @nickbaumgardner.