Posted on
Mon, Nov 14, 2011 : 10:35 p.m.
Hot start leads Michigan basketball team to a 64-47 win over Towson
By Nick Baumgardner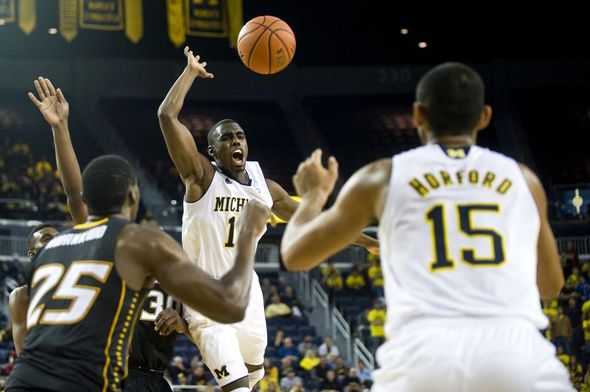 Joseph Tobianski I AnnArbor.com
During its first two tests of the season, the Michigan basketball team looked rather rusty.
During the first 10 minutes Monday, the Wolverines effectively shook off most of that rust.
No. 17 Michigan scored the game's first 21 points and held visiting Towson without a field goal for the opening 9:27 in a 64-47 win in a "Maui on the Mainland" game at Crisler Arena.
"We're pleased that we got off to such a great start, certainly that was as good a start (as we've had), but it's tough to keep that up," said Michigan coach John Beilein, whose team was actually out-scored 31-27 after halftime. "The second half certainly wasn't a beautiful basketball game, but the first half was pretty darn good."
At the time of Towson's' first field goal, a jumper from Erique Gumbs at the 10:33 mark of the first half, Michigan had already forced seven turnovers.
MICHIGAN 64, TOWSON 47
Nick Baumgardner's recap of Michigan's win against Towson:
HOT START
Michigan began the game on a 21-0 run over the game's first 10 minutes. Towson finally found its way on the scoreboard at the 10:33 mark of the first half, scoring the first points allowed by Michigan since the 8:32 mark of the second half in a 59-33 win over Ferris State on Friday.
WELCOME ABOARD
After being late to a pregame walkthrough and being forced to the bench against Ferris State, freshman point guard Trey Burke earned his first career start against Towson. He didn't disappoint, either, finishing the game with 13 points, two rebounds and two assists in a team-high 30 minutes of action.
QUOTE
"I saw some very good things during (the 21-0 run). I saw a very steady and much more controlling guard in Trey Burke, with understanding what we're doing. Zack Novak and Evan (Smotrycz) are showing a great deal of toughness on the court and that's something we need very much. It's a 'W,' the second half certainly wasn't a beautiful basketball game, but the first half was pretty darn good."
— Michigan coach John Beilein
RELATED CONTENT
Prior to the score, the Wolverines had not allowed a field goal since the 8:50 mark of the second half
against Ferris State
. Combined, Michigan went 17:17 of game time without allowing a bucket.
Freshman point guard Trey Burke, who made his first career start, finished with 13 points, two assists and two rebounds in a team-high 30 minutes of action.
Burke was slated to start the season-opener against Ferris State on Friday, but was late to the team's pre-game walkthrough, prompting Beilein to bring him off the bench.
The freshman showed up on time Monday, and says he's learned from his error.
"It won't happen again," Burke said with a grin. "A freshman mistake."
Sophomore Tim Hardaway Jr. finished with a team-high 15 points, while sophomore forward Evan Smotrycz added 13 points and four rebounds.
The Wolverines went 25-of-54 from the field and forced Towson into 21 turnovers. They also saw their play fall off markedly after halftime, allowing the Tigers to shoot better than 50 percent from the floor in the game's final 20 minutes.
"It's only two games in the year and we have a lot more games to go," Hardaway said. "I believe we can be better."
After slumping out of the gate in an exhibition win over Wayne State and a season-opening victory against Ferris State on Friday, Michigan wasted no time putting away its opponent Monday.
The Wolverines got a pair of 3-pointers from Burke in the game's first three minutes before taking a 10-0 lead into the game's first media break.
The lead would then stretch to 21-0 after a Zack Novak bucket at the 11:48 mark before Towson would finally stop the run.
The second half wasn't nearly as fruitful for Michigan, as the Wolverines allowed Towson to shoot better than 50 percent from the floor and grab a 16-12 rebounding advantage during the game's final 20 minutes.
"Our team understands that," Beilein said of the second half letdown. "It's tough to (keep up the first-half pace), but we should be able to do that. We have to improve in some areas.
"There's a lot of things we have to do."
Burke wasn't the only player to earn his first start of the season. Sophomore forward Jordan Morgan got the starting nod over classmate Jon Horford at the five spot. Morgan finished with six points and five rebounds in 19 minutes while Horford added four points and seven rebounds in 14 minutes off the bench.
Inside, Michigan won the rebounding battle 32-30 and outscored Towson 38-18 in the paint.
Michigan will now host Western Illinois at 8:30 p.m. on Thursday before heading to Hawaii for the 2011 Maui Invitational, which kicks off with a matchup against No. 10 Memphis on Nov. 21.
For one half, Michigan was outstanding.
For another, not so much.
But it's November, it's a win and Beilein will take it.
"Western Illinois will be a better test for us to see where we are," Beilein said. "We're using every minute, and every day is urgent if you're trying to go where we'd like to go.
"We have a lot of improvement to do, lots of it."
Nick Baumgardner covers Michigan basketball for AnnArbor.com. He can be reached at 734-623-2514, by email at nickbaumgardner@annarbor.com and followed on Twitter @nickbaumgardner.