Posted on
Fri, Nov 4, 2011 : 5:58 a.m.
How good will Mitch McGary be at Michigan? Here are a few recent measuring sticks
By Nick Baumgardner
With Mitch McGary's commitment to Michigan on Thursday, the Wolverines now have their highest-rated recruit in more than a decade.
He hasn't seen a single second of action in Crisler Arena yet, but don't tell the hype machine. Most highly thought of since LaVell Blanchard, biggest impact since Chris Webber?
We'll have to wait to find out.
But we don't have to wait to take a look back at a few of the most successful freshmen basketball players at Michigan over the past 20 years.
And, by the way, the Fab Five counts as one.
The Fab Five, 1991-92

Let's just get this out of the way early, shall we?
Chris Webber
,
Jalen Rose
,
Juwan Howard
,
Jimmy King
and
Ray Jackson
burst onto the scene and changed everything.
Bald heads, baggy shorts, black socks and the game to match.
If you grew up in the 1990s and didn't think these guys were cool, you're lying.
As a group, the fivesome combined to average 58.7 points per game as freshmen. The rest of the team? Just 19.2. In addition, Michigan's famed five freshmen accounted for 68.4 percent of the team's total minutes.
The records and banners have since been taken down, but the memories and impact will live on forever.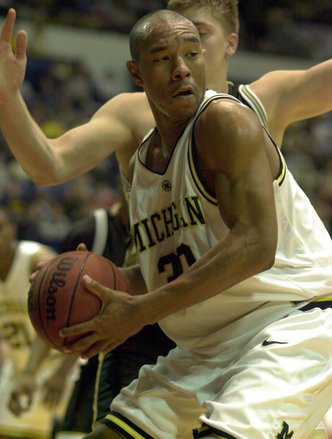 File photo
LaVell Blanchard, 1999-00
Blanchard came to Michigan with plenty of hype as the 1999 Gatorade National Player of the Year.
He also showed up by foot, walking across the street from Pioneer High School.
The early part of Blanchard's freshman season was a bit overshadowed by the eye-popping play of classmate Jamal Crawford, who averaged 16.6 points in 17 appearances before being declared ineligible for the remainder of the season.
Despite the turmoil surrounding the '99-00 season, Blanchard continued to grow statistically. He put up nine double-doubles and finished the year as the team's leading scorer (14.7 points per game) and leading rebounder (7.9 per game).
Despite a disappointing 15-14 season, Blanchard was named the Big Ten Freshman of the Year. He never turned into the program-changer he was believed to be, but NCAA sanctions didn't help either.
Over a four-year career, Blanchard averaged 15.8 points, 7.3 rebounds and 31.4 minutes per game.

Maurice Taylor, 1994-95

Taylor's legacy at Michigan will always be tainted for his involvement in the Ed Martin scandal, but as a freshman, he was stellar.
The 6-foot-9 big man from Detroit Henry Ford High School officially introduced himself to the college basketball world during a Maui Invitational loss to Arizona State. In just his second career game, Taylor went for 21 points and 10 rebounds, connecting on 10 of 13 field goal attempts in 28 minutes of action.
He became a first-year fixture in Michigan's lineup, averaging 12.4 points to go along with 5.1 rebounds before eventually earning the Big Ten Freshman of the Year award.
Michigan forfeited every game Taylor ever played due to the scandal, and has disassociated itself from him until 2012.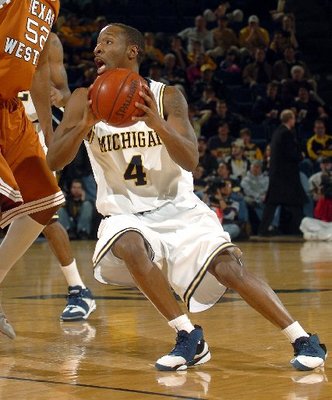 File photo
Daniel Horton, 2002-03
A McDonald's All-American combo guard from Cedar Hill, Texas, the 6-foot-3 Horton was one of the most highly touted recruits of the Tommy Amaker era.
Horton was a Rivals.com four-star prospect and rated as the seventh-best shooting guard in America at the time of his signing.
During his first season at Michigan, he lived up to the hype.
Horton quickly became a fixture in Amaker's lineup, starting every game and logging a team-high 36.1 minutes per contest. He became Michigan's best assist man, one of its top 3-point shooters and finished second to Blanchard in scoring with 15.2 points per game.
The banner moment of Horton's freshman season came in a February road win at Purdue, where he poured in a season-high 31 points in 39 minutes to lead Michigan to a 78-67 win.
Horton eventually won the Big Ten Freshman of the Year award, but regressed drastically as a sophomore. He played in just 13 games as a junior, but was able to finish strong at Michigan, averaging 17.6 points and 5.3 assists as a senior in 2005-06, leading Michigan to an NIT championship game loss to South Carolina.

Manny Harris, 2007-08

A consensus four-star shooting guard and Rivals.com's 34th best player in America, Harris was originally recruited to Michigan by Amaker and re-recruited by John Beilein following Amaker's firing.
Michigan had a dreadful campaign during Harris' freshman season, going just 10-22. Individually, though, Harris was top notch.
He started every game, led the team in scoring (16.1 points) and added a solid 4.2 rebounds and 2.7 assists per contest. If it hadn't been for Indiana's Eric Gordon, Harris may have had a shot at the Big Ten Freshman of the Year award.
Though he scored more as a junior, Harris' best statistical year at Michigan came as a sophomore. He put up 16.9 points per game, 6.8 rebounds per game and 4.4 assists per contest to help lead Michigan back to the NCAA Tournament for the first time since 1998.

Other notable freshmen sensations

Louis Bullock, 1995-96 (13.5 ppg, 3 rebounds per game); Jamal Crawford, 1999-00 (16.6 ppg, 4.5 assists per game in only 17 games); Bernard Robinson Jr., 2000-01 (14.4 ppg, 2.3 rpg); Tim Hardaway Jr., 2010-11 (13.9 ppg, 3.8 rpg).
***
Have any other favorite Michigan freshmen? Some from the way-back machine? Feel free to let us know in the comments section.
Nick Baumgardner covers Michigan basketball for AnnArbor.com. He can be reached at 734-623-2514, by email at nickbaumgardner@annarbor.com and followed on Twitter @nickbaumgardner.