Posted on
Wed, Feb 16, 2011 : 11:53 p.m.
Illinois hangs on to beat Michigan basketball team as Stu Douglass' last-second shot barely misses
By Michael Rothstein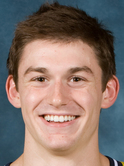 Updated: 11:53 p.m.
CHAMPAIGN, Ill. — Stu Douglass saw the ball hang in the air for what seemed forever, his left-handed, one-handed, off-balance shot headed toward the basket.
The red light went off. If the shot fell, the Michigan basketball team would have an improbable win on the road against Illinois.
The ball clanged off the front rim and Michigan's comeback came up one shot short. Illinois 54, Michigan 52.
Douglass' shot was the difference between feeling good about a potential NCAA berth and not, the difference between fourth place in the Big Ten and eighth place in the league.
"I was hoping," Michigan coach John Beilein said. "I was hoping. He let go of it so quickly, it was a prayer-type of shot."
RELATED CONTENT
It was a prayer that everyone in Michigan's locker room thought might be answered. Douglass, who said he practices those types of shots more than he should, thought it was good.
Junior guard Zack Novak: "It looked good to me, and I was right under the basket."
That Douglass was in position to hit a game-winner was unexpected. Michigan (16-11, 6-8) had the ball on the final possession trailing 54-52, although it is unclear if everyone on the court knew the exact situation.
Sophomore guard Darius Morris, who had 11 points and seven assists, took the blame for Michigan's last possession, saying he should have driven the ball to try for the tie instead of passing to an open Evan Smotrycz for a 3-pointer that went long and ended up in Douglass' hands.
ANNARBOR.COM THREE STARS
First Star: Demetri McCamey
The Illinois senior guard rebounded from a tough stretch with 18 points on 7 of 15 shooting. His play also tired Michigan guard Darius Morris.

Second Star: Jordan Morgan
When Michigan made its late run, it was in part due to their redshirt freshman forward, who had a team-high 12 points, grabbed seven rebounds and had his best game against good competition in the post.

Third Star: Darius Morris
When Michigan's point guard re-entered the game, he made big play after big play either passing the ball or with his own shot to keep the Wolverines in the game. He finished with 11 points, six rebounds and seven assists.

Readers' choice

"I thought Evan's was going in, thought Stu's was going in," Morris said. "Didn't work out that way. Would have been great if it did go in, but I blame it on myself."
Freshman guard Tim Hardaway Jr. said his teammates went for the win instead of overtime, but he didn't see the scoreboard to know the exact situation.
"We were just trying to do, we didn't look at the scoreboard at all, it was our mistake," Hardaway Jr. said. "We were trying to go for the three, trying to go for the W instead of the two.
"It happens. It was a great open look, can't get much more wide open in a late-game situation like that."
If there was one player on the floor who knew his shot might be in trouble, it was Smotrycz. He felt confident when he started to go up with his shot, but instead he pump-faked, dribbled and momentum carried him.
"I rushed it a little bit," Smotrycz said. "I thought Stu's looked good. In the air, anyway."
Smotrycz, though, said Michigan knew the situation and the play called for either Morris to drive or for Smotrycz to take a 3-pointer on the wing.
The shot almost erased a night where Morris sat for almost five minutes in the second half in what Morris called a "mutual" decision, where Michigan shot a season-worst 2-of-18 from the 3-point line and shot just 30 percent from the field in the first half.
It would have culminated a Michigan comeback from as much as 11 points down in Assembly Hall, where the Wolverines have lost 13 straight games. It also would have been a boost for redshirt freshman forward Jordan Morgan, who had eight of his 12 points in the second half.
It also almost erased an 18-point night from Illinois guard Demetri McCamey, who appeared to break out of his funk for the Illini (17-9, 7-6).
All of that stood, though, because Michigan's prayer of a shot fell just off.
"First I thought maybe it was going to be long, then I thought it was going in," Douglass said. "It ended up being short. Just seemed like the story of the day with my shot, even if it was left-handed.
"Our whole fight, whole push in the second half we had was hanging on that shot. And it came up short."
Michael Rothstein covers University of Michigan basketball for AnnArbor.com. He can be reached at (734) 623-2558, by e-mail at michaelrothstein@annarbor.com or follow along on Twitter @mikerothstein