Posted on
Wed, Feb 16, 2011 : 11:50 p.m.
Michigan guard Darius Morris explains his extended stay on the bench and other notes
By Michael Rothstein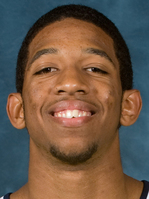 CHAMPAIGN, Ill. — John Beilein stopped Darius Morris as he took him out of the game, put his left arm around his sophomore point guard's waist and the two talked for almost 30 seconds.
Well, Beilein did most of the talking.
At the time, it looked like a punishment of a bad offensive decision as Morris had dribbled too much the possession before. At the time, Illinois held a 41-34 over the Michigan basketball team with 12:08 left in the second half.
Then Morris, who is averaging a Big Ten-leading 34.9 minutes a game entering Illinois' 54-52 victory against Michigan, sat for a little more than 7 minutes before being re-inserted into the lineup.
"(Beilein) took me out and wanted me to sit down for a bit and tell him when I was ready to go back in," Morris said. "The team was playing well, and I didn't want to mess up the rotation.
"It was mutual. The assistant coaches were like, 'He's waiting on you to tell him you're ready to go back in.' But I liked what I saw out there."
Morris saw Michigan cut the Illinois lead to one, 45-44, after a Zack Novak layup. When Morris returned, the Wolverines trailed by four points, 50-46.
RELATED CONTENT
"We gave him a fatigue rest right there because he was playing with a lot of fatigue and was playing like he was fatigued," Beilein said. "So sit down, and it was going so well, let's go with it."
Morris came back in and scored immediately on a layup. He finished with 11 points, seven assists and six rebounds. He also had to guard the Illini's best player, Demetri McCamey, who had 18 points.
"I caught my breath," Morris said. "They did a good job of pressuring the ball, and I was guarding McCamey as well. The coaches noticed I got a little bit tired and then when they took me out, we got on a little run before they separated again, but I felt rejuvenated when I came back in the game.
"It was the most rest I've gotten."
Wednesday, bloody Wednesday
On the second possession of the game, Stu Douglass started to bleed. Not sure what was going on, he ran to the sideline, had cotton shoved in his left nostril and continued on.
He also had scratches and bruises on his arms and hands and a Band Aid on his left side.
"Just wouldn't stop bleeding," Douglass said. "Some scratches, just beat up."
Douglass said the myriad bumps and bruises didn't affect his shot, although he was 1-of-5 in the first half from the 3-point line and 1-of-8 overall from the 3-point line for the game.
At one point in the first half, he even air-practiced his release.
"It wasn't messing with it, just short," Douglass said. "They all felt good, right on line. Just short."
Douglass started his third straight game in place of Evan Smotrycz.
Hot start
Michigan hit its first five shots and most of them came from freshman guard Tim Hardaway Jr., who had seven points in the first five minutes and finished with 10.
"You get to the basket and they are really long," Hardaway Jr. said. "It's tough to shoot over them. That's when floaters and finding the open man comes into play."
He was frustrated, too. Sophomore guard Josh Bartelstein even grabbed Hardaway Jr. during a timeout in the first half to calm him down.
"We were just frustrated," Hardaway Jr. said. "We were just wide open and couldn't knock down shots."
Michael Rothstein covers University of Michigan basketball for AnnArbor.com. He can be reached at (734) 623-2558, by e-mail at michaelrothstein@annarbor.com or follow along on Twitter @mikerothstein