Posted on
Mon, Dec 12, 2011 : 1:16 p.m.
John Beilein still working on bench rotation, Novak playing more guard and more Michigan basketball notes
By Nick Baumgardner
Angela J. Cesere | AnnArbor.com
The
Michigan basketball
team has found out plenty about itself over the first month of the season.
Trey Burke is pretty good, Evan Smotrycz is starting to grow up and the Wolverines still have some work to do on the road.
However, with just three more non-conference tests before the start of Big Ten play, Michigan coach John Beilein is still looking for an answer to one question.
His bench rotation.
"I think that our starting five is pretty solidified and you can count on Stu Douglass coming off the bench," Beilein said Monday during a Big Ten coaches teleconference. "But we're looking for who's going to give us something offensively and defensively at the seventh, eighth and ninth spots."
Against Oakland on Saturday, Beilein started the group of Burke, Smotrycz, Tim Hardaway Jr., Zack Novak and Jordan Morgan for the eighth straight game.
Michigan's lone true bright spot off the bench came from Douglass, who had been mired in an early-season shooting slump.
Douglass -- who had been shooting just 38 percent from the floor, 29 percent from 3-point range -- went 4-for-7 from the floor for 13 points in 19 minutes of action.
"He has had some really good days in practice," Beilein said of Douglass. "He's been practicing like that and I'm happy for him. People don't see what I see every day, and I'm sure people question him ... or he may question himself.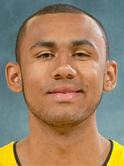 "But he's capable of games like that and we've seen it in the past."
The rest of the bench wasn't as solid.
Forward Jon Horford was the team's first man off the bench, and he did grab five rebounds in 11 minutes of action, but Beilein said the 6-foot-9 sophomore continues to be hampered in practice with a foot injury.
Junior guard Matt Vogrich saw 10 minutes of action off the bench, but as has been the case all season, he did little with them, scoring just two points and missing the only 3-pointer he attempted.
Through nine games, the normally sharp-shooting Vogrich has gone just 7-for-23 from the floor, 1-for-13 from 3-point range.
"We had a really good workout with Matt (on Sunday)," Beilein said. "For the guys that didn't play (very much Saturday), we treated (practice Sunday) like a game day. And he was exceptional in the workout.
"That's what I see every day (from Vogrich). So we'll keep throwing him in there. It only takes one shot for him to get himself back going."
As for the ninth spot in Beilein's rotation, the candidates are junior guard Eso Akunne and junior forward Blake McLimans.
Akunne played two minutes Saturday, while McLimans only saw one minute of action against Oakland.
Beilein said he may use the team's final three non-conference games against Arkansas-Pine Bluff, Alabama A&M and Bradley to tinker with his rotation -- but mainly, that work will be done in practice.
"I hope we have opportunities like that," Beilein said. "But at the same time, we're out to win every game first. We'll experiment in practice.
"We don't experiment a whole lot in games."
Angela J. Cesere | AnnArbor.com
Novak's all-around
game impressing
Novak didn't light up the scoreboard Saturday against Oakland, but he did stuff the stat sheet.
The Michigan senior co-captain finished with five points to go along with six rebounds and eight assists in 30 minutes against the Golden Grizzlies.
Beilein said Novak's increased assist totals came because Michigan had no concern with primarily letting him play guard, rather than forcing him to play the four-spot due to interior deficiencies elsewhere.
"It was because of Evan's evolution where he's rebounding, shooting and getting to the foul line that we felt better about Zack (just) playing guard," Beilein said. "And he's at a comfort level now where he's seeing things better.
"(Novak's game) didn't go under the coaches' radar, it was one of the first things we mentioned (afterward). ... I'm really pleased with his evolution as he goes back to a two-guard."

Burke continues to soak up information

Beilein was asked Monday if there was any single thing Burke has done this season to be as successful as he's been.
As he's maintained all season, Beilein said Burke's willingness to listen and be coached has given him a leg up as a first-year player.
"We're continuing to just give him more and more and he's showing no frustration when he makes mistakes," Beilein said. "He's allowing himself to become a better player because he's a great listener.
"He's well prepared, he had a great high school coach and came from a great program. He was very well prepared to play college basketball."

Odds and ends

Beginning Dec. 19, construction fences at Crisler Arena will be put in place due to ongoing arena upgrades. As a result, Gate E will be closed for the remainder of the season. Fans entering Crisler Arena from the north will be directed to enter Gate C, via the Gate 1 steps. Gate C will also be accessible from the south, via Gate 2. ... Michigan will host a "Team Night" promotion Tuesday when it welcomes Arkansas-Pine Bluff (7 p.m., ESPNU) into Crisler Arena. All local youth basketball teams will be offered a discounted group ticket package. For more information, contact Jake Stocker at 734-615-2025. ... The second installment of Beilein's weekly radio show will be held at 7 p.m. Monday night from the Pizza House in Ann Arbor. It can be heard locally on WTKA 1050-AM and on other Michigan basketball radio affiliates.
Nick Baumgardner covers Michigan basketball for AnnArbor.com. He can be reached at 734-623-2514, by email at nickbaumgardner@annarbor.com and followed on Twitter @nickbaumgardner.
Want to stay connected to Wolverine basketball in your Facebook newsfeed? "Like" AnnArbor.com's Michigan Basketball News & Views.