Posted on
Thu, Aug 19, 2010 : 6:07 p.m.
Jon Horford showing improvement and the Michigan basketball schedule in Europe
By Michael Rothstein
Jon Horford came to Michigan knowing he needed to put on weight to contribute as a freshman.
While that's still coming for the 6-foot-9 forward from Grand Ledge, one thing has grown immensely throughout the 10 days the Michigan basketball team has had to prepare for its European tour.
His confidence.
"I don't know what it would be, but knowing the plays is something that really stood out with me," Horford said. "And just being confident with myself. I guess body positioning, too, getting lower defensive positioning.
"Just a bunch of stuff when I first came in I was really off and I still need to improve upon that, improve upon my passing, improve upon everything."
He is getting there, though.
Michigan coach John Beilein singled him out Thursday as someone who, at the very least, wants to learn.
"That's all he wants to do," Beilein said. "He's one of the most eager young men wanting to improve his game and it's really fun watching him."
Horford is competing for playing time with redshirt freshmen Blake McLimans and Jordan Morgan at the five-spot in Michigan's offense and defense.
Rotation, Rotation Beilein has long been known as a coach that is not hesitant to switch his playing rotations or his starting lineups. Sometimes he'll do it based on opponent and other times based on something he sees in practice.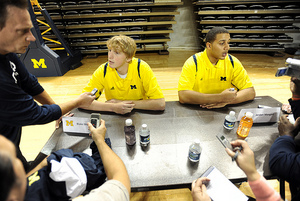 In Europe, though, he's going on experience.
"I don't know yet," Beilein said. "I'll probably go back, let the most experienced guys, Blake McLimans being one of them, in to start and bring freshmen off the bench to start.
"I would assume (I would) go with something like that."
That would mean guards Darius Morris, Matt Vogrich and Stu Douglass starting along with swingman Zack Novak and McLimans.
Beilein said he'd go with McLimans over fellow redshirt freshman Morgan because McLimans was healthy most of last year.
That would leave freshmen Evan Smotrycz, Tim Hardaway Jr., Colton Christian and Horford coming off the bench with Morgan and walk-ons Eso Akunne, Josh Bartelstein and Corey Person.
Transfer Jordan Dumars cannot make the trip due to NCAA rules.
Trip breakdown Michigan is going to have a busy week overseas. After leaving Friday for Belgium, the Wolverines will practice Saturday at 6 p.m. local time in Brussels. The next day they'll play Ghent at 4 p.m., followed by a 7 p.m. game Monday against Charleroi.
Tuesday will be an off-day where the team will take a day trip to Paris.
On Wednesday they'll tour Brugge, Belgium in the morning before a game against Oostende at 8:30 p.m.
Thursday will be the team's final game, at 7 p.m. against Mons, the former team of new Michigan administrative assistant Travis Conlan, who helped set up the trip.
Following that game, they'll head to Amsterdam on Friday and then back to the United States on Saturday.
Charleroi won the Belgian League title last year and beat Oostende in the semifinals. Charleroi's team a year ago -- this is still the preseason in Europe -- had former James Madison star Dwayne Broyles and Florida standout Justin Hamilton on its roster.
Former Vanderbilt star Shan Foster is listed on the Mons roster and Will Thomas, who helped lead George Mason to the Final Four in 2006, was on the Oostende roster last year.
"They are going to be probably stronger, obviously a lot smarter because they are older," Conlan said. "What we're going to have to do is pester them a little bit with our enthusiasm.
"I'm an old guy now so I didn't like when young guys got all into our stuff. So that's kind of our gameplan and (to) evaluate ourselves and see kind of what we got. I don't think it's a wins and losses thing we're looking for. It's more for coach to evaluate where our team is at."
Michael Rothstein covers University of Michigan basketball for AnnArbor.com. He can be reached at (734) 623-2558, by e-mail at michaelrothstein@annarbor.com or follow along on Twitter @mikerothstein