Posted on
Thu, Mar 21, 2013 : 5:30 a.m.
Life is good 'up in the club' for the Michigan women's basketball team
By Pete Cunningham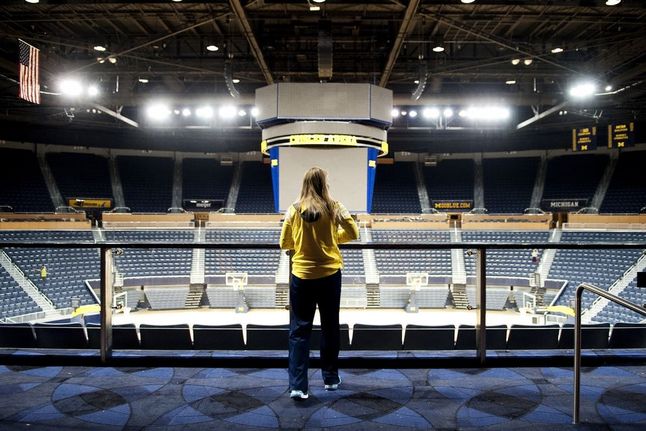 Daniel Brenner | AnnArbor.com
Before the Michigan women's basketball team learned its NCAA Torunament fate on Monday, first year head coach Kim Barnes Arico told her team to "enjoy the moment."
After her team was announced as a No. 8 seed in the Spokane, Wash. region, Barnes Arico took her own advice out on the balcony of the "Crisler Club" which overlooks the court inside the newly renovated Crisler Center.
Sixty-four teams enjoyed similar moments on Monday, but you'd be hard pressed to find another that enjoyed such chic accommodations.
"This place is pretty unbelievable," said Barnes Arico of the Crisler Club, one of the several amenities added during Crisler's $52 million renovations. "I've been up here one other time, but I didn't really get to walk around and check it out and walk outside. I mean this is a fabulous facility and I think it's just a great place."
During ESPN's selection show, the camera's cut to viewing parties across the country. Some teams sat in folding chairs on gym floors or at restaurants while Michigan's players enjoyed a catered meal served in the cafeteria style buffet line in the club.
Some sat in restaurant style booths, others in comfortably padded chairs with a luminescent Block 'M' shining above on the ceiling.
No matter where the players turned, there were flat screen TVs to watch the show on.
"I'm glad we got to celebrate it here. There's no better place to do it than at Crisler. We talked about maybe going out and trying some different venues, and going to restaurant or renting some place, but this place is better than any of those," Barnes Arico said.
The luxurious surroundings will be used to lure future recruits and is an enjoyable perk for current seniors like Kate Thompson.
"It's a blessing, it really is. Just from what we've experienced as freshman and all the changes that have happened. Michigan has done such a good job to take care of its basketball program and it's an honor to be here," Thompson said.
"To have this available to us is unbelievable," echoed fellow senior Rachel Sheffer. "You don't say leaders and best for nothing when you're here at Michigan. We're among the best and have the best facilities."
"Just to be able to come up here after a practice and be able to hang out with the team is just unbelievable."
Pete Cunningham covers sports for AnnArbor.com. He can be reached at petercunningham@annarbor.com. Follow him on Twitter @petcunningham.