Posted on
Thu, Dec 22, 2011 : 10:08 p.m.
Michigan basketball pulls away from Bradley in 2nd half for 77-66 win
By Nick Baumgardner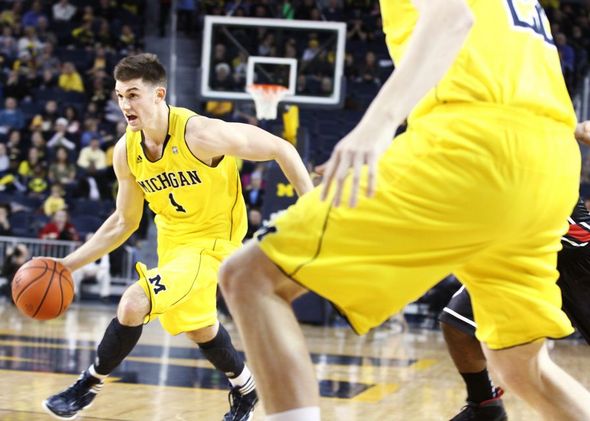 Jeff Sainlar I AnnArbor.com
Updated at 10:08 p.m.
With their team in need of a serious jolt Thursday night, Tim Hardaway Jr. and Stu Douglass stepped forward and gladly delivered the juice.
Douglass' highlight-reel second-half alley-oop lob to Hardaway not only resulted in the play of the year, but it also put a pesky opponent to bed.
The No. 20-ranked Michigan basketball team got a career-high tying 20 points from Evan Smotrycz, 16 from Hardaway and handed out a season-high 25 assists as a team to pull away from visiting Bradley, 77-66, at Crisler Arena.
"That's the loudest I've heard this building," Hardaway said of reaction to his second-half jam. "Besides the (2008) Duke game on my official visit."
MICHIGAN 77, BRADLEY 66

Nick Baumgardner's recap:
BIG SHOTS
Right now, if Evan Smotrycz is missing, something's wrong. The Michigan sophomore continued his sizzling play, posting his second straight double-double with 20 points and 10 rebounds. The 6-foot-9 forward went 5-for-7 from 3-point range Thursday, is 15-for-19 over his last four games and is making 57.8-percent for the season.
ASSIST CITY
Michigan posted a season-high 25 assists and a season-low six turnovers. Freshman Trey Burke led the way with eight assists, while Stu Douglass added six off the bench and Tim Hardaway Jr. finished with five. The Wolverines' previous season-best assist performance was 20 against Oakland. Michigan's previous season-low turnover number was nine against Duke.
HIGHLIGHT JAM
After Bradley hung with Michigan for the better part of the first 30 minutes, Michigan began to run away from the Braves with a crowd-inspired second-half run. The big play coming on an alley-oop dunk from Douglass to Hardaway that sent the Crisler Arena crowd of 11,298 into a frenzy. Thursday's attendance number was a season-best.
QUOTE
"That's the loudest I've heard this building. Besides the (2008) Duke game on my official visit."
— Tim Hardaway Jr., on the Crisler Arena reaction to his second-half alley-oop dunk.
RELATED CONTENT
Photo gallery
Notebook:
Awkward family reunion? John Beilein says no way
Boxscore
|
Top 25 scoreboard
The win was the Wolverines' fifth straight, and their final pre-Big Ten tuneup. They'll open conference play next Thursday against visiting Penn State.
Smotrycz continued his stellar play of late, grabbing 10 rebounds for his second straight double-double. He also went 5-for-7 from behind the 3-point line, pushing his season 3-point shooting percentage up to 57.8 percent.
"Everybody's doing a great job of contributing in different ways," Smotrycz said. "I've just been the recipient of a lot of good passes."
Jordan Morgan put up 15 points and seven rebounds, as all five Michigan starters finished in double figures. Freshman point guard Trey Burke had 12 points and eight assists, while Zack Novak added 11 points, four rebounds and four assists.
Michigan (10-2) went 31-for-68 from the floor, 10-for-31 from 3-point range.
The Braves (5-7) also had five players finish with double-figure scoring numbers, led by Taylor Brown's 17 points.
After Bradley played Michigan to a first-half tie and found itself within one with 12:50 to play, the Wolverines finally began to shake free after a layup from Morgan, a jumper from Burke and Smotrycz's fifth 3-pointer of the day -- making it 57-49 Michigan.
Bradley got back within five, but a Morgan dunk and a thunderous alley-oop from Douglass to Hardaway brought the crowd of 11,298 to its feet, putting Michigan back up nine.
"It got real loud in there," Burke said. "The fans did a good job tonight giving us a boost."
Hardaway immediately followed with an easy layup off a Novak steal, and after Smotrycz dropped in a layup two minutes later, the Wolverines went into cruise-control mode, up 71-56 with 6:15 left after a 21-7 run.
Bradley got back within nine after a Jake Eastman triple with two minutes to go, but would get no closer.
"The backboard is what turned the second half," Bradley coach Geno Ford said. "At halftime we were out-rebounding them 26-18 and that was a major focus coming in.
"Rebounds in the second half were 21-10 (in favor of Michigan)."
For the game, the Wolverines bounced back to out-perform Bradley on the glass by a 39-36 margin, and out-score the Braves in the paint 36-26.
"They had nine offensive rebounds in the first half and they average 10 as a team," Morgan said. "We said 'get them off the offensive glass, and we'll push (the lead) out.'
"And sure enough (we did)."
The Wolverines never really found any breathing room early, holding a six-point edge after a Douglass triple midway through the first before Bradley eventually pulled in front by a point after Dyricus Simms-Edwards banked in a bucket to make it 26-25 Braves with 5:30 to go in the half.
Michigan eventually went back up five, but Bradley fought back to tie things up with a buzzer-beating 3-pointer from Brown to leave the score at 33-all.
Douglass finished with three points and six assists off the bench for Michigan in 33 minutes of action. He was the only Wolverine reserve to score a point.
Wolverine sophomore forward Jon Horford missed his third-straight game with a right foot injury.
Next Thursday's matchup with Penn State will tip at 7:30 p.m. (Big Ten Network).
"We have to keep working on having 'yes faces,' " Michigan coach John Beilein said. "As I told the team at halftime, 'You're either giving energy or you're draining it.'
"We just have to keep working through that, and we did. It was a very happy locker room."
Nick Baumgardner covers Michigan basketball for AnnArbor.com. He can be reached at 734-623-2514, by email at nickbaumgardner@annarbor.com and followed on Twitter @nickbaumgardner.
Want to stay connected to Wolverine basketball in your Facebook newsfeed? "Like" AnnArbor.com's Michigan Basketball News & Views.