Posted on
Tue, Jun 28, 2011 : 5:51 a.m.
Flint Beecher point guard Monte Morris says Michigan is at the top of his recruiting list
By Pete Cunningham
One day after Darius Morris became a Los Angeles Laker, another point guard named Morris was turning heads on campus.
If things work out, the program may be able to save a few bucks by simply reusing those old No. 4 jerseys.
Flint Beecher High School's rising junior Monte Morris, who said he was offered a scholarship by Michigan on June 16, led his team against Toledo St. John's Jesuit at Michigan's team camp at the Intramural Building on Friday.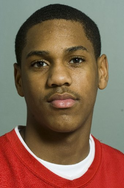 Michigan coach John Beilein was among the many attending the camp that paused to catch a glimpse of two of the most high-profile players present -- Morris and Jesuit's Marc Loving, an Ohio State verbal commit -- go head-to-head.
Morris didn't seem interested in putting on a show for the crowd, efficiently running Beecher's offense without spectacular play-making or excessive dribbling. When off the ball, he moved fluidly, but didn't seem to need or demand the ball on every possession.
Basically, Morris just played.
At 6-foot-1, he doesn't physically jump out as the sure-fire Division I recruit on the floor. But as the game proceeded, which guard on the court was getting looked at by Michigan and other major programs became very clear.
The class of 2013 recruit said playing the same, regardless of who may be watching, is something he's learned to do in his short high school career.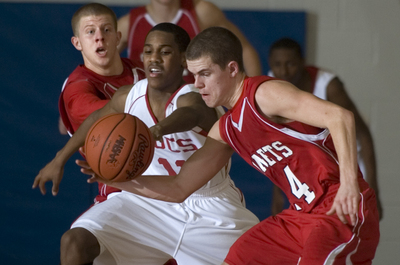 Both Newspapers file photo
"The first time playing in front of (college coaches) I was nervous, like not trying to mess up. Now I just look at it as like, it's just basketball, ya know?" Morris said. "I always do it, I've been doing it since I was 3, so it's really not pressure. I just go out, play my game and give it my all."
Morris was a unanimous Class C first team all-state selection last year after averaging 18 points and leading Beecher to the state semifinals for the second consecutive year (Morris was all-state honorable mention as a freshman).
Morris also averaged 6.8 assists and 6.1 rebounds and, according to Beecher coach Mike Williams, "gets a lot of satisfaction out of seeing good rebounds, assists and steals numbers in his boxscore and not points."
Morris said of the offers he's received so far (Western Michigan, Central Michigan and Iowa State), Michigan is at the top of his list.
Despite having caught the interest of several programs, Morris said he has no intention of growing comfortable with where he is as a player.
"I just want to keep my name high with my game so that's what I'm going to do," Morris said. "Staying at the top of the list with guards and working hard developing my game every day so that people won't say 'oh he got an offer, look at him now.'"



MONTE MORRIS AAU HIGHLIGHTS:
Pete Cunningham covers sports for AnnArbor.com. He can be reached at petercunningham@annarbor.com or by phone at 734-623-2561. Follow by Twitter @petcunningham.