Posted on
Thu, Jun 23, 2011 : 11:11 p.m.
Los Angeles native Darius Morris chosen by hometown Lakers in second round of NBA Draft
By AnnArbor.com Staff
This story was updated at 12:43 a.m.
Darius Morris is going home.
After crossing the continent to attend college at Michigan, the Los Angeles native was selected by his hometown Lakers with the 41st selection of Thursday night's NBA Draft.
More than 3 1/2 hours into the draft, Morris strolled across the stage at the Prudential Center in Newark, N.J., with a gold Lakers cap accentuating a grey suit, and posed for photos with NBA deputy commissioner Adam Silver.
Morris left the Michigan basketball program after his breakout sophomore season to pursue his dream of playing in the NBA.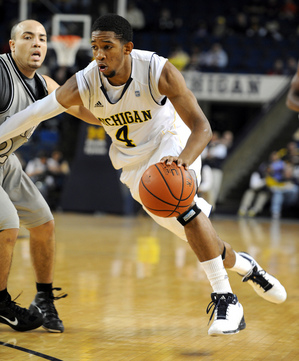 AnnArbor.com file photo
Morris did not immediately return phone calls from AnnArbor.com seeking comment on his draft day, but he took a moment to update his Twitter account with this message: "God is Great #Blessed."
That message was a continuation from a photo published by the NBA, which shows Morris in a Lakers cap with one hand holding a Lakers ball and the other a sign with the word "Blessed" written on it.
Many draft experts expected Morris would be grinning alongside NBA commissioner David Stern, like the rest of the first round picks, instead of Silver.
But it became clear late in the first round that selections were working against the former Wolverine. The highest Morris was anticipated to be drafted was No. 17 by the New York Knicks. The Knicks opted for another big point guard, 6-foot-6 Iman Shumpert from Georgia Tech.
The Houston Rockets, selecting at No. 23, were also reportedly high on Morris. But the Rockets got their point guard through a trade.
Houton swapped its 23rd pick, Nikola Mirotic, a future first-round pick and Brad Miller to the Minnesota Timberwolves for Donatas Motiejunas, their 20th pick, and two-year NBA point guard Jonny Flynn.
Shumpert wasn't the only projected point guard chosen before Morris that was expected to go later. Duke's Nolan Smith (21st), Cleveland State's Norris Cole (28th), Texas' Cory Joseph (29th) and Butler's Shelvin Mack (34th) all left the board first.
Morris, who attended Windward High School in West Los Angeles before setting the Michigan school record with 235 assists last season, was the first 2011 draft choice of the Lakers, who didn't have a first-round selection.
With their next pick, the 46th overall, the Lakers selected some potential competition for Morris: point guard Andrew Goudelock from the College of Charleston.
That was the Lakers' plan, assistant general manager Ronnie Lester told members of the media In a pre-draft conversation.
"We look at our team and think we need at least one and maybe two backcourt players," Lester said. "I think that's going to be our focus with those first two picks."
Bernard Robinson Jr. was the last Michigan player to be selected in the NBA Draft. He was chosen with the the 16th pick of the second round (45th overall) of the 2004 draft by the Charlotte Bobcats.
Morris was the second player in as many seasons to leave Michigan early for the NBA. Manny Harris left before his senior season. Harris went undrafted, but made the Cleveland Cavaliers as a rookie free agent.