Posted on
Mon, Jan 30, 2012 : 12:11 p.m.
Michigan basketball coach John Beilein now on Brady Hoke's 'Ohio' bandwagon
By Nick Baumgardner
Michigan football coach Brady Hoke's refusal to refer to Ohio State as anything more than "Ohio" apparently is contagious.
Following the Michigan basketball team's 64-49 loss at Ohio State on Sunday, Wolverines coach John Beilein began referring to the Buckeyes simply as "Ohio."
That theme continued Monday on the weekly Big Ten coaches' teleconference, so much so that Beilein was asked why he was doing it.
"I can't tell you how it's happened, it's just sort of happened," Beilein said Monday. "I kept hearing the 'Beat Ohio' (chants) and I heard (the Ohio State crowd) yelling yesterday 'Oh-io, Oh-io.'
"So, we just call them Ohio."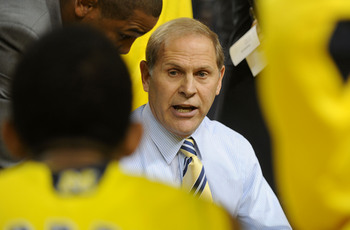 Angela J. Cesere | AnnArbor.com
Beilein said the decision to simply refer to the Buckeyes as Ohio isn't any type of Michigan athletic department initiative, it's just something that's rubbed off from football season.
"I've received no direction from anyone, I've just adopted it myself," Beilein said. "So there's some uniformity with what Brady's done."
Since his hiring last January, Hoke has never actually called Ohio State by its proper name, a habit that rubbed off on his entire roster and has now made its way into Crisler Center.
"Growing up in the state of Ohio, I had a lot of respect for Coach (Woody) Hayes and loved Coach Hayes," Hoke said last season. "But I was not a fan of that university in Ohio because my buddies were, so I had to be different. I became a Michigan fan, fanatical about the University of Michigan."
The Michigan football team snapped its seven-game losing streak against the Buckeyes in November with a 40-34 win, while the basketball team's 15-point loss in Columbus on Sunday marked the sixth consecutive time the Wolverines have lost at OSU.
Smotrycz continues to fight through struggles

Michigan forward Evan Smotrcyz seemed to have a bit of a rebound performance against Purdue last Tuesday, breaking through with a 10-point effort.
But at Ohio State on Sunday, the 6-foot-9 sophomore struggled again.
Smotrycz, who posted three consecutive double-doubles for Michigan in late December, was 1-for-6 shooting against the Buckeyes with three points, one rebound and four fouls in 18 minutes.
He's now had one double-figure scoring game since Dec. 29, and no double-figure rebounding efforts since that time.
"Those double-doubles were against a different talent level than we're playing right now," Beilein said. "It's not something we said he'd be doing all year long, because (very few people) do.
"We're making sure he gets extra reps in practice, making sure he watches enough film to see — whether it's rebounding or defense — where he can improve. We're doing everything we can to get him to take ownership of his blind spots, so he can get better every day and become more than just a shooter."
Indiana a tough transition test

The Wolverines (16-6, 6-3 Big Ten) return to the court Wednesday with a home game against Indiana (6:30 p.m., Big Ten Network).
Earlier this season in Bloomington, Ind., Michigan struggled to defend the Hoosiers in the transition game, resulting in an early double-digit deficit. The Wolverines ultimately fought back, but still fell by two.
"It's difficult to catch them, because they're on the move so quickly," Beilein said Monday. "You have to be very focused in a speedy fashion, and that was a big issue for us the first time.
"They're probably one of the best 3-point shooting teams in the country, and then you certainly have some incredible developing post play with (freshman Cody Zeller). They're hard to stop, and we have to be better than we were (against IU)."
Hardaway still working on shot selection

Michigan sophomore forward Tim Hardaway Jr. is shooting just 27.8 percent from 3-point range on the season. In Big Ten play, Hardaway is even worse, at 21.8 percent.
"Tim's got a great attitude, and what he's really going to work hard at is shot selection," Beilein said. "He'd like to have a few of those (poor 3-point shots) back, and everyone is a higher-percentage shooter when they have a little more space. Tim has a great ability to shoot while guarded, but maybe a little more patience and his percentages will rise.
"We talk about it consistently. And Tim wants to win so badly, sometimes he tries to do it by himself. It's a good quality to have in a guy who wants to help his teammates so much, but at the same time, it isn't always good to go for the home run when you might have just a single."
Nick Baumgardner covers Michigan basketball for AnnArbor.com. He can be reached at 734-623-2514, by email at nickbaumgardner@annarbor.com and followed on Twitter @nickbaumgardner.
Want to stay connected to Wolverine basketball in your Facebook newsfeed? "Like" AnnArbor.com's Michigan Basketball News & Views.