Posted on
Mon, Jul 2, 2012 : 5:59 a.m.
Michigan basketball coach John Beilein wants to keep his staff intact as long as possible
By Nick Baumgardner
Two years ago, John Beilein turned his coaching staff upside down.
Whether it was a one-sided decision or a mutual split between Beilein and his former Michigan basketball assistant coaches doesn't much matter now.
Two years removed from a horribly disappointing 15-17 campaign, Beilein and his new staff have two NCAA Tournament appearances and a Big Ten championship -- and now, he wants to make sure his current group remains next to him on the bench for as long as possible.
"We love this staff," Beilein said last week. "And whatever we can do to keep this group going in the right direction together, that's something I'm all for."
Shortly after the season ended, assistant coaches Bacari Alexander, Jeff Meyer and LaVall Jordan all signed multi-year contracts to remain in Ann Arbor over the next handful of seasons.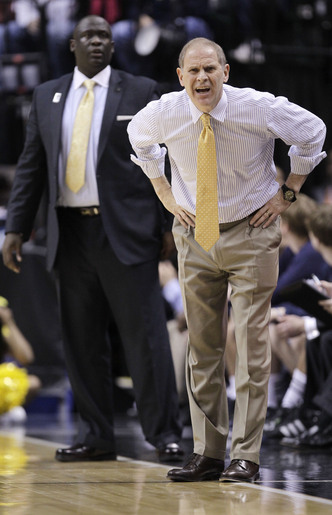 Associated Press
It's a stark contrast from what happened after the 2009-10 campaign, when former assistants Jerry Dunn and John Mahoney left the program to "pursue other opportunities." Mahoney was out of basketball until being hired by St. Francis (Pa.) in July 2011.
Shortly after, in the summer of 2010, ex assistant Mike Jackson left for Purdue. He resigned in April 2011, shortly after Purdue suspended him following an alcohol-related arrest during the season, and landed at Providence five months later.
The quartet of Beilein, Dunn, Mahoney and Jackson went a combined 46-53 during their three seasons together in Ann Arbor.
In two years together, Beilein, Meyer, Alexander and Jordan have gone 45-24. On top of that, the new staff inked a top 10 recruiting class in 2012 and already has an early start on a potential top five group for 2013.
It remains unstated who exactly spearheaded the old shakeup, but the early success of Beilein's new group can't be questioned.
He's got his staff now, and he's doing his best to keep it together.
"A lot of times head coaches get long-term contracts, but it's very rare for assistants to have multi-year contracts," Beilein said. "We've been talking about this, between (athletic director) Dave Brandon and myself.
"We've talked about it over the past year."
Meyer and Alexander both received four-year contracts, while Jordan signed a three-year pact.
At 58, Meyer is the same age as Beilein. And while it might not be out of the question for him to run his own program, it seems likely the Indiana native -- who has former head coaching experience at Liberty -- is content alongside Beilein in Ann Arbor.
Alexander and Jordan, however, may soon have the opportunity to outgrow their assistant coaching roles if the Wolverines can maintain their momentum on and off the court.
Alexander, 35, and Jordan, 33, played pivotal roles in helping Beilein land the most highly-touted recruiting class of his career this past year, and are at it again for both 2013 and 2014.
Odds are, they won't be together forever.
But right now, they've got momentum -- and Beilein wants nothing more than to keep that ball rolling.
"Anybody that has been around those three," Beilein says, "realizes that they have special qualities that are making (this program successful)."
Nick Baumgardner covers Michigan basketball for AnnArbor.com. He can be reached at 734-623-2514, by email at nickbaumgardner@annarbor.com and followed on Twitter @nickbaumgardner.
Want to stay connected to Wolverine basketball in your Facebook newsfeed? "Like" AnnArbor.com's Michigan Basketball News & Views.