Posted on
Wed, Nov 16, 2011 : 6:33 p.m.
Front and center: Michigan basketball big men Jordan Morgan and Jon Horford continue battle for starting spot
By Nick Baumgardner
So long as freshman point guard
Trey Burke
shows up to a pregame walkthrough on time, four of the five spots in the
Michigan basketball
team's starting lineup seem concrete.
Burke at the point, senior Zack Novak at the two-guard, sophomore Tim Hardaway Jr. on the wing and sophomore Evan Smotrycz at power forward.
The center position, though, remains a little less clear.
Michigan coach John Beilein said Wednesday that sophomore Jordan Morgan would get a second straight start over classmate Jon Horford when the 17th-ranked Wolverines host Western Illinois on Thursday (8:30 p.m., ESPN3.com).
But the battle on the depth chart between the two appears far from over at this point.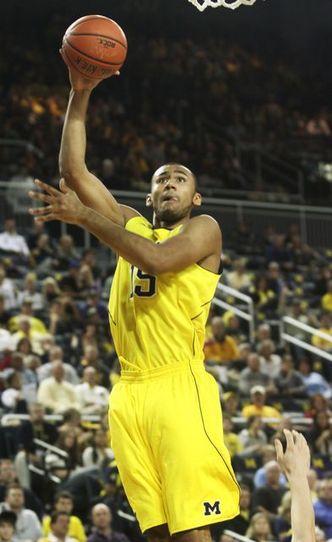 Jeff Sainlar | AnnArbor.com
"I would just say, it's been a very tight race, they're both playing," Beilein said. "At the end of the game, you'll see one with 18 (minutes), one with 17 and Evan with five.
"That's where it's gone so far."
After Morgan started at center in all 35 games a season ago, Beilein went with Horford during Michigan's exhibition win over Wayne State, and again during the Wolverines' season-opener against Ferris State.
That pattern changed, though, Monday against Towson, when Morgan was re-inserted into the starting five.
Despite the shuffling, both players have put up similar numbers through two regular-season outings. Morgan has played 36 minutes to Horford's 29, and holds the edge in scoring at 13 points to four. The rebounding numbers are virtually even, with Morgan pulling down 11 to Horford's 10.
Beilein says he's been less concerned with which player starts, and more focused on where each fits best in certain game situations.
He says both will continue to play, and while he'd prefer one player to take charge of the position, he's not in a rush to find out who wins the battle.
"We're hoping one will really emerge," Beilein said. "But I want to win games, that's really what I want to do.
"We'll see how it comes along. We're developing their skill set. We're using every minute of every week to try and develop both skill sets."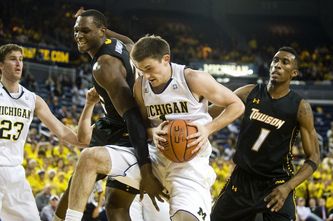 Joe Tobianski | AnnArbor.com
Worried about Stu?
Michigan senior guard Stu Douglass followed up a very productive outing against Ferris State with a sluggish performance against Towson.
Douglass finished 0-for-7 from the floor and 0-for-5 from 3-point range in the win over the Tigers, again bringing up questions about inconsistencies in his game.
On Wednesday, Douglass swatted that notion away.
"I'm basically done trying to look into all that," Douglass said. "I'm trying to brush it off and look more at the positive things I did, getting into the lane more, (playing well) defensively and not focus as much on my shot."
Beilein said Douglass was almost too open at times Monday and, as a result, shot not to miss, rather than to make.
"He was trying not to miss. Every shot should be the same shot," Beilein said. "Other than that, he did some really good things out there.
"But he had some really open looks that hit the front of the rim."

Post defense a priority

Beilein said he wasn't pleased with anyone's defense in the second half Monday. Towson outscored Michigan 31-27 in the game's final 20 minutes.
The one defensive stat that appeared to be relatively sound throughout was Michigan's interior defense.
Michigan outscored Towson 38-18 in the paint, making the number look fine on paper.
However, Beilein said a great deal of Towson's offense throughout the game either came directly from the post or ran through a player inside. As a result, he said he's looking for serious improvement in that area Thursday against Western Illinois.
"Post defense, how we play it and how we help off it (is a key)," Beilein said. "Most of (Towson's) points were either off post offense or (came as a) residual of (Michigan) giving too much help."

Maui travel plans

Beilein said Michigan will not go through any extended workout outside of a weight lifting session Friday morning before departing to Hawaii for the 2011 Maui Invitational.
The Wolverines had an off day Tuesday following the win over Towson, and will use their travel day Friday as another rest period.
Once in Maui, Beilein said Michigan will work out Saturday and Sunday before tipping the tournament off against No. 10 Memphis on Monday.
It's a business trip, no doubt, but Beilein also said he'll make sure the players get a chance to take in their tropical surroundings next week.
"We'll make sure they get their toes in the water somewhere. It's a cultural experience, so we'll make sure we do that," Beilein said. "The three games in three days may make it difficult. But we'll make sure we take two hours to go out and walk around.
"We want to make sure they get their sleep, but we want fresh air, too."
Nick Baumgardner covers Michigan basketball for AnnArbor.com. He can be reached at 734-623-2514, by email at nickbaumgardner@annarbor.com and followed on Twitter @nickbaumgardner.