Posted on
Thu, Oct 28, 2010 : 6:27 p.m.
John Beilein says Michigan basketball team's offense will start with an aggressive defense
By Michael Rothstein
ROSEMONT, Ill. - A season of transition to a defense-first basketball team already is under way, Michigan coach John Beilein said.
Michigan, coming off a 15-17 season, returns no seniors and no players who averaged more than 7.4 points a game.
So Beilein is emphasizing transition. Any offense will come from its defense.
"That, frankly, was not something we were great at last year," Michigan coach John Beilein said at the Big Ten Conference media day Thursday. "We wanted to fast break, we wanted to run, but we needed to run better. We have to push tempo and create, even though we might not shoot it."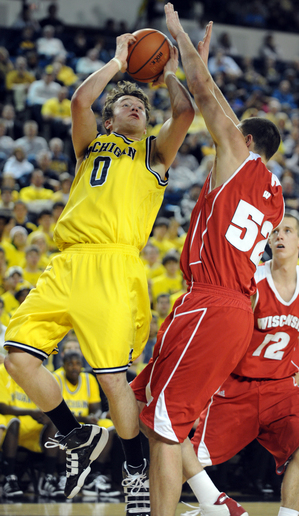 Lon Horwedel | AnnArbor.com
Beilein said the only time he wants his team to walk the ball up the court is in late-game situations when Michigan is ahead and needs to milk the clock. Gone are late-clock scoring options like Manny Harris, who averaged 18.1 points a game.
With a group full of new assistant coaches, four freshmen and just three players who have logged significant college minutes, Beilein picked the transition game as the key to Michigan's season.
"We've really emphasized that from Day 1, really worked hard on getting back on defense and locating our men," junior guard Zack Novaksaid. "It's getting to the point where even if someone turns an ankle on the other end, going four on five, we can give ourselves a chance to get that stop."
Besides a greater overall team speed than last year, Michigan can put a bigger team on the floor. Not having Novak, who joked he really is 6-foot-2 on Thursday, playing at power forward opens more room for length. Currently, 6-foot-6 freshman Colton Christian and 6-foot-9 freshman Evan Smotrycz are competing for the four spot vacated by Novak.
At first, it was awkward. Players didn't know where they were going. When they started working on it during the four-game European tour in August, junior guard Stu Douglass said it wasn't pretty.
"But the last couple days have been great," Douglass said.
Douglass said it showed more on the defensive end, where Michigan consistently lost shooters in transition last year, leading to easy points for opponents.
"That's something that really hurt us in key games," Douglass said. "It's little things you probably don't notice a lot but make a big difference.
"The point of that was that we really worked on it hard."
Michigan, which has played man-to-man defense often the last two years, has worked on man-to-man defense more than any other Beilein team in his coaching history, which spans three decades.
"With this team, we're going to have to create offense with our defense," Beilein said.
"We're going to have to find ways to get into fast-break situations, get into turnover situations, get stops in order to score."
Michael Rothstein covers University of Michigan basketball for AnnArbor.com. He can be reached at (734) 623-2558, by e-mail at michaelrothstein@annarbor.com or follow along on Twitter @mikerothstein