Posted on
Thu, Jun 9, 2011 : 5:58 a.m.
Michigan basketball recruit Carlton Brundidge using one moment to funnel his focus
By Michael Rothstein
SOUTHFIELD —The memory follows Carlton Brundidge when he walks around his suburban Detroit neighborhood, when he works out early in the morning and when he's downstairs in his family's basement, folding laundry and cleaning, late at night.
There is no way he can fix it. The end of Brundidge's high school career in March has haunted him. He can't go back and do what he now believes he should have done late in a Class A state semifinal game at the Breslin Center.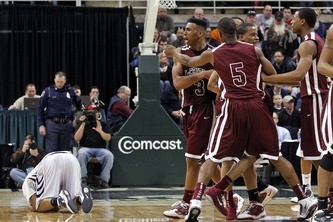 Jonathon Gruenke | Kalamazoo Gazette
With 37 seconds left against eventual state champion Kalamazoo Central, Brundidge drove into the left side of the lane. His team trailing by a basket, he went in for a layup.
Tired from a long season and a long career and for some reason he still doesn't understand, he didn't trust his left hand. So the Michigan basketball commit drove the lane, got fouled and laid the ball up off-balance with his right.
He missed.
"I wasn't sure I was going to make it, wasn't confident in it," Brundidge said. "So I went up and tried to do a reverse layup and got fouled and didn't make it. I was like, 'Man, if I had just used my left hand, I would have made it and we possibly could have won the game.' So I've been working on it a lot.
"It still bothers me to this day."
He made the free throws to tie the game, but Southfield lost, 44-42, after Kalamazoo Central made a layup with 4 seconds left and Brundidge's off-balance, 20-foot shot at the buzzer missed.
Even if he didn't need motivation to improve entering college, that day provided it. He says so in a small office at Southfield High School last Friday while wearing a Michigan T-shirt, Michigan hat and two maize block 'M' earrings both he and fellow guard commit Trey Burke purchased earlier this year.
Since the Breslin Center loss — he's the only person affiliated with Michigan men's basketball to have lost in East Lansing this year — everything has revolved around his left hand.
During early morning workout sessions, he focuses on left-handed layups. He does medicine ball drills with his left hand. When he walks around the neighborhood, he's always dribbling with his left. At night on the phone, he'll pick up a small forearm weight and constantly twist it with his left hand.
Then there's the laundry.
"(My mom's) like 'Carlton, it's 4 o'clock in the morning and you're here dribbling downstairs,'" Brundidge said. "I'm like 'What do you want me to do? I'm working.'"
To prepare for Michigan, he's done more than work on his left. His father, Clennie, made sure of it.
Once former Michigan point guard Darius Morris decided to turn pro, Brundidge realized he had to learn about being a college point guard faster than initially anticipated. He planned on learning behind Morris for a year, transitioning from an off-guard with the ball in his hands at the end of games into a potential point.
Besides running specific pick-and-roll drills where Clennie pretends to be Michigan redshirt sophomore forward Jordan Morgan, he also has game tape of every Big Ten team. Clennie has broken games down endlessly, pointing out tendencies of potential opponents next season.
Clennie, an All-American football player at Army who also played basketball for the Cadets, also dissected both the Wolverines' offense and defense. In all, he watches game film three to four times a week and then shares his research with Carlton.
"He's starting to get it," Clennie said. "A lot of times when I look at tapes, you can look at it 10 times and every time you can learn something new. The more repetition, you can hone in on tendencies.
"I can tell you how coaches react, that's how much I've seen it."
Brundidge feels he's picking it up well. He understands a good portion of the Michigan offense, although he hasn't really grasped the Wolverines' inbounds plays quite yet.
What he's learning is his game fits well into what Michigan wants to do. One of his bigger strengths is driving to the lane and finishing or kicking out to an open shooter — like Morris, or Manny Harris before him, did.
While Brundidge isn't at that level yet — Harris is in the NBA and Morris is a potential first-round draft pick — he's starting to gain confidence.
"We really feel as he uses the ball screen more and more and becomes more of a ball-handling guard instead of playing off the ball, he'll be able to assimilate into our concepts," Michigan coach John Beilein said earlier this spring.
"You know whether anybody can do it when they come in as a freshman. The hope is all our young guys can come in and pick up college basketball and all the things you have to do in college basketball as quickly as possible."
That comes with the way Brundidge has studied and with how his game fits into Michigan. It also helps he's had that singular motivation the past few months. While he never felt his left hand was a weakness, he noticed he was stronger with his right.
Then came the state semifinals. The next time that situation occurs, more could be on the line at Michigan.
And he knows what he'll have to do: Use the left.
Michael Rothstein covers Michigan basketball for AnnArbor.com. He can be reached at (734) 623-2558, by email at michaelrothstein@annarbor.com or follow along on Twitter @mikerothstein.