Posted on
Sat, Mar 17, 2012 : 12:11 a.m.
Michigan basketball stars Trey Burke, Tim Hardaway Jr. say they'll be back; focus on leadership roles
By Nick Baumgardner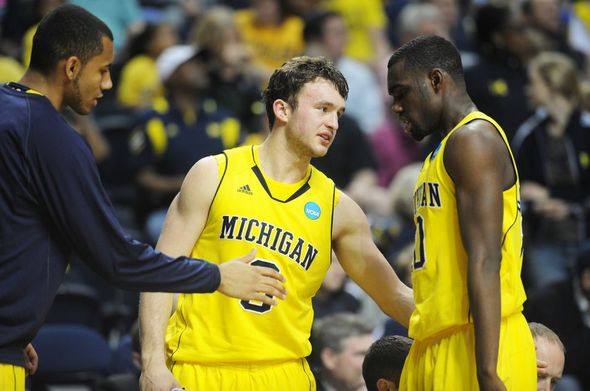 Melanie Maxwell | AnnArbor.com
NASHVILLE, Tenn. — If there was any lingering doubt whether or not the Michigan basketball program would have its two biggest stars back next season, Tim Hardaway Jr. and Trey Burke put an end to it Friday night.
Asked if he'd look at the possibility of leaving school early for a shot at the NBA, Hardaway gave a quick retort.
"No, I'm coming back next year," the sophomore wing said after Michigan's 65-60 NCAA Tournament second-round loss to Ohio on Friday. "I'm coming back."
Burke, who earned the co-Big Ten Freshman of the Year award this season and finished the year as the team's leading scorer, was right in step with his teammate.
"I'm definitely coming back," he said. "I'm just going to learn from this loss and get ready for next season."
And when both Hardaway and Burke do return next season, their roles on the club will increase drastically.
Not only will they be asked to shoulder the scoring load, but they'll also be asked to lead.
With the graduation of senior co-captains Zack Novak and Stu Douglass, the one glaring hole the Wolverines will have next season will be the team's unquestioned locker room leadership.
Novak, who was a Michigan captain for three seasons, asked to take on the role as a sophomore by coach John Beilein. Douglass, meanwhile, accepted the position as a junior and once again teamed with Novak as a senior.
Whether there were ups, downs or in betweens this season, the one constant certainly flowing through the program was that Novak and Douglass ran the locker room.
And had the unquestioned respect of every player inside of it.
Earlier this year, Novak said he spent a great deal of time grooming Burke as an eventual successor to the captain's chair, going as far as saying he believes the team's standout point guard will be a sophomore captain next season.
It's a position he believes Burke, as well as Hardaway and fellow sophomores Evan Smotrycz and Jordan Morgan, are more than ready for.
"There have even been a couple times here toward the end when I'd start to do one of my rants, or whatever, and one of them just tell me 'shut the hell up,' " Novak said. "I liked it. It showed that these guys are taking ownership, and that's what they've got to do.
"That's life, and it's theirs now. It's not ours anymore."
Burke explained throughout the season how his high-level performance had a lot to do with the help and overall comfort provided to him by Novak and Douglass.
A rookie that was fighting for the starting point guard spot in October, Burke ended the year as the team's go-to player — and says he's ready to take his game to the next level.
"Oh yeah, (I'm ready)," Burke said. "Just watching Zack and Stu and picking up certain things from them each and every day in practice allows me to take some of the traits that they had on this team, and some of the impact that they had on this team and put it onto the team next year."
As for Hardaway, the 6-foot-6-inch wing went through an array of ups and downs this past season, struggling to find any consistency from 3-point range, working through the kinks of playing with a new point guard and figuring out how to be a go-to scorer in the Big Ten.
In the end, Hardaway still finished the season with a scoring average of 14.6 points per game and said he learned a great deal about what it takes mentally to excel at this level.
"I'm glad I had this type of season," Hardaway said. "I had a lot of ups and downs, and it really taught me a lot about myself. About my teammates and how they react to me as a teammate, and as family.
"They really cared about how I was playing and really helped me out."
Michigan will have plenty of talent next season, as the Wolverines now expect to return four of their top six scorers.
Burke and Hardaway say they'll be back, and should they change their mind, they'd have to do so by April 10, as reports last month said the NCAA moved up its early entrant deadline into the NBA Draft.
Additionally, Michigan has inked a top 10 recruiting class for next year, a three-man group consisting of five-star power forward Mitch McGary, four-star wing Glenn Robinson III and four-star guard Nik Stauskas.
But the Wolverines won't have Novak or Douglass, their two unquestioned leaders, and the team's collective heartbeat.
The torch is about to be passed, and both Burke and Hardaway say they're ready to take it.
Novak believes they're both ready, and has no doubts they'll be able to run with it.
"I'm sure they'll start Monday or Tuesday," Novak said. "They're going to get after it.
"The foundation's in place, and they can do some good things."
Nick Baumgardner covers Michigan basketball for AnnArbor.com. He can be reached at 734-623-2514, by email at nickbaumgardner@annarbor.com and followed on Twitter @nickbaumgardner.
Want to stay connected to Wolverine basketball in your Facebook newsfeed? "Like" AnnArbor.com's Michigan Basketball News & Views.