Posted on
Fri, Mar 16, 2012 : 11:44 p.m.
Michigan basketball team sets school tournament record for worst-seeded loss
By Kyle Meinke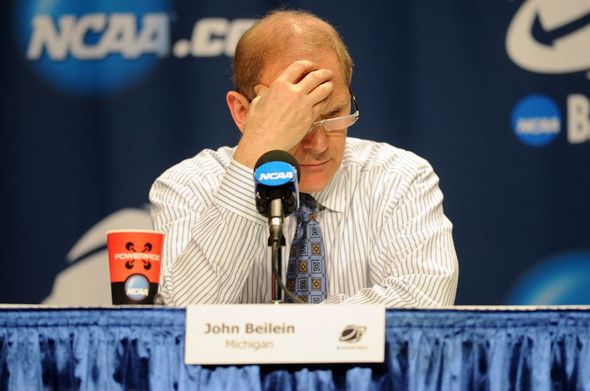 Melanie Maxwell | AnnArbor.com
NASHVILLE, Tenn. — The Michigan basketball team won a Big Ten title for the first time since 1986. It achieved another bit of history in its NCAA Tournament opener, although not the kind it was hoping to set.
The No. 4-seed Wolverines were knocked off Friday by 13th-seeded Ohio 65-60 at Bridgestone Arena. It is the worst-seeded team ever to eliminate Michigan since the tournament expanded in 1985.
The Wolverines' worst previous ouster came in 1990, when they lost 149-115 to 11th-seeded Loyola Marymount in Long Beach, Calif.
Michigan senior Zack Novak dismissed his team's piece of infamy, though, citing the growing parity in the sport.
"It doesn't bother me, because I think this (Ohio) team is pretty good," Novak said. "I don't even think they're the worst team we've played in the tournament since we've been here. I think that you just got to give them credit.
"Yeah, we didn't make the Sweet 16, but I know I'll leave here without any regrets because I went out there every time and played my ass off."
Ohio, champion of the Mid-American Conference, is no stranger to tournament upsets. The Bobcats, under coach John Groce, thumped No. 3-seed Georgetown in their last appearance two years ago.
Michigan is the first No. 4 seed to go down in this tournament, although two No. 2 seeds — Missouri and Duke — also were dispatched Friday. It is the first time in tournament history three teams seeded as low as 13th won on the same day.
The Blue Devils went down just as the Wolverines' locker room was being opened to the media. Novak said the result confirms his point.
"Every year is different," he said. "The seeding, it's such that it really is just for TV. There's very little difference — yeah, the 1-seeds are better, the 2s, but 3 and 6 are probably the same now.
"Anyone can win. Anyone can lose. Just look at Duke. It's sounds cliche, but there's parity. It happens."
Michigan had been 8-0 against teams seeded 12th or worse in the tournament.
This was its first matchup against a 13-seed.
Kyle Meinke covers Michigan football for AnnArbor.com. He can be reached at 734-623-2588, by email at kylemeinke@annarbor.com and followed on Twitter @kmeinke.