Posted on
Thu, Mar 11, 2010 : 7:03 p.m.
New hair styles put Michigan basketball team a cut above Iowa
By Michael Rothstein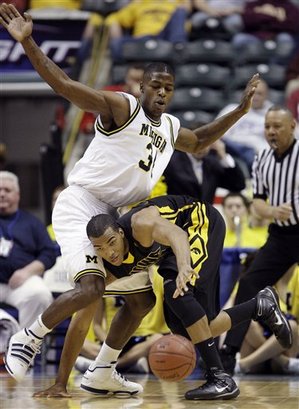 INDIANAPOLIS -
Corey Person
chided Michigan basketball teammate
Laval Lucas-Perry
. Come on, he said, cut your hair. Do something different.
I've even got a barber for you.
That explains Lucas-Perry's new hairdo, which resembles a mohawk, kind of looks like how Wisconsin guard Trevon Hughes wears his hair and is, as DeShawn Sims described, like "Mr. T."
"I always wanted to try something new, and I did," Lucas-Perry said. "It's just something different, you know.
"Actually, the whole team, Manny (Harris) did something with a ball fade. Everyone is just trying something new. It's like last season, trying to put it all out there, doing something different because what we've been doing hasn't been working."
And then Michigan went out and beat Iowa, 59-52, in the first round of the Big Ten tournament.
So it's in the hair.
Harris, Lucas-Perry and Sims all had small changes. Sims' new look was tough to see, although he had a little cut in the front resembling the old hairstyle of Larry Johnson.
The three did it a couple of days ago.
"I told him he needed a little change-up from what he had so far because it wasn't working for him," Person said of Lucas-Perry. "So I had him come over my house the day before we left and brought one of my barbers over and had him cut the mohawk for him."
Person also encouraged Harris and Sims. He tried to get the rest of the players to go along, but no.
"Just to loosen everybody up a little bit, make sure everybody is having fun out there," Person said. "You know, we're out here to do a job, but it's important to have fun, too, because whenever we have fun, we play good."
It worked for Lucas-Perry, who has struggled most of the season. The sophomore scored five points, the most he's had since Feb. 16.
Cully Payne wants Todd Lickliter to stay
Iowa freshman guard Cully Payne feels like he is one of Iowa coach Todd Lickliter's guys. Lickliter, who made his name coaching in Indianapolis at Butler, brought the freshman in and turned over a lot of the offense to him.
Now, with Lickliter's job in jeopardy - there were rumors he'd be fired before he left Conseco Field House, which didn't happen - Payne defended the third-year Iowa coach.
"We're coach's first guys, us four freshman, me, Eric (May), Brennan (Cougill), Nick (Neari). If he would get fired, or whatever anyone is talking about, I don't think in the locker room anyone would be happy," Payne said. "We got four great guys coming in, so those are his first two recruiting classes that are truly his, so I don't think it's fair what he's getting thrown into.
"We haven't had the best season, but at the same time, I mean, the young guys are playing a ton of minutes, and we really don't have that veteran leadership."
Payne said he doesn't think it is fair to Lickliter because of the defections of players recruited under former coach Steve Alford that turned over the entire team. It left Iowa young and vulnerable in the Big Ten.
So if Lickliter were to not return to Iowa City, would Payne leave, too?
"I don't know," Payne said. "All I can say is I committed to coach. I committed to coach (Chad) Walthall, I committed to coach (LaVall) Jordan. So it really depends, I don't know. I wouldn't be happy about it.
"That's really down the road. Something's really got to happen, and I'd think about that."
This and that Former NBA player Tim Hardaway did radio for Thursday's Michigan-Iowa game. Hardaway's son, Tim Jr., is a Michigan commitment ready to start in the summer. … In the locker room after the game, Michigan players were transfixed with the end of the Marquette-Villanova game. Anthony Wright, Matt Vogrich and Blake McLimans all watched Marquette upset Villanova, 80-76.
Michael Rothstein covers University of Michigan basketball for AnnArbor.com. He can be reached at (734) 623-2558, by e-mail at michaelrothstein@annarbor.com or follow along on Twitter @mikerothstein.