Posted on
Fri, Nov 4, 2011 : 11:28 p.m.
One game, and Trey Burke already is a Michigan basketball fan favorite
By Pete Cunningham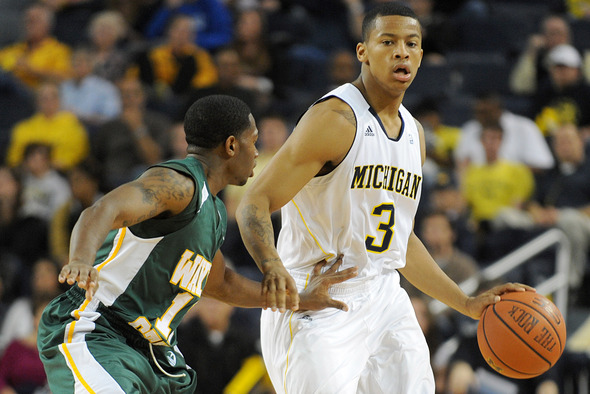 Angela J. Cesere | AnnArbor.com
The loudest crowd reactions at Crisler Arena in the Michigan basketball team's 47-39 win over Wayne State came for anything and everything Trey Burke contributed.
From loud cheers for the freshman guard's first assist on a Jordan Morgan dunk — which was called off due to a charge — and loud sighs for any miscue (he finished with two turnovers), the crowd hung on his every move.
Burke loved it.
"Best crowd I ever played in front of," he said. "I'm looking forward to every home game now."
There was outright elation from the "Maize Rage" when the freshman connected with Tim Hardaway Jr. for an alley-oop dunk early in the second half.
Michigan coach John Beilein said the 28 minutes of game time was a little more than he expected Burke to get Friday night, which was a reaction to Wayne State going with a smaller, quicker lineup.
"I could see by the flow of the game that it was going to be a quickness issue, and I just wanted to get him in get his heart rate up, get him to feel like what it's like to go out there and play those minutes," Beilein said.
The Wolverines' other freshman guard, Carlton Brundidge, played just two minutes, which was less than Beilein said he would have liked. But with Michigan's largest lead just 14 points, Beilein said he never felt comfortable getting away from the quicker lineup.
Burke's contributions weren't just on offense. He forced a five-second violation in the second half when Wayne State was trailing by just four points. The defense, Burke said is what coaches have told him will get him on the court.
"Coaches tell me if I can't play 'D' I'm not going to be on the court," Burke said.
"Burke's going to help us a lot in just giving us the quickness we had last year with Darrius (Morris), just the momentum changer," Beilein said.

Starters and finishers

Beilein said that after Friday he'd still go with the starting lineup of Zack Novak, Stu Douglass, Hardaway, Jon Horford and Evan Smotrycz. Much of that came out of what he saw out of his team on the boards, even though Michigan was out-rebounded 31-40.
"I don't go off one game, but there's some time we probably had too many guys rebounding the ball," Beilein said.
Regardless of who starts, Douglass is confident the right people will be in that right times. He said Beilein hasn't revealed who the starting point guard would be in the season opener next Friday against Ferris State, and that it didn't really matter.
"There's a lot of different looks we can throw at teams, there's a lot of different rotations we use, so we're still getting used to that," Douglass said. "Starting or not I feel like whoever's in there, whoever's into the game, we're going to have the right players in there at the end of the game."

Free-throw struggles

Michigan didn't shoot well from the free-throw line Friday night, finishing 4-of-12.
Struggling most was Horford, who had a strong night otherwise, shooting 3-of-3 from the field with two blocks and six rebounds. He was 0-for-5 from the line.
"(Horford) shot with me today. He probably made 70 out of 80 shots," Beilein said. "He'll get better at it. He's a pretty good foul shooter."

Get selfish

Horford hit a wide-open Hardaway at the top of the key with 6:16 left in the second half and Hardaway sank a 3-pointer to put Michigan up, 43-31.
Though the net result was a positive, Beilein said he'd like to see Horford get more selfish on the play. He had an opportunity to go up for a lay-in or dunk from under the hoop before opting to dish to Hardaway.
"That's one of his issues we're working on very hard," Beilein said. "But they get spun around inside and all of a sudden they're lost. We just gotta keep working at it."

Thumbs up, thumbs down

Beilein wasn't pleased with the shooting performance of his team -- 19-of-51 from the field, 4-of-12 from the line -- but chalked it up to preseason nerves.
"We came out really excited I think, almost too excited to make simple plays and keep the game and make base hits," Beilein said.
Beilein was however pleased with the defense, which held Wayne State to 17-of-52 shooting.
"Our defense gave them very few really good shots," Beilien said.

This and that

Hardaway finished just shy of a double-double with 20 points and nine rebounds, leading Michigan in both categories.
Pete Cunningham covers sports for AnnArbor.com. He can be reached at petercunningham@annarbor.com or by phone at 734-623-2561. Follow him on Twitter @petcunningham.