Posted on
Fri, Nov 11, 2011 : 11:21 p.m.
Stu Douglass and Evan Smotrycz go from scoreless to scoring leaders in Michigan basketball's win over Ferris State
By Pete Cunningham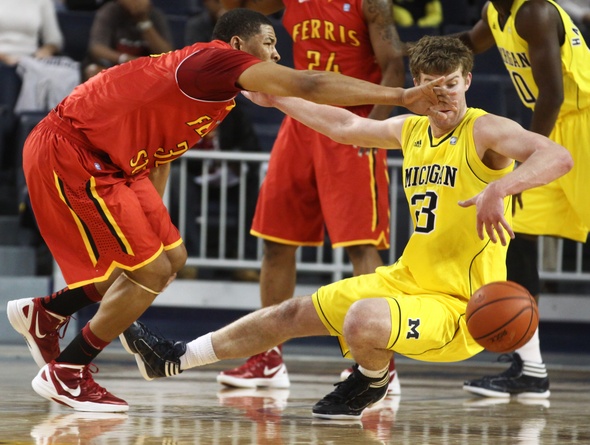 Jeff Sainlar | AnnArbor.com
Senior Stu Douglass started at point guard and led the Michigan basketball team in scoring with 14 points in its 59-33 season-opening win over Ferris State on Friday night.
He came to Crisler Arena expecting to come off of the bench.
Evan Smotrycz joined Douglass atop the scoresheet with 14 points.
Neither scored a point in Michigan's exhibition game against Wayne State last Friday.
Douglass said that just might be the kind of team the Wolverines have this year. One where it's anybody's guess who might be the star that night.
"That's what's going to be huge for this team," Douglass said. "Go back a couple years with Manny (Harris) and DeShawn (Sims), and you didn't really have that."
MICHIGAN 59, WAYNE STATE 33
Michigan coach
John Beilein
said the variation in who the leading scorer or "star" is has much to do with how deep into the bench he's willing to go. Bouncing back from a lackluster performance as Smotrycz did, Beilein contends, will be vital to the team's success.
"When you have seven or eight guys in the rotation (a scoreless night's) going to happen. You just gotta work through it," Beilein said.
In both the season opener and the exhibition game, however, it's been clear who the Wolverines can ill-afford to have an off night: Tim Hardaway Jr.
Whenever Ferris State pulled close, it seemed Hardaway would come up with much needed 3-pointer, lead a fast break or grab a rebound on defense.
And he was finding ways to score inside, despite double teams. The versatility of Hardaway's game is something Beilein said will lead to greater success down the road.
"(Hardaway's) gotta continue to work to get open, whether it's inside or outside," Beilein said. "He is going to be guarded by their best defensive player, probably every game. He's gotta be ready for that and just work through it.
"I think his daddy might be able to help him with some of that."

Freshman 15 ... minutes late
Beilein said the decision not to start freshman Trey Burke was "an easy decision," after the announced starter was late for the team walkthrough.
"He's a really good kid, but he was, not significantly, but he was late enough to where it wasn't a one minute thing. He'll learn from it and he'll get better from it," Beilein said.
Beilein said the situation was in no way unique to Burke.
"I think we've got a freshman involved in one of those situations just about every year that we've been here. It just happens," Beilein said.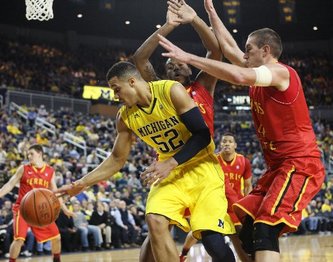 Jeff Sainlar | AnnArbor.com
Down low downer
Jon Horford started in the post for Michigan, but didn't score a single point in 15 minutes of action and only grabbed three rebounds. Jordan Morgan split time with Horford, but with seven points and six rebounds didn't have a huge game himself.
Beilein didn't mince words about his big men following the game.
"Both of them are playing pretty tentative," Beilein said. "They're just having trouble right now finishing in crowds."
Morgan dismissed the notion that his struggles might be a result of him coming off the bench as opposed to last year, when he started every game for the Wolverines.
"Right now it's doing what's best for the team. It's not my decision to make so just go out and play my job regardless of where I come in the game, when I get in the game I just do the best to do my job," Morgan said.

This and that
With the win, Beilein improved his career record at Michigan to one game over .500 (68-67). ... Father Gabriel Richard High School graduate Eso Akunne logged seven minutes of action on Friday night, grabbing four defensive rebounds.
Pete Cunningham covers sports for AnnArbor.com. He can be reached at petercunningham@annarbor.com or by phone at 734-623-2561. Follow him on Twitter @petcunningham.