Posted on
Sun, Jan 2, 2011 : 7:59 p.m.
Michigan basketball's perfect night, Darius Morris' reaction to 'Butterfly' and more notes
By Michael Rothstein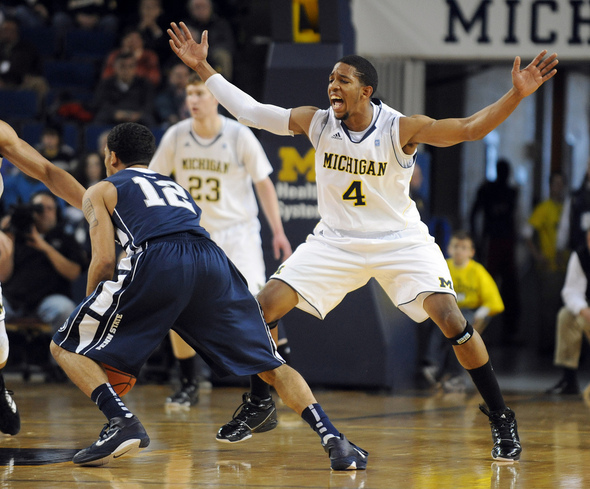 Lon Horwedel | AnnArbor.com
In the midst of putting together one of its strongest halves of the season, the Michigan basketball team also managed to do something else for only the fourth time in its history.
Make all of its free throws.
Michigan was 14-for-14 from the free-throw line Sunday in a 76-69 win over Penn State, and needed every one of them to hold off the Nittany Lions.
The last time Michigan was perfect from the free throw line was March 2, 2002, when it made all 16 of its attempts against Ohio State.
"We just keep working on it and working on it," Michigan coach John Beilein said. "We just want to get there more."
No one was more clutch from the line than sophomore guard Darius Morris, who made all seven of his free throws, including four in the final minute to help seal the win.
In all, eight of the 14 free throws came with less than one minute left in the game.
"That's reps. Reps and focus," Morris said. "We do a lot of reps in practice, but it's focus and discipline to follow your same routine.
"It's easy to make it when nobody's in the gym."
Even more surprising is that this team accomplished it. Entering Sunday, Michigan shot 69.5 percent from the line.
The other times Michigan was perfect from the free-throw line were March 8, 1990, against Wisconsin (15-for-15) and Feb. 21, 1987, against Northwestern (15-for-15).
Origin of 'The Butterfly' Big Ten Network analyst Tim Doyle has taken to calling Morris "The Butterfly" because the sophomore point guard seems like he's coming out of a cocoon this season.
An odd nickname, for sure, but Morris knows all about it.
"Aww, yeah, I heard about it," Morris said. "It's fine with me. I'm just appreciative he knows my name and took the time to give me a nickname. I'm just appreciative for it."
Morris said he first heard about it from his mother, Robin, earlier this season.
"I was like 'Whoa,'" Morris said. "I didn't really know what to say. I was like, 'Mom, that's cool.'
The five spot Michigan used freshman forward Evan Smotrycz more Sunday to spell starter Jordan Morgan at the traditional center spot than the Wolverines had all year long.
It was something Beilein and Smotrycz had alluded to working on at points this year.
"We played him there today because, defensively, they do so many things and he's shown the last 10 days in practice, more than anybody other than Jordan Morgan, a really good awareness of a lot of the screens they were setting," Beilein said. "Jon Horford is working on that, but we also wanted to score some points."
Beilein clearly likes the lineup option. He said it would be "challenging" for teams to play Michigan with five shooters on the floor.
This and that Michigan improved to 10-1 this season at home. … Michigan athletic director Dave Brandon took in the game with a bunch of his staff. … Matt Vogrich said after the game he has worked a small amount at point guard in practice. … The Kansas-Michigan game will be a 4:30 p.m. game Sunday, as determined by the NFL playoffs. … Michigan will leave Ann Arbor for the first time since November when it goes to Wisconsin on Wednesday.
Michael Rothstein covers Michigan basketball for AnnArbor.com. He can be reached at (734) 623-2558, by e-mail at michaelrothstein@annarbor.com or follow along on Twitter @mikerothstein.