Posted on
Fri, Jan 6, 2012 : 12:24 a.m.
Michigan not interested in any silver linings after two-point loss at No. 12 Indiana
By Nick Baumgardner
BLOOMINGTON, Ind. -- At Michigan, 'almost' isn't good enough any longer.
The 16th-ranked Michigan basketball team erased a pair of double-digit deficits in the most raucous environment its seen all season Thursday.
But it wasn't good enough.
The Wolverines refused to fold up shop until the final whistle, eventually coming within one heave of stealing a crucial Big Ten road win.
But it wasn't good enough.
After making two NCAA Tournaments in three seasons, 'close' on the road doesn't cut it anymore. A loss is a loss, no matter which way its sliced.
"No," Michigan senior captain Zack Novak said firmly. "There are no moral victories (here)."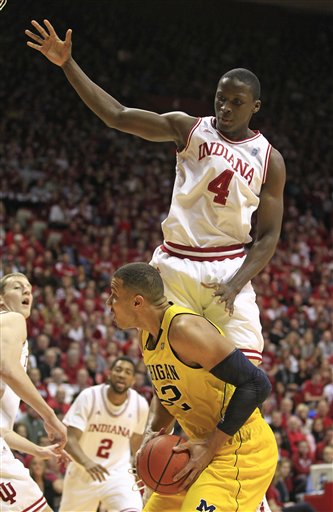 AP Photo
To the average eye, there's plenty of positives that can be taken from Michigan's 73-71 loss at No. 12 Indiana.
The Wolverines showed toughness and togetherness that was often lacking at this point a year ago, and seemed to be amiss earlier this season in a 12-point setback at Virginia.
Michigan started the game 3-for-11 from the floor and the Hoosiers, conversely, went 10 for their first 18, jumping out to a 33-18 lead midway through the first half -- sending most of the 16,020 at Assembly Hall into an early party mode.
But unlike a month ago in Charlottesville, or last season during a 1-7 start to Big Ten play, Michigan hung together and kept moving.
Back-to-back Stu Douglass 3-pointers sparked a 12-2 answer, pulling Michigan within five late in the first half. And, after starting 6-for-7 to open the second half, Evan Smotrycz gave Michigan its first tie since 0-0 with a deep triple five minutes into the frame.
After the Hoosiers responded again, pushing their lead back up to 10 and cranking the crowd into a frenzy again -- Michigan somehow found another answer.
The Wolverines had five shots to tie or take the lead with less than two minutes to go, and had Novak's half-court heave at the horn had a bit less air under it, Michigan may have danced its way home to Ann Arbor.
"We played (Indiana) as tough as (any) team that's come in here (this year)," Douglass said. "But at the same time, there's going to be so many plays we'll look at on film and want back.
"It's frustrating."
Frustrating will likely be the word of the hour when Michigan breaks this one down Friday.
Because for every positive the team may want to take away, it'll also find a negative.
The Wolverines had no answer for Indiana junior Christian Watford, an athletic 6-foot-9 swingman who hit shots all over the floor -- going 8-for-11 for a game-high 25 points.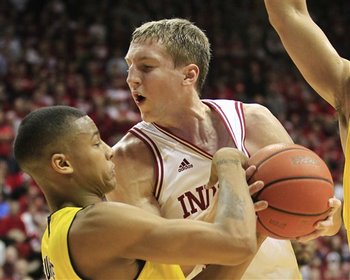 AP Photo
And though Jordan Morgan played arguably his best game of the season inside, it was still nowhere near enough to curb the impact of Indiana freshman Cody Zeller -- who scored at will in the lane, hitting 8-of-10 shots for 18 points.
Michigan also got a poor shooting performance from freshman Trey Burke (4-for-15), goose eggs from Tim Hardway's outside shot (0-for-7 from 3) and clanged four free throws in what ended up being a two-point game.
Almost?
More like, not enough.
"It's a loss," Burke said. "We didn't come here to lose, we were expecting to win."
Novak, an Indiana native, said he didn't learn anything new about the team in the midst of a failed valiant comeback.
He said he wasn't surprised when the club fought back, wasn't surprised when it made tough shots and wasn't surprised the entire unit stuck together rather than folding completely as individuals.
But he also knows the program is far beyond any point of taking bits of positive news from an otherwise bitter defeat.
The Wolverines fought hard, but they've got work to do.
And no one in the losing locker room Thursday seemed ready to offer any other sentiment.
"We hung in there, this place gets rocking and rolling, just like a lot of places," Michigan coach John Beilein said. "This is the way the league is.
"We've just got to find a way."
Nick Baumgardner covers Michigan basketball for AnnArbor.com. He can be reached at 734-623-2514, by email at nickbaumgardner@annarbor.com and followed on Twitter @nickbaumgardner.
Want to stay connected to Wolverine basketball in your Facebook newsfeed? "Like" AnnArbor.com's Michigan Basketball News & Views.