Posted on
Sun, Mar 20, 2011 : 8:25 p.m.
Michigan sings 'The Victors,' Darius Morris says he's staying and more notes
By Michael Rothstein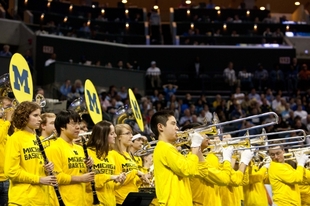 Jake Drake | Icon Sports Media
CHARLOTTE — As sadness and despair spread through the Michigan basketball team's locker room Sunday afternoon, John Beilein made one decision he's never made before during his four years with the Wolverines.
He wanted his team to sing its fight song after a loss, a Michigan tradition usually reserved for post-game wins.
So out came 'The Victors.'

In a way, Sunday's 73-71 loss to top-seeded Duke in the NCAA tournament could be considered a moral victory for Michigan.

It went from a team picked by many to finish in the bottom of the Big Ten and ended up being a Darius Morris-floater away from going to overtime with a chance to reach the Sweet 16.
"It was the only time that we've ever done it and the message was two things. Really understand, we sing it out of gratitude to the university to give us the this opportunity for each other, for our families, everybody who has given us this opportunity," Beilein said.

"And then I think we sung it a little bit because it is just a great fight song that it gives us some hunger to sing it a little bit longer next year.
"I want our guys to come out so hungry out of this. It was a difficult way to lose a game."
DUKE 73, MICHIGAN 71
Michigan will likely return every player from its roster this season and also adds play-making guards Trey Burke and Carlton Brundidge.
Morris plans to return for junior year

In the moments after Michigan lost to Duke, Darius Morris confirmed he plans on returning to Michigan for his junior season.
"Yep," Morris said when he was asked if he was definitely returning next season.
This echoes what Morris said a week ago, when he said "yeah, I'm here man. I'm not going anywhere."
Morris had one of the better seasons for a point guard in Michigan history, averaging 15 points, 6.7 assists and 4 rebounds a game.
His 235 assists are the most in a single season for a Michigan player, passing Gary Grant, who had 234 in 1987-88, by one assist.
He figures on expanding upon that milestone next year, using the missed shot as motivation.
"It isn't going to impact me negatively," Morris said. "I've been in that situation before and I've hit that shot. This time, it just didn't go in. I always like to have the opportunity to have that chance to take that shot.
"It is just more motivation for me to get better and work harder and next time change the outcome."
The 1-3-1 appearance

Those who aren't familiar with Michigan's season often think the 1-3-1 zone is the team's primary defense throughout the year.
It's not, but Michigan brought out the 1-3-1 and some 2-3 zone to slow down the penetration ability of Duke guards Kyrie Irving and Nolan Smith.
"We only use it when we really need it," freshman guard Tim Hardaway Jr. said. "Today we used it and it helped out big time."
Michigan has used it more in the past two games against Tennessee and Duke than it had all year long, when it had been primarily a man-to-man team.
"It was very effective," junior guard Stu Douglass said. "When we threw it out there, you know, it kind made them stumble a little bit on the offensive end."
Krzyzewski gets win No. 900

In beating Michigan, Duke coach Mike Krzyzewski picked up his 900th career win. He now trails former Army, Indiana and Texas Tech coach Bob Knight by two wins on the list for career coaching wins.

Krzyzewski would tie Knight with a win in the Elite Eight and surpass him if the Blue Devils make the championship game.
There is a connection between the two. Krzyzewski was a point guard for Knight when he was at Army.
"There will be a lot of guys who will win 900 games eventually but to be the first two and it be the coach and his player to do it is such a unique, something very unique," Krzyzewski said. "That's the type of relationship and friendship I've had with coach Knight.
"I'm glad I can share a moment, that moment, with him. I've shared really good ones with him."
This and that

With four 3-pointers Sunday, junior guard Zack Novak moved into fifth place on Michigan's all-time list with 160 3-pointers, moving past his teammate, Stu Douglass, who has 157 and Robbie Reid, who has 160. … Freshman guard Tim Hardaway Jr. finished fifth all-time in 3-pointers made in a single season with 76. … Four Michigan players are currently in the Top 13 in career 3-point percentage: Evan Smotrycz (8th, 38.1 percent); Hardaway Jr. (9th, 36.7 percent); Novak (12th, 34.7 percent) and Douglass (13th, 34.1 percent).
Michael Rothstein covers University of Michigan basketball for AnnArbor.com. He can be reached at (734) 623-2558, by e-mail at michaelrothstein@annarbor.com or follow along on Twitter @mikerothstein