Posted on
Tue, Feb 23, 2010 : 10:11 p.m.
Michigan basketball team struggles on offense again in a 51-44 loss to Illinois
By Michael Rothstein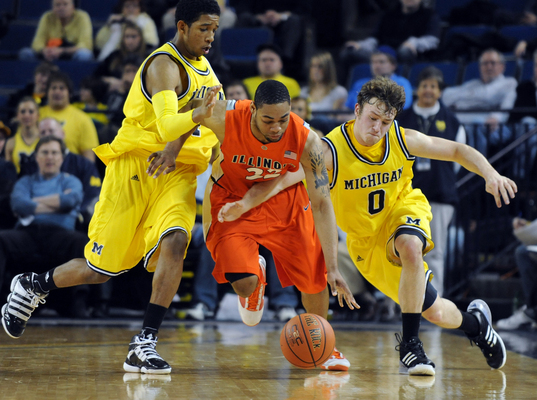 Not even
John Beilein
knows what to do about the Michigan basketball team.
After the latest loss, 51-44 to Illinois on Tuesday at Crisler Arena, the third-year Wolverines coach looked around and essentially shrugged his shoulders. He's been a head coach for 32 years and even he's befuddled.
"I don't know if you've ever seen anything like this because I haven't," Beilein said. "I haven't seen anything like this before where we put the whole package together today."
And Michigan still lost.
Beilein's plays on offense worked well - and Michigan's players missed layup after layup, including three by junior guard Manny Harris. The Wolverines found open shots on the perimeter and continued to miss, shooting 6-of-31 overall from 3-point range.
The Michigan defense played well, holding Illinois 21 points under its scoring average, forcing more Illini turnovers than assists. Illinois shot 9 percent under its season average and 12 percent under its 3-point season average.
Yet Illinois (18-10 overall, 10-5 Big Ten) by seven points.
How did Michigan (13-14, 6-9) end up there?
The Wolverines had their worst shooting performance of the season, 24.6 percent (16-of-65), almost 8 percent worse than their second-worst game, a 32.3 percent night against Boston College on Dec. 4.
"They are thinking too much," Beilein said. "It's a shame right now, because I really thought we played one of our better defensive games of the year. They're 6-9, they're 7-1, 6-9 (on the Illinois front line), right from the beginning we missed, we got DeShawn (Sims) kicking them to the rim.
"I liked the shot distribution, I liked everything, but the ball just won't go in."
The woes came from the likely sources. Sophomore guard Laval Lucas-Perry continued his funk with another scoreless night - his eighth of the season and second in a row.
Sophomore guard Stu Douglass was also scoreless despite playing 36 minutes in a 0-of-8 performance.
It also came from unlikely areas. Harris - who led Michigan with 15 points - missed three layups in the second half. Sims was mostly unproductive offensively, making just three of 12 shots against a taller Illinois front line.
"Our confidence has got to get better for some guys," Harris said. "I think they are playing off confidence. Some guys, they'll be them type of games when you're just in a slump or you can't finish at that time but we going to get better.
"There's three games left, but finishing strong is still important."
Michigan, though, kept it close. Again. But Illinois made the play it needed to at the end.
Freshman guard D.J. Richardson threw up a prayer of a shot with the shot clock at one and the ball glanced off the rim.
It also set up a chance for Illinois to pull away when Mike Tisdale grabbed the rebound.
Tisdale found Illinois junior guard Demetri McCamey, who threw an alley-oop to junior forward Mike Davis and gave the Illini a six-point margin they could feel comfortable with as 1:50 remained on the clock.
The way Michigan's season has gone, those sort of plays are almost expected to happen for opponents at this point.
The Wolverines had Michigan State guard Kalin Lucas make a jumper with 3.5 seconds left to give the Spartans a win in Ann Arbor. They'd watched as JaMychal Green blocked a Darius Morris shot to preserve a Crimson Tide win in November.
And on Saturday, Penn State's Jeff Brooks hit a jumper with 14 seconds left to give the Nittany Lions a win.
So another crucial play by an opponent isn't out of the ordinary. At Illinois, with McCamey - who led the Illni with 14 points - it isn't a surprise.
It's expected.
"It was a broken play," McCamey said. "Tis' found me on the back door, and I see Mike Davis cutting, so it was an easy play for an easy two.
"That sent the momentum."
And it sent Michigan to another loss.
Box score | Big Ten standings
Michael Rothstein covers University of Michigan basketball for AnnArbor.com. He can be reached at (734) 623-2558, by e-mail at michaelrothstein@annarbor.com or follow along on Twitter @mikerothstein.