Posted on
Thu, Apr 4, 2013 : 2 p.m.
Michigan vs. Syracuse Final Four game leaves Ann Arbor residents with split loyalties
By Pete Cunningham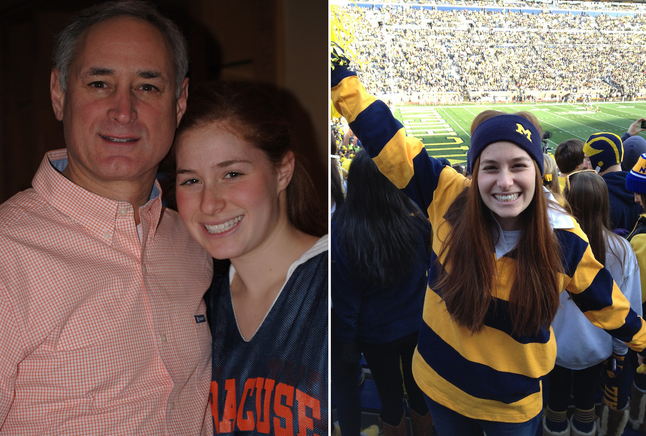 Photo courtesy of Miriam Goldberg
For Ann Arbor residents
Miriam Goldberg
and
Bob Heavenrich
, Saturday's
Final Four matchup between Syracuse and Michigan
is a best- and worst-case scenario rolled into one.
Both Goldberg and Heavenrich will get to see their two favorite teams play each other, but that also means they'll have to root against one of them.
The choice was really no choice at all for either. Their hearts are true blue.
"I've always rooted for Syracuse, but my allegiance is to the blue," said Goldberg, a recent Michigan graduate who grew up less than 10 miles from the Syracuse campus.
Goldberg is from Fayetteville, New York and her father is a Syracuse alumnus and season ticket holder.
"I've been going to games at the Carrier Dome since I was a baby," said Goldberg, whose father has dealt with the switching of allegiances admirably. "He's not torn up about it. He's happy that I have this allegiance to the university I go to."
Heavenrich - a longtime Michigan basketball fan and football season ticket holder - said he and his sister, Polly Heavenrich, talk before, at halftime and after either of the two teams are playing.
The Heavenriches grew up Michigan fans in Saginaw, but when Polly moved to Syracuse in the 1970s, where she still lives today, she began rooting for the Orange.
"She's within walking distance of the Carrier Dome," said Bob, who joked that he wouldn't be talking to her for a week.
Bob has grown fond of his sister's favorite team over the years, watching Syracuse games whenever possible so the two can talk about them. For Goldberg, it's the Michigan fandom that's the change of heart. She still loves the team she grew up cheering for, but when push comes to shove is loyal to Michigan.
Photo courtesy of Miriam Goldberg
"One of my guy friends (from Fayetteville) gave me trouble, but it was all in fun," Goldberg said. "They understand."
When the brackets were first released, she and her dad joked about the possibility of the teams playing in the Final Four.
Yes, joked. It's not that No. 4 seeds making the Final Four is a "Cinderella Story," and both teams were recognized as some of the best in the country — Michigan getting ranked No. 1 in February, Syracuse No. 4 in December — during the year. But stretches during the season - Michigan losing 7-of-12 after receiving the No. 1 ranking, and Syracuse dropping four of its final five regular season games - made Final Four hopes seem like a bit of a stretch.
"We never though it would actually happen," Goldberg said.
Goldberg said she and her father were contemplating making the trip, but neither actually will be in Atlanta over the weekend. Goldberg said there's a variety of reasons for her not making the trip, but primarily she wants to experience being in Ann Arbor during the run, however long, and be at the welcome-home party for the team regardless of the outcome.
"I want to be in Ann Arbor with other students and be able to cheer on the team when they return from Atlanta, regardless of the outcome," Goldberg said.
She has the same optimistic outlook about Saturday's game.
"The way I look at it, either way my number one or two team is going to be in the national championship game," she said.
Pete Cunningham covers sports for AnnArbor.com. He can be reached at petercunningham@annarbor.com. Follow him on Twitter @petcunningham.