Posted on
Sat, Dec 17, 2011 : 10:48 p.m.
Michigan women's basketball completes day of blowouts at Crisler Arena
By Jeff Sainlar
Hours after Crisler Arena cleared out from the Michigan men's basketball team's 30-point win against Alabama A&M, the Wolverines' women's team tipped off a blowout win of its own.
Sophomore guard Jenny Ryan had team-high totals of 13 points, eight rebounds and three assists in Michigan's 72-44 win over Indiana State on Saturday night.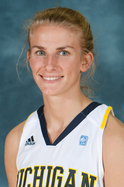 Ryan made 5-of-6 shots, including 3-of-4 from 3-point line range.
The Wolverines (10-2) started the game on a 25-7 run, led 41-18 by halftime and built its advantage to as many as 33 points (70-37) in the second half.
Kate Thompson came off the bench to add 12 points for Michigan and Rachel Sheffer contributed 11 points and five of the Wolverines' 15 steals. Indiana State committed a total of 26 turnovers, leading to 26 Michigan points.
Equally as notable statistically was that leading scorer Courtney Boylan didn't score a single point in the win. Coach Kevin Borseth said that's a sign the Wolverines were playing well offensively.
"Tonight we had some opportunities for other people to score and Courtney was able to play defense and not really have to have that burden of rescuing us every time the shot clock wound down," he said of his senior point guard.
Michigan also owned the glass, out-rebounding the Sycamores 44-28. The Wolverines had 17 offensive rebounds and outscored Indiana State 19-0 in second-chance points.
Deja Mattox, Anna Munn and Howell native Nikki Gunning scored eight points apiece for Indiana State (5-5).
Michigan hosts Illinois State at 1:30 p.m. Thursday in its final non-conference game of the season.