Posted on
Mon, Oct 18, 2010 : 3:52 p.m.
Michigan women's basketball team tries to take the next step and reach the NCAA tournament
By Michael Rothstein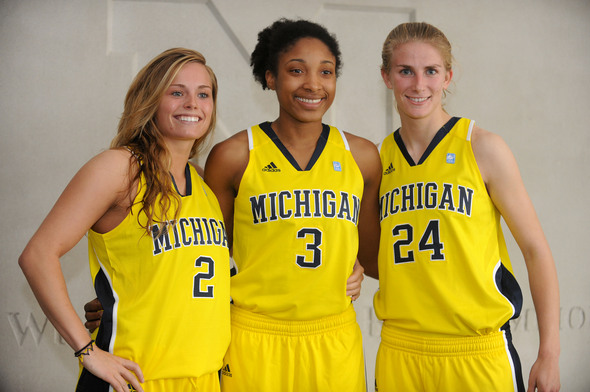 Angela J. Cesere | AnnArbor.com
A map of the United States hangs on the white board inside of the Michigan women's basketball locker room.
It's been there since the first team meeting in September. Michigan women's basketball coach Kevin Borseth has pinpointed 16 cities on it.
A red and white target symbol is in the middle.
"Put your eye on the target," Borseth said. "Our target is to get into the NCAA tournament, that's what we want to be able to do. Don't take your eye off that."
Michigan hasn't been to the NCAA women's tournament in a decade. It has had just four winning seasons in the past 10 years. Now, coming off a 21-14 season that ended in the Women's National Invitation Tournament semifinals, Borseth is reminding his players where they need to go.
Every day, Michigan's players see the map. See the target.
"I look at last year, too, and making it to the Final Four of the WNIT, I think it was a big step for us after the previous season," junior guard Courtney Boylen said. "It was so much fun for us to have the WNIT here, but there's no doubt in my mind that all of us want to be in the NCAA tournament."
The Wolverines return three starters from a year ago in senior Veronica Hicks (13.2 points per game), junior Carmen Reynolds (13.1 ppg) and sophomore Jenny Ryan (5.8 rebounds per game). The Wolverines had their first 20-win season since Sue Guevara led Michigan to a 22-8 record in 1999-2000.
Losing the defensive skills of 6-foot-6 center Krista Phillips will be difficult as will the transfer of starting point guard Dayeesha Hollins from Michigan to Cincinnati.
Hollins was Michigan's most athletic and exciting player a year ago, leading the Wolverines with 107 assists and she was third in steals with 60.
The Wolverines know they were close to reaching the NCAAs last year with regular-season losses to Northwestern twice, at Wisconsin and close losses against nationally ranked Ohio State and Michigan State. A win in one or two of those games could have put Michigan on the other side of the bubble.
With a schedule featuring non-conference games against Xavier, Marquette, Wake Forest, Texas A&M, Kansas, Boston College and Iowa State in addition to the Big Ten, it is a competitive enough schedule that the Wolverines should be tested.
"Last year, it really was a good step for us, but we really didn't accomplish the goals we set, so that makes you even hungrier the next year," Hicks said. "We want the NCAA tournament.
And if Michigan doesn't get in?
"Then we didn't accomplish our goal again," Hicks said.
This is what Borseth is trying accentuate. For three seasons, Borseth had to rebuild Michigan's program. It represented the longest stretch of his Division I career and the first time since the 1987-1990 seasons that he missed the NCAA tournament three straight years.
Now, with a team of his recruits in place, a new player development center coming and more experience than a year ago, he's trying to change the message.
And he's using a blue map to do it.
"Since I've gotten here, I don't know if that's really been a focal point," Borseth said. "I want to make it a focal point. We want to get into the NCAA tournament, that's what we want to be able to do. That's the goal, to get into that tournament and to compete.
"There's the bull's-eye. Don't take your eye off it."
Michael Rothstein covers University of Michigan basketball for AnnArbor.com. He can be reached at (734) 623-2558, by e-mail at michaelrothstein@annarbor.com or follow along on Twitter @mikerothstein