Posted on
Thu, Dec 20, 2012 : 3:19 p.m.
Michigan women's basketball team to kickoff Big Ten Network doubleheader at Crisler Center
By Pete Cunningham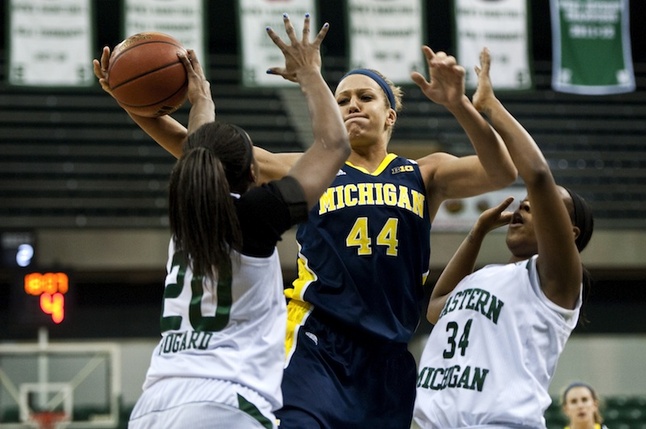 Joseph Tobianksi | AnnArbor.com
During her final two years of high school in Watervliet, Mich.,
Rachel Sheffer
's team would occasionally have doubleheaders with her school's boys basketball team.
After her team's games, Sheffer and her teammates would join their classmates in the student section and cheer for the boys team.
Sheffer and her teammates on the Michigan women's basketball team will get that same opportunity on Thursday with a couple major differences: a national television audience, likely more than 10,000 fans accompanying them in the stands and the No. 2 team in the country playing the nightcap of the doubleheader.
"I was just talking to my friend about the basketball game and how it was kind of a flashback of high school," Sheffer said. "It's really cool to know that (the men's team) bring in more fans for us because it's a doubleheader, and then after our game we can, you know, return the favor and watch them.
"It's really cool that we kind of get to share the spotlight in the same night."
Joseph Tobianski | AnnArbor.com
While most of the fans at Crisler on Thursday will be there to watch the Michigan men's team try to get to 12-0 against Eastern Michigan (
8:30 p.m., BTN
) - which would
trump the program's best start since its national championship 1988-89 season
- those who show up early will see the women's team attempt to reach 10-2.
That would be the program's best start since the 2001-02 season in coach Kim Barnes Arico's first year with the Wolverines.
"It's awesome. Any time you have success it builds confidence and confidence is definitely what you need heading into Big Ten season," said senior point guard Jenny Ryan who is averaging 11.3 points and 4.3 assists for the Wolverines this season. "We've really bought into the system and are just really getting used to the offense and I think it's showing in our play that we're growing as a team growing as a unit."
The Big Ten Network cameras and the extra fans in the stands certainly won't be Ryan's focus on Thursday.
"While we appreciate the other support, our main goal is getting that win when we're out there," Ryan said. "We just want to start the night off right. That's kind of the goal, to focus on ourselves get that moment for us and then we'll support (the men's team) after."
Valparaiso eliminated Michigan from the WNIT tournament at the end of that 2001-02 season and will face the Wolverines on Thursday (6 p.m., BTN) for the first time since that meeting more than a decade ago. The Crusaders are off to a 3-6 start to the season, a stark contrast to Michigan's early success, which has it creeping toward a national ranking.
But even with an opponent with a poor record, the national television audience, the expected larger than normal crowd and a nine-day holiday break between games that begins when the night is through, Ryan expects her team to be just as focused as it has been every night this year.
"We just focus on each play and each second of every game is valuable to us," Ryan said. "When we do that and play hard every night there will be no letdown.
"We take every game as a special moment, and I think our seniors especially know that each game does matter because it's our last year and we go into every game playing as hard as we can and regardless if it's the No. 1 team in the country or any other team in America, we'll play the same way every night."
Pete Cunningham covers sports for AnnArbor.com. He can be reached at petercunningham@annarbor.com. Follow him on Twitter @petcunningham.