Posted on
Thu, Dec 8, 2011 : 9:07 p.m.
Michigan women's basketball tops Detroit; EMU next stop on brief payback tour
By AnnArbor.com Staff
Its 19-point lead dwindled to just one bucket, but the Michigan women's basketball team was able to hold off Detroit-Mercy for a 61-51 win Thursday night at Calihan Hall in Detroit.
The win was the first half of the Wolverines' revenge tour against in-state mid-major programs. Michigan was routed by the Titans at Crisler Arena last season. On Sunday, the Wolverines play at Eastern Michigan -- the site of Michigan's ousting from last year's postseason WNIT tournament.
"Losing to both of those teams last year gives us a lot of motivation to get redemption and to show them that we are the better team," Michigan senior Carmen Reynolds said earlier this week. "We can do it. We need to stay confident and stick to our game plan. I think we can definitely get them back this year."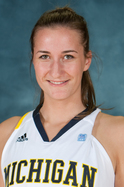 Against Detroit, junior guard
Kate Thompson
came off the bench to contribute a team-high 16 points and three blocks for Michigan (9-1). Junior center
Rachel Sheffer
added 14 points and junior guard
Jenny Ryan
finished with nine points and a career-high 11 assists.
Ryan hit a pair of 3-pointers in an early 15-0 Michigan run that gave the Wolverines their double-digit lead. It was extended to as many as 19 points in the first half and Michigan led 34-21 at halftime.
The Titans didn't get within seven points until a Senee Shearer 3-pointer with 5:48 made it 49-45. Another Shearer 3-pointer at the 3:15 mark pulled Detroit (1-8) within 52-50.
Michigan senior guard Courtney Boylan would stretch the lead back to five points with a 3-pointer, however, and the Wolverines iced the win by making 4-of-4 free throws in the final 38 seconds.
Shearer and Shareta Brown scored 15 points apiece for Detroit.
Next up for the Wolverines is a game at the EMU Convocation Center at 2 p.m. Sunday. The Eagles (5-2) beat Michigan, 67-59, there last March.
"We have two games back-to-back that were very sore spots for us (last year)," Michigan coach Kevin Borseth said. "We have to make sure that our preparation for these two games is better than it was last year, because we got into those two games and it didn't feel like we were prepared well enough to play against those two teams."
Eastern, which led Michigan State by 14 points at the Breslin Center last Saturday before the Spartans rallied for an overtime win, plays a tuneup game at 7 p.m. Friday against Missouri-Kansas City.
.
Game at MSU moved to Jan. 4
The Michigan athletic department announced Thursday that the Wolverines' women's basketball game at Michigan State has been moved from Jan. 2 to 7 p.m. on Thursday, Jan 4.