Posted on
Sun, Jan 2, 2011 : 7:39 p.m.
Michigan women's basketball wins at Iowa, its third straight against a ranked team
By AnnArbor.com Staff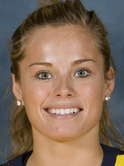 The Michigan women's basketball team beat its third straight ranked opponent, knocking off No. 14 Iowa 60-53 Sunday in Iowa City.
The Big Ten win over the Hawkeyes follows a win over then-No. 13 Ohio State on Thursday and then-No. 24 Boston College on Dec. 22.
"It was a great win for us," Michigan coach Kevin Borseth said. "Iowa has a great program and obviously we had to play hard to win this game."
Junior guard Courtney Boylan started the second game of her career at Carver-Hawkeye Arena and responded with a career-high 18 points and five rebounds in 37 minutes of action.
Boylan took the starting spot typically belonging to Nya Jordan, who did not play in the game.
Jenny Ryan added 15 points, Veronica Hicks 11 points and Carmen Reynolds seven points with 10 rebounds for Michigan (9-5, 2-0 Big Ten).
It was the 500th NCAA win for Borseth, according to MGoBlue.com.
Trailing 20-13, Michigan used a 13-1 run to close the first half and take a five-point lead at halftime. The Wolverines extended the lead to as much as 12 points in the second half.
Iowa cut its deficit to 57-53 in the final minute, but couldn't get any closer.
Jaime Printy scored 18 points to lead Iowa (12-3, 0-2). She and fellow guard Kamille Wahlin combined to shoot just 7-for-36 from the field and the Hawkeyes were 19 of 65 overall.
"We couldn't buy a bucket. Our defense was good, our rebounding was good, we took care of the ball, we did a lot of things on that end, but if you can't score points, it's hard to win a basketball game and today we just couldn't score points," Iowa coach Lisa Bluder told HawkeyeSports.com.
The Associated Press contributed to this report.