Posted on
Sun, Jan 1, 2012 : 8:23 p.m.
Tim Hardaway Jr. overcomes woeful shooting with game-changing jumper late against Minnesota
By Nick Baumgardner
Chris Asadian | AnnArbor.com
For
Tim Hardaway Jr.,
the entire package Sunday was relatively woeful.
The final minute, though, was something else.
After looking like an all-league player against Penn State on Thursday, Hardaway shot just 2-for-14 from the field against Minnesota.
He missed open shots, guarded shots, layups and even a free throw.
But when the Michigan basketball team needed him the most, he was there.
"I wasn't going to put him in the game if he was going to play 'not to miss,' " Michigan coach John Beilein said. "We mentioned that to him in the timeout. 'You're back in the game, you're open, shoot it in.'
"And he did."
Hardaway's 12-foot jumper with 35 seconds to go essentially iced a 61-56 win over the Golden Gophers, and also seemed to wash away the sting of the rest of his night.
More than that, it showed Hardaway's growing ability to leave a previous miss in his rearview mirror, rather than dwell on it for an entire game.
"You have to have that mentality if you're a shooter or any type of player," said Hardaway, who finished with just seven points. "If you're open, you have to take it."
The mentality Hardaway spoke about appears to be easier said than done, though. Often times this season, the 6-foot-6 small forward has struggled to remain positive throughout games when things may not be going his way.
Hardaway let early foul trouble ruin a performance on the road at Virginia, and has had several bouts with slow starts.
In a win over Bradley earlier this year, Big Ten Network cameras showed a dejected-looking Hardaway in the locker room after a sluggish first half. They also showed Beilein's reaction, and message to keep his chin up and power through.
On Sunday, everything went wrong for Michigan's leading scorer.
Except his attitude.
"That shot wouldn't have gotten off if we hadn't called the right play, or if Trey didn't trust me to pass me the ball or if (Jordan Morgan) didn't set a terrific screen," he said. "I was able to get the shot off, and luckily enough, it went in."
Sunday's performance wasn't really one to remember for Hardaway, but his ability to persevere seemed to speak positively to his on-court maturity level.
"It said a lot about Tim Hardaway," Beilein said.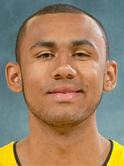 Horford diagnosis expected this week
Michigan sophomore forward Jon Horford missed a fifth straight game Sunday with a foot injury, spending the afternoon on the sidelines in street clothes, with his right foot in a large walking boot.
After the game, Beilein said he didn't have any update on his overall status, but said he hoped to have one by week's end.
"He hasn't done anything (this week)," Beilein said. "And hopefully by the end of this week we (will be able to) give an update on exactly where he is, to get a medical determination of where they think he is."
Beilein said Horford is not scheduled to have any further MRIs on his foot this week.
Michigan plays at Indiana on Thursday before returning home to face Wisconsin next Sunday.

A tired Smotrycz?

After putting up double-double performances in his previous three games, Michigan sophomore forward Evan Smotrycz was relatively quiet against Minnesota.
The 6-foot-9 forward went 1-for-4 from the floor for two points and eight rebounds in 22 minutes of play.
"I think (Smotrycz and Hardaway) looked very tired out there," Beilein said. "Now, the scouting reports are out there, you know?"
"He had eight rebounds in the first half and was doing some great things, but when we went to our small lineup, they were small. And (Smotrycz) looked a little tired. ... Maybe coached practiced him too hard, but they've got (Monday) off. We need to take time to recover."

Another sub-60 win

For the seventh time this season, Michigan held an opponent to less than 60 points. In those games, the Wolverines are 7-0.
On the season, the Wolverines are now allowed opponents to score just 59.9 points per game, fourth-best in the Big Ten.
Michigan's other sub-60 wins this year were against Ferris State (59-33), Towson (64-47), Western Illinois (59-55), Arkansas-Pine Bluff (63-50), Alabama A&M (87-57) and Penn State (71-53).

Odds and ends

After five-star signee Mitch McGary attended Michigan's win over Penn State on Thursday, several other future Wolverines found their way into Crisler Center on Sunday for the Minnesota game. Current 2012 signees Nik Stauskas and Glenn Robinson III both tweeted that they planned on attending the game, as did 2013 commits Zak Irvin and Derrick Walton. ... For the first time all season, Michigan put just one player in double figures (Trey Burke, 27 points). ... For the second straight game, Beilein didn't use much of his bench, outside of Stu Douglass. Matt Vogrich, Carlton Brundidge and Blake McLimans combined to play just 12 minutes.
Nick Baumgardner covers Michigan basketball for AnnArbor.com. He can be reached at 734-623-2514, by email at nickbaumgardner@annarbor.com and followed on Twitter @nickbaumgardner.
Want to stay connected to Wolverine basketball in your Facebook newsfeed? "Like" AnnArbor.com's Michigan Basketball News & Views.