Posted on
Thu, Apr 11, 2013 : 4:10 p.m.
Neighbors give Michigan coach John Beilein proper homecoming after runner-up finish
By Pete Cunningham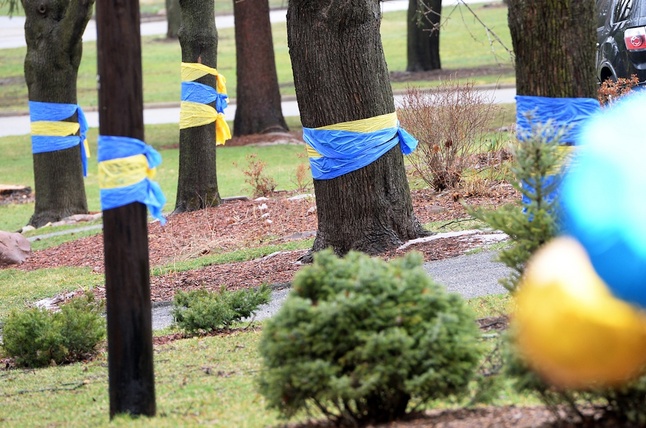 Melanie Maxwell | AnnArbor.com
Michigan men's basketball coach
John Beilein
didn't get to come home from the
Final Four in Atlanta
to a
championship parade
, but his neighbors made sure his welcome home was special nonetheless.
Lining Beiliein's Ann Arbor neighborhood on Tuesday were trees wrapped in maize and blue plastic table cloths, bushes with streamers across the top and porches with Block 'M' flags.
When Beilein came home from the team's official reception at the Crisler Center, his neighbors gave him their version. About a dozen neighbors lined the street, including some neighborhood children as well.
"When we were watching we were like we gotta do something. Everybody got into it. Everybody on the whole block," said Janet Yaman, one of Beilein's neighbors. "They're just a wonderful family, so likeable and so approachable."
Albeit more modest than the reception at Crisler, or what the championship parade planned for the team in the event of a win on Monday would have been, Yaman said Beilein and his wife Kathleen seemed appreciative of the gesture.
"Kathleen said that when they made that turn around the corner she said, 'John look!' and saw everybody," Yaman said. "They were so stunned, they really were."
Yaman said that everyone in the neighborhood was happy to do their part.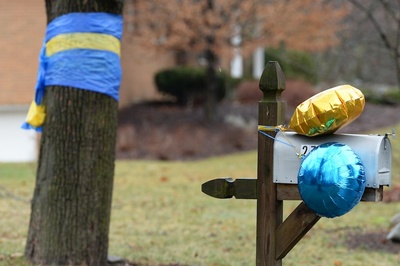 Melanie Maxwell | AnnArbor.com
"I just said 'how can I help?" said
Joe Harris
, who had the trees wrapped with maize and blue plastic and Michigan balloons on his mailbox. "It was really a pleasure doing…and the good news was it wasn't raining."
Harris hadn't hung his newly purchased his Block 'M' flag on his porch as of Thursday, but began to set it out.
"I'm a little late on this," said Harris, and a quick glance down the street revealed his porch was one of the few without a flag on the block.
When the team secured its spot in the championship game, one of Beilein's neighbors, Laura (who asked for her last name not to be used to protect the Beileins' privacy) got on the phone and began to organize the welcoming party.
"He's a wonderful neighbor and a wonderful guy and we were just so proud of him and proud of the effort of the whole team and we thought we needed to give him a proper homecoming," said Laura.
It's no surprise that Laura was one of the driving forces behind organizing the homecoming. A Michigan alumnus who graduated in 1990 -- a year after Michigan's last national championship -- she knows a thing or two about giving a proper greeting after a championship run.
"I have to say both (NCAA finals runs) were exciting, but being a student in 1989 was really fun," Laura said. "Just being a neighbor of John and Kathleen they're wonderful people, real down-to-earth, nice people, and we just wanted to say, 'great job.'"
Pete Cunningham covers sports for AnnArbor.com. He can be reached at petercunningham@annarbor.com. Follow him on Twitter @petcunningham.