Posted on
Fri, Mar 29, 2013 : 2:58 p.m.
No. 4 Michigan vs. No. 1 Kansas: A comprehensive guide to our coverage
By Pete Cunningham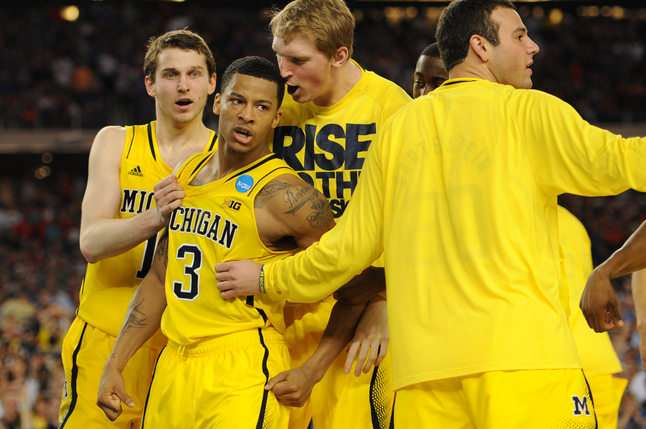 Melanie Maxwell | AnnArbor.com
Postgame coverage:
WHO: No. 4 Michigan (28-7, 12-6 Big Ten) vs. No. 1 Kansas (31-5, 14-4 Big 12).
LIVE COVERAGE: Join Michigan beat writers Nick Baumgardner and Kyle Meinke from our Live Chat on the Michigan Basketball homepage for their take of the action as it happens. You can also follow them on Twitter @nickbaumgardner and @kmeinke.
WHERE: Cowboys Stadium, Arlington, Texas.
WHEN: Friday, 7:37 p.m.
ODDS: Kansas is favored by 1.5 ponts according to SportsBook.com.
SERIES RECORD: Michigan leads the all-time series 5-2.
LAST MEETING: Kansas won the teams' last meeting 67-60 in overtime Jan. 9, 2011.
BROADCAST INFORMATION: TV: TBS; Radio: Detroit: WWJ (950 AM), Ann Arbor: WWWW (102.9 FM).
Coverage throughout the week: In case you haven't been paying any attention to the college basketball world, or gave up visiting our website for Lent, here is a roundup of all of the big Michigan vs. Kansas story lines from the past week:
Can Michigan win a national title? With no Goliath in its way, why not?
While it wasn't ridiculous to think Michigan could rebound from a disappointing finish in the Big Ten Tournament to make the Sweet 16, it would have been somewhat of a stretch to predict the sort of dominance the Wolverines showed at The Palace last weekend. It's looking like the sky is the limit (again) for the Wolverines.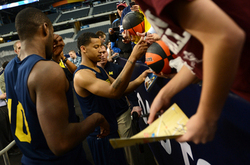 Kansas guards respect Trey Burke, but are far from intimidated by Michigan's star point guard
Michigan's Trey Burke signed plenty of autographs in Arlington so far, but it's a safe bet to say none have been for the Kansas players. The Jayhawks said they are impressed with the sophomore guard, but in no way intimidated by his prowess. They are up to the challenge of facing the Wooden and Naismith finalist.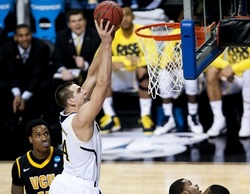 Mitch McGary vs. Jeff Withey a matchup to watch as Michigan battles Kansas in Sweet 16
Michigan's freshman big man Mitch McGary had a strong showing in Michigan's first two games of the NCAA Tournament, averaging 17.5 points and 11.5 rebounds. The Wolverines will need him again against the Jayhawks' 7-footer Jeff Withey. McGary said he's up to the challenge.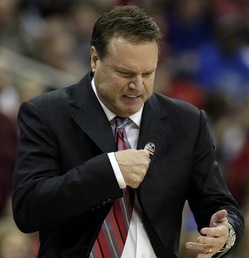 Kansas' Bill Self on experts favoring Michigan: 'I hope everyone's talking about' the Wolverines
Here's one thing that Bill self actually isn't mad about: Michigan getting a lot of love from the so-called experts. Kansas in the No. 1 seed in the region and has a much more storied history, but none of that seems to matter to prognosticators. Self said his team can use it for motivation.
Michigan freshmen get pep talk from ex-Fab Five star Jimmy King, who inspires them with confidence
Michigan will play in the Sweet 16 on Friday for the first time since 1994. And this week in Ann Arbor, the team's five freshmen got a special visit from one of the last players to play for the Wolverines on this stage, Jimmy King. Unsurprisingly, the former Fab-Fiver told the freshman to play with confidence.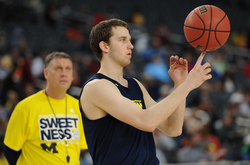 Matching up Michigan and Kansas in Sweet 16 (with predictions)
Kansas has size. Michigan has speed. So what wins the day, size or speed? Just as Michigan's second game of the tournament against Virginia Commonwealth was a tale of contrasting style, so too will be the Wolverines' attempts to take down the Jayhawks.
Young Michigan feeling confident heading into Sweet 16, asking 'why not us?'
Michigan's team is young, the youngest in the tournament, in fact. With youth come usually comes a little bravado as well and this group has it in spades. The young Wolverines are now asking, 'Why not us?' when it come to winning a national championship.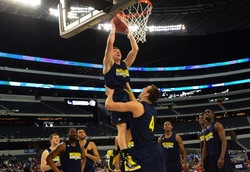 Images from the Michigan basketball team's Thursday practice at Cowboys Stadium
The Michigan basketball team practiced at Cowboys Stadium in Arlington on Thursday, and practice wasn't all that went on. Players busted out cell phones to get some pictures of their own and Spike Albrecht even threw down a dunk, albeit with a bit of an assist from Mitch McGary.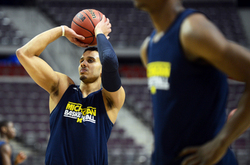 Forgotten man Jordan Morgan could return to rotation against Kansas
It's been a rough couple of weeks for Jordan Morgan. The junior big man has not had the return from injury he had hoped for, being replaced in the starting lineup by Mitch McGary and leapfrogged in the bench rotation by Jon Horford. Regardless, he said he has to stay ready incase his number is called.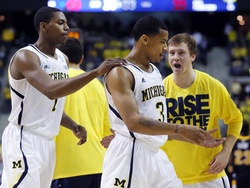 John Beilein: Having players viewed as pro prospects is 'a good problem to have'
Michigan's roster might look a little different next year. How different? Well, Trey Burke, Glenn Robinson III, Tim Hardaway Jr. and now Mitch McGary's names are all popping up on various prognosticators' NBA Draft boards. John Beilein said it's a good problem to have.

Who ya got?

Associated Press Side-by-Side comparisons:

Kansas | Michigan
Record: 31-5 | 28-7. Advantage: Kansas.
Average Points : 74.9 | 75.1. Advantage: Michigan.
Opponents' average points: 61.2 | 62.4. Advantage: Michigan.
Margin of victory: 13.7 | 12.7. Advantage: Kansas.
Field goal percentage: .479 | .485. Advantage: Michigan.
Opp. FG Pct.: .357 | .419. Advantage: Kansas.
3-Point FG Pct.: .363 | .382. Advantage: Michigan.
Opp. 3-Pt. FG Pct.: .302 | .324. Advantage: Kansas.
3-Pt. FG-Game: 5.8 | 7.5. Advantage: Michigan.
Opp. 3-Pt. FG-Game: 6.3 | 6.4. Advantage: Kansas.
FT Pct.: .737 | .711. Advantage: Kansas.
Rebound Margin: 6.5 | 3.3. Advantage: Kansas.
Turnover Differential: -1.3 | 2.8. Advantage: Michigan.
Average Steals: 6.9 | 6.0. Advantage: Kansas.
Average Blocks: 6.5 | 2.8. Advantage: Kansas.

Pete Cunningham covers sports for AnnArbor.com. He can be reached at petercunningham@annarbor.com. Follow him on Twitter @petcunningham.