Posted on
Sat, Apr 6, 2013 : 5:59 a.m.
No. 4 Michigan vs. No. 4 Syracuse: A comprehensive guide to our Final Four coverage
By Pete Cunningham
Melanie Maxwell | AnnArbor.com
Postgame coverage:
LIVE COVERAGE: Join Michigan beat writers Nick Baumgardner and Kyle Meinke from our Live Chat on the Michigan Basketball homepage for their take of the action as it happens. You can also follow them on Twitter @nickbaumgardner and @kmeinke.
WHERE: Georgia Dome, Atlanta, Ga.
WHEN: Saturday, 8:49 p.m.
ODDS: Michigan is favored by two points according to Sportsbook.com.
SERIES RECORD: Michigan is 5-8 all-time against Syracuse.
LAST MEETING: Michigan lost 53-50 on Nov. 26, 2010, in the semifinals of the Legends Classic in Atlantic City, NJ.
BROADCAST INFORMATION: TV: CBS; Radio: Detroit: WWJ (950 AM), Ann Arbor: WWWW (102.9 FM).
Coverage: It's been 20 years and the day is finally here: Michigan is back to the Final Four. When it's been two decades since a team has done something, it's understandable for fans, and the media that cover the team, to go a little overboard. With that in mind, we've collected some of the best coverage from throughout the week and put it into one easy-to-read package: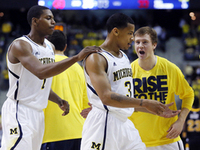 Michigan feeling 'slighted' by Syracuse trash talk heading into Final Four
First it was Kansas' Jeff Withey that was talking smack about the Wolverines. Now it's C.J. Fair bringing the noise. Trey Burke and company are starting to feel a little bit like Rodney Dangerfield: no respect...no respect at all.
Syracuse not afraid of Michigan's Trey Burke, who says 'we'll see tomorrow'
If Syracuse had one mission Friday afternoon, it was to prove its status as an underdog. The confident Orange boasted about mismatches, declared their 2-3 zone nearly impenetrable and went one step further. They challenged Michigan's best player -- the country's best player -- Trey Burke.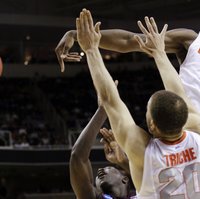 Brandon Triche says Syracuse will attack Nik Stauskas, exploit mismatches 'at every position' vs. Michigan
Asked to pick out a spot on the floor where he thought his team could best exploit Michigan's defense Saturday, Brandon Triche had to think for a minute. Then, the senior guard collected himself, and responded generally. "We think we've got mismatches at every position," the Syracuse senior guard said Friday. "We feel like not too many teams can stay in front of us." So that settles that.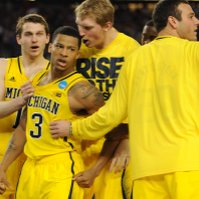 Michigan's Trey Burke to battle fellow potential NBA lottery pick Michael Carter-Williams in marquee PG matchup
Trey Burke is the best player in the country, according to a lot of people, but Syracuse has a point guard, too and he's pretty good. Sophomore Michael Carter-Williams is projected as an NBA lottery pick, and so is Burke. Let the games begin.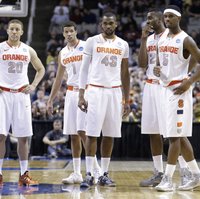 By the numbers: A look at the freaky stats posted by Syracuse's defense
Syracuse's 2-3 zone has drawn some oohs and aahs this week. The buildup has felt similar to that for VCU's "Havoc" full-court press in the third round. Only difference: Syracuse's defense is putting its money where its mouth is. Here's a look at some of the freakish defensive numbers the Orange have put up in the tournament.
Michigan basketball team rejoins Ann Arbor women on annual Final Four trip
In 1993, Ann Arbor residents and longtime Michigan basketball season ticket holders Joan Raphael and Penelope Bekiares went to the Final Four to see Chris Webber and the Fab Five play. Despite the result, they had such a blast that they've gone to every Final Four since. Twenty years later, they're thrilled to have their team join them again.
From Charles Barkley to Lil Wayne, Trey Burke's family in awe of national attention he's receiving
Trey Burke's always been a big deal in Columbus, Ohio. But throughout the Michigan sophomore point guard's meteoric rise as a college basketball player this season, Burke's name, face, jersey and look have gone national. From Jalen Rose, Charles Barkley, Bob Knight, Kenny Smith, Greg Anthony and even rapper Lil Wayne, everyone knows Burke.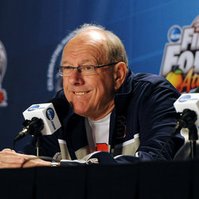 From Final Fours to NCAA tournament early exits, Syracuse's Jim Boeheim has experienced it all
Each time Jim Boeheim has made the Final Four, Syracuse has played for the national championship on Monday night, winning it all with Carmelo Anthony in 2003. He's second only to Duke's Mike Krzyzewski with 920 wins. But there's some who pay more attention to Syracuse's NCAA tournament stumbles under Boeheim than his four Final Fours in 37 seasons.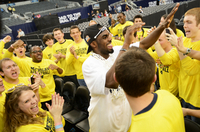 Glenn Robinson III and Tim Hardaway Jr. getting one over on their famous fathers
The night before knocking off Florida in the Elite Eight at Cowboys Stadium, Glenn Robinson III got a call from his father. Glenn "Big Dog" Robinson gave his son simple instructions about what he wanted to see the next afternoon. He told his son to go out on the court, and do something he never could. Get to a Final Four.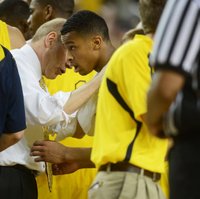 Michigan's John Beilein refuses to discuss Trey Burke-Tim Hardaway Jr. NBA report at Final Four
John Beilein refused to get into detail Thursday when asked about a report claiming that Michigan sophomore point guard Trey Burke and junior guard Tim Hardaway Jr. will depart for the NBA at season's end.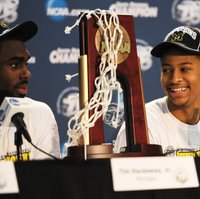 Column: Fans should forget 'what if' stuff right now, Michigan's in the Final Four -- enjoy it
At some point in the not-so-distant past, major college sports turned into a "what have you done for me lately" situation. Now, with shorter attention spans and a news cycle that somehow finds a way to run longer than 24 hours, college athletics has cranked up a notch. Now, for many, it's "what will you do for me next?" Yet Trey Burke manages to stay in the moment, and fans should follow his lead. Rather than wondering if Burke will turn pro, or what the Final Four will mean for recruiting, why not enjoy the chance to watch your team compete for a national championship?

This and That:

Who ya got?

Associated Press Side-by-Side comparisons:

Michigan | Syracuse
Record: 30-7 | 30-9. Advantage: Michigan.
Points per game: 75.5 | 70.8. Advantage: Michigan
Opponents' points per game: 62.9 | 58.6. Advantage: Syracuse.
Scoring margin: +12.6 | +12.2. Advantage: Michigan
Field goal percentage: .485 | .440. Advantage: Michigan
Opponents' FG pct.: .423 | .368. Advantage: Syracuse.
3-pt FG pct: .385 | .337. Advantage: Michigan
Opponents' 3-pt FG pct: .323 | .282. Advantage: Syracuse.
3-pt FG made per game: 7.6 | 5.9. Advantage: Michigan
Opponents' 3-pt FG made per game: 6.2 | 6.1. Advantage: Syracuse.
Free throw pct.: .705 |.675. Advantage: Michigan
Opponents' FT percentage: .678 | .677. Advantage: Syracuse.
FT made per game: 11.4 | 14.4. Advantage: Syracuse.
Opponents' FT made per game: 8.6 | 12.9. Advantage: Michigan
Rebounds per game: 35.2 | 38.5. Advantage: Syracuse.
Opponents' rebounds per game: 32.1 | 34.8. Advantage: Michigan
Rebounding margin: +3.1 | +3.7. Advantage: Syracuse.
Assists per game: 14.5 | 14.1. Advantage: Michigan
Opponents' assists per game: 12.5 | 13.4. Advantage: Michigan
Turnovers per game: 9.4| 12.4. Advantage: Michigan
Opponents' turnovers per game: 12.2 | 15.6. Advantage: Syracuse.
Turnover margin: +2.8 | +3.2. Advantage: Syracuse.
Steals per game: 6.2 | 9.1. Advantage: Syracuse.
Opponents' steals per game: 5.2 | 6.9. Advantage: Michigan
Blocks per game: 2.8 | 6.2. Advantage: Syracuse.
Opponents' blocks per game: 3.2 | 3.2. Advantage: None.

Pete Cunningham covers sports for AnnArbor.com. He can be reached at petercunningham@annarbor.com. Follow him on Twitter @petcunningham.