Posted on
Fri, Feb 26, 2010 : 6:12 p.m.
Ohio State forward Evan Turner has teammates wondering, 'What doesn't he do?'
By Michael Rothstein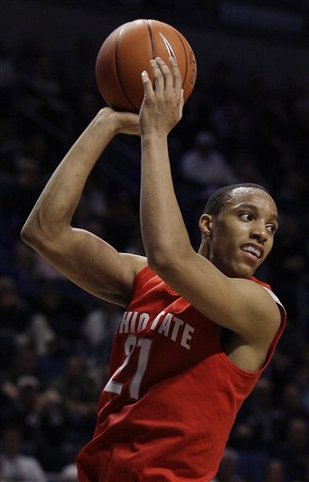 COLUMBUS -
Evan Turner
sat in his hospital bed, his back fractured, his season bleak. Everything had gone so well for the Ohio State junior forward. He was averaging 20.6 points and 12.9 rebounds a game. His team was 7-1.
And in an instant, with a hard, awkward landing after a dunk against Eastern Michigan on Dec. 5, it looked like it was over. So he apologized to teammates for being injured and started working on his return.
Why the apology? Well, at Ohio State, Turner is more than the best player on a Top Ten team. He is the reason the Buckeyes are so good, the reason they are in second place in the Big Ten, a half game back of Purdue.
"What doesn't he do?" Ohio State guard Jon Diebler said. "He means a lot, obviously. He just does so many things that don't show up in the stat book. Obviously, he fills up the stat book, but the things that don't show up are really what make us go.
"He just draws so much attention offensively, and it gets a lot of shots for us, and defensively with his length and his ability to read the floor and read people's eyes really makes him tough."
Basketball coaches - those that coach him and have to face him - gush about the 6-foot-7 forward's ability. And no one picks the same attribute to describe the Chicago native's game.
There is Turner's shooting. His passing ability. His rebounding. His defense. That's just the on-court stuff.
"The best part of Turner is all the parts," said Wisconsin coach Bo Ryan, who coached Turner in the World University Games this summer. "He just really doesn't have a weakness."
Turner is a leader. Ohio State coach Thad Matta said Turner has remained levelheaded despite being considered the front-runner for national player of the year awards.
This position, though, is a place he one day hoped he'd reach when he was playing high school basketball with Illinois guard Demetri McCamey and Notre Dame guard Jonathan Peoples at legendary St. Joseph's in Chicago. He never boasted, but thought about it even though he was ranked as the 13th-best small forward in his class by Rivals.com.
Now he's vying to be the top player overall in college.
"I always had in the back of my head visions of trying to do something like that," Turner said. "I felt like something like this could come about if I worked hard enough, but it's just crazy that now it's actually coming. It's really coming."
What perhaps is most impressive isn't the entire package, but when it comes in the handiest. Turner has lifted Ohio State (21-7, 12-4 Big Ten) since his return Jan. 6 from his fractured back. When he team needs a score at the end of the game, like the Buckeyes did Wednesday against Penn State, Turner delivered.
When they need him to carry them, he can, like he did in the second half against Purdue on Jan. 10, he scored 32 points and negated a 29-point first half and 35-point game from Purdue junior Robbie Hummel in a 70-66 Ohio State win.
"In every game it seems like a time comes where you have to get the ball to a guy and he has to make a play," Northwestern coach Bill Carmody said. "Whether it's a rebound or you're looking for a score, and he always seems to come through with big plays.
"He has a nice team around him, and maybe some of those guys don't get the credit they deserve, but that kid just seems to come up big in big games, and it seems like every game has been a big game for him this year."
If it feels that way, it is because every game has been big for Turner. When he injured his back, it appeared Ohio State would drop from a national title contender to an NCAA tournament bubble team.
Instead, Turner averages 19.7 points, 9.2 rebounds and 5.8 assists - all team highs. This is the Turner that Michigan (13-14, 6-9) will see today at noon in Columbus (ESPN).
Not bad for a guy who spent most of his time in high school trash-talking with McCamey about playing against each other in the Big Ten once they left St. Joseph's.
"Now, three years later, it's about NBA and Player of the Year and things like that," McCamey said. "We never thought it would be like this, but at the same time we wanted to come in and work hard."
McCamey and Peoples could see it, though. In one of Turner's first varsity games his sophomore year at St. Joseph's, Peoples said he scored an "effortless" 21 points. Then he started the next year and from there, the three of them carried the Chargers until they were upset by Proviso East and Kansas State guard Jacob Pullen in the playoffs.
Peoples, who describes Turner as a "normal dude with a good heart," said Turner's ability grew gradually. By the time Turner was a junior, he knew he'd be pretty good.
"He's a long guy," Peoples said. "He can handle the ball and is a good passer. He's not looking to score. He can go back and play defense as well. His all-around game has gotten a lot better and so did his defense."
His game also leads to the obvious question of whether or not Turner will return next season. He said Friday he only wants to jump to the NBA if he can be an impact player right away.
And like most top players, he's not going to make or announce his decision until the end of the season, which with the way Turner is playing, could end up in Indianapolis at the Final Four.
"It's all based on how I do this year and what we do in March," Turner said. "If I don't get all I want to get out of college and all that, then I'll be back for another year."
If he stays along with Ohio State's incoming recruiting class ranked as one of the nation's best, there's a chance they could be the nation's preseason top team next year.
And Turner would be the nation's best player.
"I certainly hope I'm not coaching against him next year," Ryan said. "Don't tell Thad (Matta) I said that."
Michael Rothstein covers University of Michigan basketball for AnnArbor.com. He can be reached at (734) 623-2558, by e-mail at michaelrothstein@annarbor.com or follow along on Twitter @mikerothstein.