Posted on
Fri, Oct 15, 2010 : 9:25 a.m.
Purdue and Ohio State lead the AnnArbor.com preseason Big Ten basketball rankings
By Michael Rothstein
The long wait is over.
College basketball returns this evening when teams across the country hold their first practices of the 2010-11 season and many have fun, fan-based Midnight Madness activities.
The Big Ten is clearly among the elite conferences in the country this season and, considering the depth of teams, could make a claim to be the nation's best.
Not much changed from AnnArbor.com's off-season rankings back in May to today's first rankings of the preseason. But there was some movement.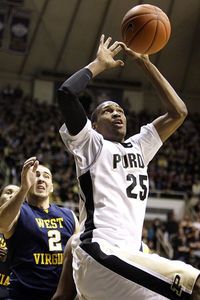 AP Photo
1)Purdue (Last ranking: 1)
Nothing has changed for the Boilermakers since we last ranked the Big Ten teams on May 11 and there's no reason to think Purdue isn't a major contender for the Big Ten and NCAA championships.
JaJuan Johnson
,
E'Twaun Moore
and
Robbie Hummel
give Purdue the best trio of players in the league -- both in height and play-making ability. That they have all shown leadership characteristics is a bonus.
2) Ohio State (Last ranking: 3) The Buckeyes lose national Player of the Year Evan Turner, but return four starters from a team that was among the best in the Big Ten last year. Replacing Turner won't be easy, but Ohio State is deeper than a year ago and adds the national high school player of the year in Jared Sullinger. He's not the only addition. DeShaun Thomas is the name people aren't talking about in the Ohio State class -- but he's going to be an impact player by the time Big Ten season starts.
3) Michigan State (Last ranking: 4) It has been the summer of controversy in East Lansing. Tom Izzo almost left for the NBA. Korie Lucious got a DUI and then needed to have knee surgery. Chris Allen transferred to Iowa State. Starting point guard Kalin Lucas is still recovering from a ruptured Achilles. Two unnamed players were accused of sexual assault. It is those last two issues that leave the Spartans behind Purdue and Ohio State. They have more questions than both of those teams and, until Lucas shows he is completely healthy, it is tough to know how good MSU can be. The addition of freshman Keith Appling to a good core of Lucas, Delvon Roe, Draymond Green and Durrell Summers will be dangerous. If Lucas is healthy and nothing comes of the sexual assault allegations, MSU could play deep into March again.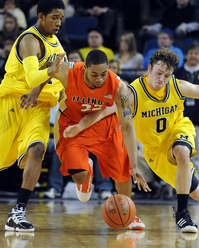 Lon Horwedel | AnnArbor.com
4) Illinois (Last ranking: 2)
The Illini are a good team with perhaps the best point guard in the league in
Demetri McCamey
.
Mike Davis
is one of the better big men in the league and Illinois is going to be a deep team this year. Sophomores
D.J. Richardson
and
Brandon Paul
have more experience and freshman
Jereme Richmond
will likely contend for Rookie of the Year honors in the league. One or two games at best should separate the Top 4 teams in the league. After that, there's a drop.
5) Wisconsin (Last ranking: 6) A healthy Jon Leuer for an entire season gives the Badgers the inside presence and star quality they lacked for part of the year. But Wisconsin is always going to be a good team that doesn't make preseason noise because they seem to do the same thing every year. Win. Swingman Rob Wilson and forward Keaton Nankivil could make the big jumps this year to help carry Wisconsin to the NCAA tournament. Again.
6) Minnesota (Last ranking: 7) Rodney Williams has a chance to be the breakthrough player in the Big Ten this year. The sophomore forward could be the most athletic player in the Big Ten and a matchup nightmare. Add the return of senior point guard Al Nolen and the shooting prowess of senior guard Blake Hoffarber and there is an experienced, talented nucleus in Minneapolis. That's not even mentioning the defensive presence of post players Ralph Sampson III and Colton Iverson. The Gophers will miss Damian Johnson, though.
7) Northwestern (Last ranking: 5) The Wildcats, forever in a quest to reach the NCAA tournament, never seem to make it easy on themselves. Kevin Coble announced he's not returning to play this season during the summer, eliminating the team's most exciting player. Forward John Shurna and guard Drew Crawford are still there and the 'Cats will be right where they always seem to be in March - on the bubble.
8) Indiana (Last ranking: 8) The Hoosiers slow climb from the program's bottoming-out that was the Kelvin Sampson Era continues, but it's still a year before IU is really competitive. Verdell Jones III is a nice piece to have and sophomores Christian Watford and Maurice Creek provide a nice inside-outside combination of athletic, strong wings. That this team only has one senior -- guard Jeremiah Rivers -- means that this is a two-year cycle for Indiana.
9) Michigan (Last ranking: 10) Speaking of two-year cycles, no team embodies this more than the Wolverines. Since we last visited the rankings, Michigan dismissed Laval Lucas-Perry from the team, finished bringing in an entire new assistant coaching staff and went to Europe. It is the last thing that leaves Michigan with a small sliver of hope. The Wolverines still have no experienced size, but swingman Tim Hardaway Jr. might be better than expected. If he can play well and mature throughout the year, this team of no seniors has a chance to return to the NCAA tournament. In 2011-12. This year, though, won't be as kind.
10) Penn State (Last ranking: 9) The Nittany Lions still have Talor Battle and his baby brother, freshman guard Taran Buie, has joined him in. But the main question is if Penn State has any size and interior presence to take pressure off the super senior and heralded freshman. There is experience down low with Andrew Jones, D.J. Jackson and Jeff Brooks, but will that be enough to contend with a bunch of teams that also have experienced front courts?
11) Iowa (Last ranking: 11) Fran McCaffery is a good coach and, some day, he'll return the Hawkeyes to the NCAA tournament. Just don't expect it this year. McCaffery likes to run, something that goes against what former coach Todd Lickliter liked to do. He's built a career on turnarounds, but none have come in a league as tough top-to-bottom as this. Iowa has 10 scholarship players, led by sophomore guard Cully Payne and junior guard Matt Gatens. But Iowa has one senior and a ton of freshmen on the roster. Southfield native Roy Devyn Marble is the best of the young bunch, but this team will still need some time.
Michael Rothstein covers University of Michigan basketball for AnnArbor.com. He can be reached at (734) 623-2558, by e-mail at michaelrothstein@annarbor.com or follow along on Twitter @mikerothstein