Robert 'Tractor' Traylor, ex-Michigan basketball player, found dead in Puerto Rico
Posted on Wed, May 11, 2011 : 1:06 p.m.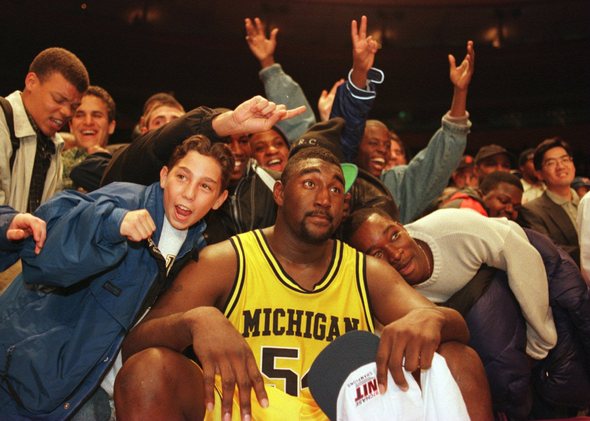 Ann Arbor News
This story is developing.
Former Michigan basketball player Robert "Tractor" Traylor was found dead this morning in his apartment in Puerto Rico at the age of 34, according to a report from his Puerto Rico team, Vaqueros de Bayamon and police reports in San Juan, Puerto Rico.
The Puerto Rican news website El Nuevo Dia reported Traylor had a heart attack. He had surgery on his aorta in November 2005.
Traylor had been missing for three days and was found when friends went to visit him, according to a report on ESPN.com. Police in San Juan also said it appeared to be a heart attack.
Traylor, who played for U-M from 1995 to 1998, played in Mexico this season, averaging 11.6 points and 5.7 rebounds for Halcones UV Xalapa. After the Mexican season, he moved to Puerto Rico, where he averaged nine points and seven rebounds in the first nine games of the Vaqueros de Bayamon team.
The 6-foot-8 Traylor hovered near 300 pounds during his entire three-year career at Michigan where he averaged 13.3 points, 8.2 rebounds. He emerged as a key player for Michigan in the 1996-97 season, especially during the Wolverines' National Invitational Tournament run when he scored 26 points with 13 rebounds against Notre Dame and then had 26 points and 13 rebounds against Florida State in the final.
He averaged 16.2 points and 10.2 rebounds a game in the 1997-98 season, when he teamed with Louis Bullock to lead the Wolverines to a 25-9 record. He also led the Wolverines to the 1998 Big Ten Tournament championship and the second round of the NCAA tournament.
Traylor left Michigan after his junior year and was the sixth pick in the 1998 NBA Draft by the Dallas Mavericks. He was almost immediately traded to the Milwaukee Bucks for Pat Garrity and perennial All-Star Dirk Nowitzki.
Traylor played for the Milwaukee Bucks, the Cleveland Cavaliers and the Charlotte/New Orleans Hornets during his seven-year NBA career. Traylor averaged 4.8 points and 3.7 rebounds in the NBA.
Traylor's heart surgery effectively ended his NBA playing days, though he talked at the time of a comeback.
After signing with New Jersey for the 2005-06 season, Traylor never suited up for the Nets after a failed physical examination. He had been playing professionally in Puerto Rico since 2010.
Traylor became more well known in Ann Arbor for his involvement in a scandal involving former Michigan booster Ed Martin. He was among the players whom Martin told federal investigators that he lent money to during their playing days.
During his freshman year at Michigan, Traylor was involved in a car accident with then-recruit Mateen Cleaves — who ended up at Michigan State — which launched the investigation that eventually led to the prosecution of Martin and the expunging of records at Michigan.
"We are saddened to hear about the loss of a former student-athlete, Robert Traylor," Michigan athletic director Dave Brandon said in a short statement. "Our sympathies go out to his family during this difficult time."
Traylor — who earned more than $11 million during his NBA career — faced up to 14 months in a federal prison in 2007 after pleading guilty to tax fraud. He was sentenced to three years of probation in September 2007.
According to a 2007 report on Mlive.com, Traylor "will serve the first three months of his probation in a halfway house and the next three months in home confinement. His sentence will be served in the offseason, the court said."
That charge, according to a 2007 report by Dan Wetzel of Yahoo! Sports, shared timing with charges filed against Traylor's cousin, Quasand Lewis, for selling an estimated $178 million in marijuana and cocaine in Metro Detroit. Lewis also was suspected to be tied to nearly a dozen killings and several fire-bombings, according to Wetzel's report.