Posted on
Tue, Nov 22, 2011 : 10:06 p.m.
Tale of two Tims: Hardaway's scoreless first half hurts Michigan in loss to No. 6 Duke
By Nick Baumgardner
LAHAINA, Hawaii -- For the final 20 minutes Tuesday, Michigan sophomore guard Tim Hardaway Jr. looked the player the Wolverines expect him to be, getting into the lane, hitting jumpers and making his foul shots.
For the first 20 minutes, though, Hardaway looked lost.
And with its best player kept under wraps early, the Wolverines had no answer.
"They completely shut down Tim, they wouldn't let him get the ball," Michigan basketball coach John Beilein said after an 82-75 loss at the 2011 Maui Invitational. "They just played four-on-four on one side. We were trying to draw things up in the huddle.
"But until we got to halftime, we really couldn't make an adjustment on that the way we wanted to."
Hardaway was a non-factor early, getting off just two shots (both misses) in the game's first 15 minutes. As a result, the Wolverines found themselves down 30-15.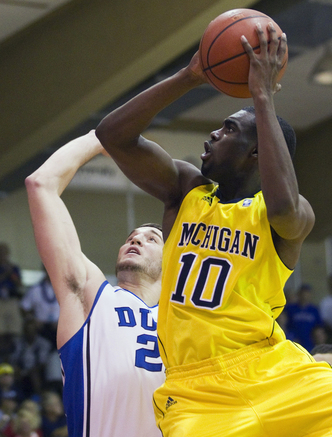 AP Photo
Hardaway had forced up four more shots before the break, but none of them fell, subsequently putting Michigan in a 12-point hole at the break.
"It wasn't really about frustration, they were just doing a good job of locking us down," Hardaway said. "They had a great gameplan."
Duke coach Mike Krzyzewski said taking Hardaway away at all costs was an early strategy, and it paid off.
"I thought (Duke freshman point guard Austin Rivers) made some big plays for us and did a great job on Hardaway, especially in the first half," he said. "The way we defended probably was a little bit different than what they expected.
"We tried to not spread ourselves out and once they got the ball to the wing, we wanted to down it and keep the ball to a side as much as possible."
Beilein agreed with Krzyzewski's assessment.
"That's what happens during the season," he said. "People play you different ways and you can't practice for everything.
"The way our kids adjusted during the second half, offense wasn't a problem. But Duke came out with a great plan, and that's a (reason) why (Krzyzewski) has 900-some wins."
The second half was a different story altogether.
Hardaway came out much more assertive, getting his first points of the game on a deep 3-pointer to cap an 11-3 Michigan run to start the half, cutting the deficit to just four and reinvigorating the sophomore's game.
Hardaway finished 6-for-8 from the field after the break, finishing the game with a team-high 19 points. Through five games this season, Hardaway is beginning to get more comfortable with his role as Michigan's star, averaging 16.6 points, 3.4 rebounds and 2.8 assists per game.
As for Tuesday, the sophomore standout didn't have much of an explanation for his second-half outburst, saying he just found a way to execute.
Krzyzewski had a more clear answer, though.
Talent eventually took over.
Just not soon enough.
"Hardaway is a gifted player, he's going to be a pro," Krzyzewski said. "He's one of the best players in the country."
Nick Baumgardner covers Michigan basketball for AnnArbor.com. He can be reached at 734-623-2514, by email at nickbaumgardner@annarbor.com and followed on Twitter @nickbaumgardner.