Posted on
Mon, Nov 21, 2011 : 7:55 p.m.
Michigan basketball team finds offense, opens Maui Invitational with 73-61 victory against Memphis
By Nick Baumgardner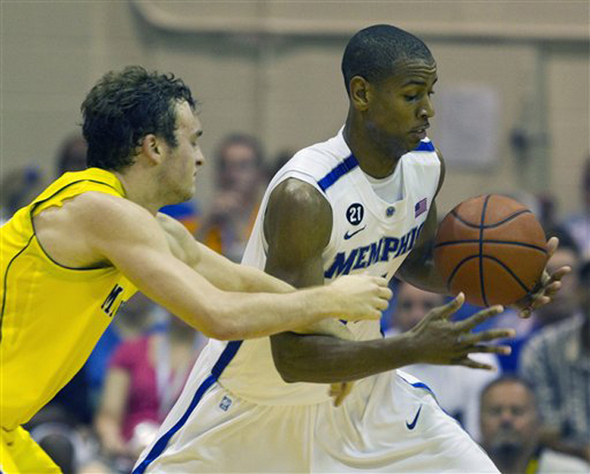 Associated Press
Updated at 7:55 p.m.
LAHAINA, Hawaii — The Michigan basketball team headed to Maui looking for its first real test of the season.
On Monday, it passed with flying colors.
The 15th-ranked Wolverines got 21 points, seven rebounds and five assists from Tim Hardaway Jr. and the Wolverines befuddled fast-paced Memphis, the country's eighth-ranked team, with a 73-61 win during the opening round of the Maui Invitational at the Lahaina Civic Center.
"Memphis presents some very big challenges. We hadn't seen anything like that," Michigan coach John Beilein said. "Our scout team worked really hard, but they can't duplicate (Memphis). We had some sloppy moments.
"But, boy, we had some really good moments as well."
With the win, Michigan (4-0) earned a rematch with Duke at 7 p.m. Tuesday. The Blue Devils eliminated Michigan from the NCAA Tournament last year.
As a team, Michigan played its best offensive basketball of the young season, finishing 27-for-50 shooting.
MICHIGAN 73, MEMPHIS 61

Nick Baumgardner's recap of Monday's Maui Invitational game:
OFFENSE CATCHES UP
In Michigan's first three games, the offense struggled to find any sort of flow (43 percent shooting as a team), while the defense carried the flag. Michigan's defense continued to sparkle Monday against No. 8 Memphis, limiting the Tigers to a 19-for-57 performance from the floor, but for the first time all season the offense followed. Michigan hit seven of its first eight shots, shot 60 percent in the first half and finished the game 27-for-50.
BLASTING THE GLASS
Entering the game, Michigan found itself facing a three-game rebounding deficit of 96-93 against Ferris State, Towson and Western Illinois. Against Memphis, though, the Wolverines owned the paint -- out-rebounding Memphis 38-29 and winning the points in the paint battle 28-22.
BURKE BESTS JACKSON
Michigan freshman point guard Trey Burke had already turned a few heads this season with his play against lesser opponents, but against Memphis -- notably former five-star point guard Joe Jackson -- Burke turned even more. The former Ohio Mr. Basketball finished with 14 points on 6-for-10 shooting to go along with three assists. Jackson, meanwhile, went 3-for-9 with seven points.
QUOTE
"It was just preparation. We talked with our coaches and we were just finding easy ways to score on offense. We took advantage of it."
— Tim Hardaway Jr.
RELATED CONTENT
Tim Hardaway Jr., Trey Burke steal Memphis' thunder
Notebook: Michigan confuses Memphis with its defense, then beats up the Tigers on the glass
Boxscore
|
Big Ten standings
Freshman point guard
Trey Burke
, spending most of the game going against former five-star recruit
Joe Jackson
, finished with 14 points and four assists in his fourth collegiate game.
Burke and Hardaway stole the show from Jackson and Memphis sophomore guard Will Barton. While Jackson and Barton combined to shoot 6-for-21, Hardaway and Burke dominated throughout.
"It was just preparation," Hardaway said. "We talked with our coaches and we were just finding easy ways to score on offense.
"We took advantage of it."
While the offense was improved, Michigan's defense was same old, same old.
The Wolverines confused and frustrated the up-tempo Tigers all afternoon -- mixing up zone defenses with sound man-to-man and limiting Memphis (1-1) to 33.3 percent shooting.
After a back-and-forth first half, Michigan took control in the final minutes before halftime. A Hardaway jumper capped a 10-0 run to make it 37-31 with 31 seconds to play. After Burke swatted Jackson's runner at the horn, the Wolverines entered the locker rooms with the momentum.
Barton and Michigan senior guard Zack Novak engaged in a minor scuffle at midcourt on the way to the locker rooms. Cooler heads prevailed and both players were issued technical fouls, but it was clear from that point forward that Michigan was in control.
"We didn't want the score to be 100-90, which is how it was going for a little bit," Novak said. "They made a little run and our tough shots stopped falling. But we gathered together, got back with it, slowed down and just got good shots.
"We played our basketball."
The Wolverines' momentum carried over into the second half. Michigan extended the lead to eight after a Novak 3-pointer two minutes in.
Memphis got back within five after a jumper from Barton, but Michigan answered with a 7-0 run, capped by a deep 3-pointer from reserve guard Eso Akunne to go up 53-41 with 12:24 to play.
"We stopped and embraced the moment when Eso hit that shot," Beilein said of the Ann Arbor native. "That young man has worked his tail off all summer long."
The lead would grow as high as 14 after Hardaway dropped in a pair of foul shots with 6:45 left, but Memphis didn't go away, getting it back to nine after a Charles Carmouche layup with 4:10 left.
Michigan put its foot down from there, though.
Hardaway hit a pair of foul shots before Evan Smotrycz buried a high-floating 3-pointer from the corner to make it a 70-56 game with just 3:20 to play, effectively icing the game.
Carmouche finished with 14 points to lead the Tigers.
Smotrycz finished with seven points and a game-high eight rebounds, while Novak pitched in with eight points before fouling out.
Michigan shot 15-for-25 in the first half and held Memphis to 11-for-31 shooting.
After struggling to out-rebound the likes of Towson and Western Illinois, the Wolverines dominated the glass against the Tigers, holding a 38-29 rebounding edge.
Michigan has passed the first leg of its Hawaiian gauntlet, setting up the rematch with Duke.
The Blue Devils were just tipping off against Tennessee (they won, 77-67) when Novak said he really didn't care who the team's upcoming opponent was. The Wolverines will be ready for anyone, he said.
"When you're at the Maui Invitational, you don't need any extra motivation to get up for a game," he said. "Whoever is on the schedule (Tuesday), we're going to be ready to go."
Nick Baumgardner covers Michigan basketball for AnnArbor.com. He can be reached at 734-623-2514, by email at nickbaumgardner@annarbor.com and followed on Twitter @nickbaumgardner.
'Like' our Michigan Basketball News & Views page on Facebook to follow our coverage of the Michigan basketball team.