Posted on
Tue, Nov 1, 2011 : 5:59 a.m.
The Mitch McGary sweepstakes: Breaking down the field
By Nick Baumgardner
Brewster Academy power forward Mitch McGary is expected to make one of the biggest decisions of his life this week.
And in doing so, he'll directly change the immediate future of three college basketball programs: Two for the worse, and one for the better.
McGary announced his plans last Thursday on his personal ESPN.com blog. He plans on making his college choice this week, and he'll be choose either Michigan, Florida or Duke.
Multiple reports surfaced late Monday night claiming McGary will make his decision known Thursday on ESPN programming.
ESPN senior recruiting analyst Dave Telep believes John Beilein and the Wolverines are in the driver's seat to earn the services of the country's top-rated power forward.
But he clearly cautions that a recruiting process is never really over until it's over.
So where might he fit best?
The easy answer is "anywhere."
He's 6-foot-10, 250 pounds, can run the floor, has an attitude and even has an extended jump shot.
But let's get a bit more in depth.
Duke
Pros:

Associated Press
It's Duke.
No, seriously. I really don't think we need to get any more specific than that.
With no disrespect to Beilein or Billy Donovan (both outstanding college basketball coaches), Mike Krzyzewski is an institution. His teams are in the hunt for the Final Four each and every year, and a player of McGary's caliber would only increase those chances.
It's located in a college basketball hotbed, Cameron Indoor is one of the most storied venues anywhere and its great academically.
Quite simply, McGary could choose the Blue Devils for the same reason most any recruit in America year in and year out might choose them.
They're always very, very good. And a national championship is always the goal.
Cons:
Of all three schools on McGary's short list, the Blue Devils are the only team already possessing depth in the front court.
If Mason Plumlee enters the NBA Draft, this point becomes a bit more moot. But if he doesn't, McGary could be walking into a rather crowded front court.
The youngest Plumlee brother, Marshall, begins his freshman season at Duke this year. And like older brothers Miles and Mason, he, too, is enormous, coming in at 6-foot-11, 225 pounds. There's also 6-11 junior Ryan Kelly, who played more than 20 minutes per game last season.
Now, it's possible McGary is better than any of those players, but still, he wouldn't be the end-all, be-all.
There's also the issue of a few failed Duke big men prospects over the years.
For every Elton Brand and Carlos Boozer, there appears to be a Chris Burgess or Shavlik Randolph. Josh McRoberts never materialized at the next level, neither did Shelden Williams.
In other words: It's no guarantee that Duke develops McGary into the potential NBA star many foresee him becoming.
Florida
Pros: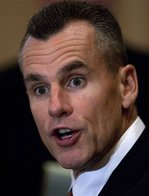 Associated Press
Billy Donovan's a winner, his back-to-back national championship rings in 2006 and 2007 pretty much sum that up.
At Florida, McGary would enter a situation where he'd be the undoubted front-court star. The Gators don't have a player on their roster that can match McGary's game on paper, and additionally, Billy Donovan has a solid track record with big men.
Joakim Noah, Al Horford, Udonis Haslem and David Lee are a few Donovan-coached bigs that have gone on to productive NBA careers.
The development potential is there, and the Gators may be one major big away from becoming a Final Four contender.
Also, come on now, it's Florida.
Winter doesn't exist there.
Cons:
Donovan has had successful big men in the past, but as of right now, his roster is about to be stocked with major backcourt talent.
Current freshman Bradley Beal was the Gatorade National Player of the Year last season, 2012 commits Braxton Ogbueze and Michael Frazier are very highly regarded and if Kenny Boynton returns for his senior season, Florida could be a guard-oriented squad.
McGary can run the floor, no doubt, but would his talents get lost in the shuffle alongside a large group of guards that run faster and will want plenty of shots?
When Horford and Noah were on campus, they were stars. But the offense didn't exactly run through them. Donovan likes to press, loves 3-point shots and rarely has an offense that flows through one player.
Michigan
Pros: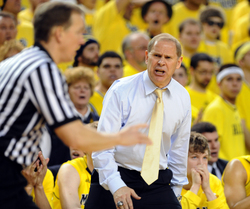 In
John Beilein's s
ystem, McGary could walk in the door, and immediately become the team's focal point offensively and defensively.
He's big, he's athletic and he could make every player around him better.
Detroit News and GoBlueWolverine.com recruiting analyst Sam Webb outlined as much in a News story this past September.
In the article, McGary's AAU coach Wayne Brumm explains in detail exactly why Michigan has a major chance to land the best power forward in America.
"I don't know anybody who runs a better offensive system for a post player than Michigan," said Brumm, who also coaches current Michigan 2012 commit Glenn Robinson III. "So I have to say, why not (Michigan as a possible destination)? Everybody else is (analyzing McGary's recruitment) like they're a friggin fan. We're trying to pick a school that is in Mitch's best interest."
Development is also a factor. Beilein, Bacari Alexander and strength and conditioning coach John Sanderson took Jordan Morgan from an afterthought and turned him into one of the biggest surprises in the Big Ten last season.
They also added 36 pounds to the previously lanky frame of Evan Smotrycz, and have bulked up Jon Horford by 30 pounds in one summer.
Imagine what they might be able to do with McGary?
Beyond that, Robinson III is known as one of McGary's close friends, and Zack Novak hails from the same hometown (Chesterton, Ind.).
Cons:
To be blunt, Michigan doesn't have the same recent winning success Duke and Florida boast.
In fact, it's not close.
The Wolverines were no doubt improved last season, and appear close to turning a corner in Beilein's fifth year, but facts are facts.
Simply put, Michigan is fighting to get back to a stage Duke never left and Florida is much closer to.
Bottom line:
For a player like McGary, these pros outweigh any cons in almost every situation.
He appears to be a program-changer, a player who could excel everywhere.
But he can't go to school everywhere. He has to pick someone.
You're up, Mitch.
Beilein, Donovan, Krzyzewski and every Wolverine, Gator and Blue Devil fan awaits your decision.
Nick Baumgardner covers Michigan basketball for AnnArbor.com. He can be reached at 734-623-2514, by email at nickbaumgardner@annarbor.com and followed on Twitter @nickbaumgardner.