Posted on
Wed, Mar 3, 2010 : 10:31 a.m.
Ohio State's Evan Turner takes commanding lead in college basketball player of year poll
By Michael Rothstein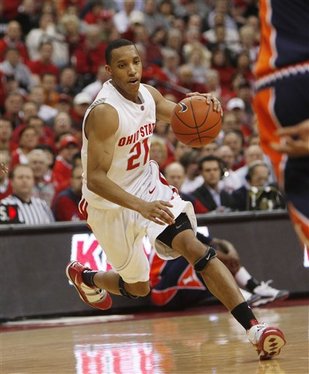 Three months ago,
Evan Turner's
season looked close to over after he fractured his back after a dunk against Eastern Michigan on Dec. 5.
Now, after a dominating second half that helped the Ohio State basketball team earn at least a share of the Big Ten Conference title and a season, Turner may be able to add another trophy or two at the end of the season.
In the final AnnArbor.com national player of the year poll, Turner is the runaway winner, according to our 49 respondents. The junior guard-forward picked up 41 first-place votes and is the only player named on every ballot.
The four major player of the year awards - the Naismith, Wooden, Robertson and AP - won't be handed out until later in March and in early April, but last week Turner was asked what it would mean to be named national player of the year.
"It means a lot, because people definitely counted me out when I got hurt and stuff like that," Turner said. "To get it, it'd prove to myself and just goes to show that you can never count out winners or a winner."
Since he returned on Jan. 6, Turner has sparked the Buckeyes. When he rejoined Ohio State, the Buckeyes had lost three Big Ten games. They've lost just one since then.
Turner has been the leader and had an 18-point, 12-rebound, 5-assist performance on Tuesday night against Illinois in a win that clinched a share of the Big Ten title for the Buckeyes (24-7, 14-4 Big Ten).
"These are the type of things he's always wanted, so he's handled it well," said Notre Dame guard Jonathan Peoples, a former high school teammate of Turner's who still speaks with him about once a week. "He was well prepared for these types of things that are coming at him.
"He's well prepared to handle it. He doesn't put pressure on himself. He's just a real confident guy. Not cocky. Just confident."
He's also in line to be college basketball's Player of the Year.
"His mid-range game is what distinguishes him so much," Michigan guard Zack Novak said. "If you look at a lot of the people who are scoring a lot of the points in the conference, around the country, that mid-range game is what's open. People are so afraid of three and so afraid of protecting the basket that it's that middle area that's open.
"He just gets there, gets to a spot and he's so long that there's not much you can do about it."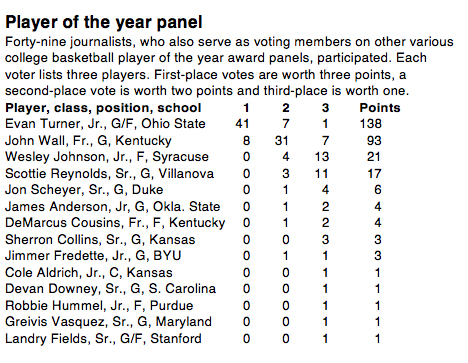 More analysis:
• The poll remained at 49 voters for the second straight ballot and for the second time in four ballots, 14 players were mentioned. The first had 11, second 14 and third 16.
• One player made his first appearance in the poll - Maryland's Greivis Vasquez. Four players dropped out of the poll: Texas' Damion James, West Virginia's Da'Sean Butler, Radford's Artsiom Parakhouski and Notre Dame's Luke Harangody. One player reappeared in the poll - BYU's Jimmer Fredette.
• Evan Turner, despite remaining in first place, made the biggest jump in points going from 110 to 138. He also saw his first-place votes go from 30 to 41. Sherron Collins had the biggest drop, from 17 points to 3 points. Scottie Reynolds was a close second, going from 29 points to 17 points.
• Six players had first place votes in the first poll. Five had No. 1 votes in the second poll and four had first-place votes in the third. By the final poll, only two players were named.
• Six players were named to all four polls: Turner, Wall, Johnson, Reynolds, Scheyer and Collins.
• Wall led the first two polls. Turner led the final two.
• Seven conferences were represented by the 14 players: ACC, Big East, Big Ten, Big 12, Mountain West, Pac 10 and SEC. Two schools, Kansas and Kentucky, had two players receiving votes.
Michael Rothstein covers University of Michigan basketball for AnnArbor.com. He can be reached at (734) 623-2558, by e-mail at michaelrothstein@annarbor.com or follow along on Twitter @mikerothstein.