Posted on
Tue, Dec 27, 2011 : 5:57 a.m.
Where's the beef? Thinning front court could be a big problem for Michigan basketball in Big Ten play
By Nick Baumgardner
It took 33 seconds last Thursday to show just how concerned Michigan basketball coach John Beilein is about his front court.
Following the Wolverines' first offensive possession against Bradley, sophomore forward Evan Smotrycz was whistled for a foul.
Under normal circumstances, Smotrycz would've had some breathing room to play as long as he could before picking up his second foul.
But these aren't normal circumstances.
"I've sort of made up my mind with him and (forward Jordan Morgan)," Beilein said. "If they get one (foul), they need to come out for a little bit."
Jon Horford's hurt, Blake McLimans is an unproven Big Ten commodity and mega-prospect Mitch McGary won't be on campus until next season.
And, by the way, league play starts Thursday. This could be a problem.
Michigan's current front court rotation is as follows: Smotrycz and Morgan are starting at the power forward and center spot, respectivey.
That's about it.
Horford has missed three straight games with a right foot injury and could miss more. As of last week, Beilein was unsure how long he'd be out.
McLimans received extended time in a blowout win over Alabama A&M, but against Bradley (a much more competitive affair), he only played three minutes.
McGary? He's busy searching for another backboard to break at Brewster Academy in New Hampshire. Something that makes for a cool YouTube video, but offers little present help to the Wolverine program.
One possible solution fans may point to is freshman forward Max Bielfeldt. However, Beilein has said the 6-foot-7, 240-pounder is likely in line for a first-year redshirt. There's no promise he'll sit out the season, but if he hasn't played by now, he's unlikely to start moving into conference play.
So, what are the solutions to Michigan's current front court quandary?
Joseph Tobianski | AnnArbor.com
Morgan and Smotrycz stay out of foul trouble
There's little questioning the overall improvement of Smotrycz this season.
He's posted two straight double-doubles, is shooting 57.9 percent from 3-point range while also showing an ability to finish at the rim.
"The basket's like the ocean for him right now," junior guard Tim Hardaway Jr. said recently of Smotrycz. "Every time he gets the ball and he's open, we know it's going in.
"If he's open, we're going to give it to him."
More importantly, Smotrycz has been able to hold his own on the glass. He currently leads Michigan with 6.7 rebounds per game, playing like a 6-foot-9, 230-pound player should.
Morgan, meanwhile, has been up and down this season. He's battled bouts of foul trouble and inconsistency, but is coming off his most efficient game in nearly a month, a 15-point, seven-rebound performance against Bradley.
"He's been working so hard in practice," Beilein said. "He's one of many that get frustrated with themselves. But I was happy he had some success there.
"He's working hard at this, to have a positive approach to go on to the next play."
There's no doubting Morgan and Smotrycz are Michigan's top two low-post options, and will be all season long.
But they've got to be able to stay on the court to prove it. There was little depth prior to injury, and careless fouls early could cause even more problems now.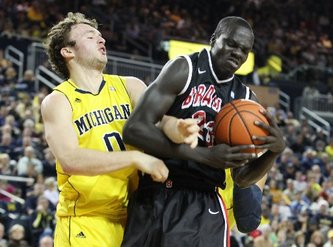 Jeff Sainlar | AnnArbor.com
Novak plays more on the block
When Smotrycz picked up his quick foul against Bradley, Beilein opted to go small. He inserted senior Stu Douglass into the lineup to play the two guard, moving senior Zack Novak from the back court to the four spot.
Novak has been forced to play inside several times throughout his Michigan career, and has more than held his own, considering he's only 6-foot-4. For his career, Novak averages 4.6 rebounds per game, and he finished as Michigan's leading rebounder a year ago with 5.8 per night.
This situation, though, is not ideal.
Novak has shown a high-level of improvement in his overall floor game this season, from his mid-range jumper to his ability to distribute. Even his 3-point shot (41.5 percent) has been more consistent.
If necessary, Novak can hang tough on the block for Michigan. But in reality, Michigan's offense (and defense) is far more efficient with him in the back court.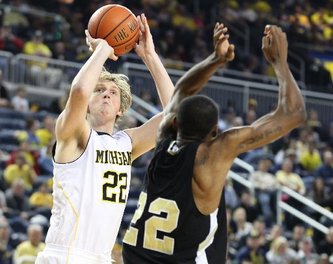 Jeff Sainlar | AnnArbor.com
McLimans becomes a true rotation player
The 6-foot-10, 240-pound McLimans has threatened to become a rotation player this season.
But the threat has yet to become a reality.
McLimans had four points, six rebounds and two blocked shots in 15 minutes off the bench against Alabama A&M -- a line Beilein and company would be thrilled to see every night.
However, against Bradley, McLimans had just one rebound in three minutes, as Beilein opted to use Novak down low more frequently.
As a low-post rotation player, McLimans has the ability to knock down the 3-pointer, something Horford can't do. He's 2-for-2 this season, but was just 1-for-19 a year ago.
"Between (Smotrycz) and Blake, we have the option now of having another shooter out there," Beilein said. "When you have a five who can shoot, it's a big difference in the game. It opens the floor."
The Horford injury offers a huge opportunity for McLimans (who is playing just five minutes per game). But can he take advantage of it against Big Ten competition?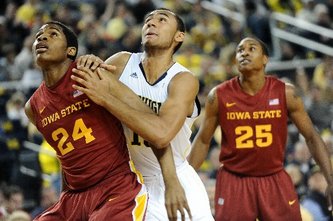 Jeff Sainlar | AnnArbor.com
Horford gets healthy
This would be Beilein's No. 1 scenario.
If Horford can return to form sooner, rather than later, Michigan would be able to effectively rotate two low-post bangers in Morgan and Horford, while also providing rest for Smotrycz.
Horford hasn't been outstanding this season, but he has shown the ability to defend the position and rebound (3.6 per game) while he's on the court (10.8 minutes per game).
A healthy Horford gives Beilein a very capable nine-man rotation, and its best shot at competing for a Big Ten championship.
***
This year's Michigan team is, and will continue to be, a perimeter-based ball club, with Hardaway, Burke and Smotrycz being the team's main offensive threats.
However, it won't survive the rough and tumble Big Ten with no interior depth. It just can't.
So, you either get healthy or get creative.
Michigan's sustained success this season seems to rely on the former.
Nick Baumgardner covers Michigan basketball for AnnArbor.com. He can be reached at 734-623-2514, by email at nickbaumgardner@annarbor.com and followed on Twitter @nickbaumgardner.
Want to stay connected to Wolverine basketball in your Facebook newsfeed? "Like" AnnArbor.com's Michigan Basketball News & Views.