Posted on
Thu, Mar 17, 2011 : 5:59 a.m.
Emotions under control, Tim Hardaway Jr. now is the Michigan basketball team's catalyst
By Michael Rothstein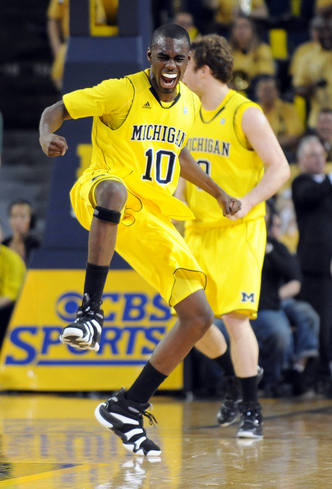 AnnArbor.com file photo
Tim Hardaway Jr. is an emotional player, the guy whose demonstrative nature can rally his Michigan basketball teammates.
But there was a time this season when those emotions were a detriment. As quickly as he'd fire up the Wolverines by pounding his chest after a 3-point basket, he'd show his frustration when things weren't going well.
"If somebody missed a shot or something, he just wanted to win and he'd be like, 'Oh, man,'" sophomore guard Darius Morris said. "I'd be like, 'Dude, it's not the end of the world.'"
To Hardaway, it felt like it. This was in January, when Michigan was skidding to a 1-6 start in Big Ten play and everyone on the Wolverines' roster was struggling.
His frustration was evident. He'd stand in the corner, waiting for a pass that never came.
When it didn't, he'd mope on the court, and his teammates noticed. It was the only time this year when the freshman guard from Miami acted like, well, a freshman.
To understand why the Michigan basketball team opens NCAA tournament play Friday against Tennessee (12:40 p.m., TruTV), all one needs to do is look at Hardaway and see how he's loosened up.
"It just affects people if they see it from afar or see it out of the corner (of their eye)," Morris said. "If you miss a shot or make a mistake on the court, you want to see someone positive lifting you up. He's doing a better job of doing that."
Hardaway's progress stems from a series of meetings with players and coaches following a 69-64 loss to Minnesota on Jan. 22. Since, he has been the catalyst for Michigan's turnaround, averaging 17.6 points since the Wolverines won at Michigan State on Jan. 27.
His ability to blow up on a team -- like when he scored 20 points in the second half of a home win over Michigan State -- motivated everyone else. He carried the Wolverines to wins over Iowa and Penn State — each critical in the NCAA tournament run.
JOIN OUR LIVE CHAT FRIDAY