Updated:

Without Manny Harris, Michigan basketball team struggles, loses to Purdue, 69-59

Posted on Sat, Jan 23, 2010 : 8:05 p.m.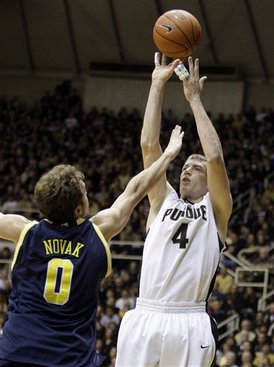 WEST LAFAYETTE, Ind. - Playing without star junior guard Manny Harris, the Michigan basketball team went inside again and again early Saturday against No. 13 Purdue. Before long, the Boilermakers collapsed on the Wolverines' DeShawn Sims.
With that, Michigan shut down, too, falling, 69-59.
Harris, Michigan's and the Big Ten Conference's leading scorer at 19.2 points a game, remained in Ann Arbor, suspended by coach John Beilein for unsportsmanlike conduct in practice. So Michigan relied on Sims more than usual.
It worked for the first 10 minutes, as Sims scored the Wolverines' first 13 points. No other Michigan player attempted a shot until almost 8 minutes into the game. No other Wolverine scored until sophomore guard Zack Novak hit a 3-pointer from the top of the key with 7:30 left in the first half.
By then, Michigan was down 10 points and in trouble for the rest of the game. The Wolverines missed Harris' scoring, his 6.7 rebounds per game and his ball handling. And Harris is Michigan's leader in steals and assists.
"It's like we're going through two adjustment periods, because you're playing a team like Purdue and … you have to adjust to the way they're playing defense," Novak said. "And you have to adjust a little bit to playing without Manny. But once we did, we were all right.
"It just took us a little too long."
By the time Michigan (10-9 overall, 3-4 Big Ten) found a rhythm, the Wolverines had given up a 16-2 run in the first half and a 14-0 run in the second half that put Purdue up 27 points, 59-32, with 12:41 left.
At that point, Michigan had more turnovers (13) than rebounds (11). It played sloppy and looked lost.
"They are, obviously, different a little bit without him out there," said Purdue guard Chris Kramer, who likely would have drawn Harris' assignment had he played. "Because he's always in attack mode, he can score in so many ways. He didn't play, and that was to our advantage."
The Wolverines cut into Purdue's lead behind 21 points from Sims and 16 from Novak on a game-closing 27-10 run, but by then, it mattered little. The Boilermakers (16-3, 4-3), with 21 points from junior forward JaJuan Johnson and 19 from junior guard E'Twaun Moore, were well ahead and even the student section had turned their attention from the game to heckling a fan leaving the game wearing an Indiana sweatshirt.
Beilein and his players, though, said missing Harris wasn't the reason Michigan lost. The Wolverines pointed to other reasons. Like nine first-half turnovers. Or Purdue's defense. Or being beaten up by Purdue's rebounding - Michigan had no offensive rebounds in the first half and six total. To compare, Purdue had seven offensive rebounds in the first half.
"Early on, we were pretty darn good getting the ball to DeShawn, and then they shut something down that we were doing and us to adapt to that, it was difficult," Beilein said. "I think it was more playing with short notice."
Senior Anthony Wright started in Harris' place and scored three points. Beilein declined to address Harris' status, instead pointing to his statement released before the game that said he would meet with Harris and his team when they returned to Ann Arbor "to determine if he has learned enough from this suspension to rejoin the team for Tuesday's game."
"As coach said, we didn't need no stars," Sims said. "We just needed a bunch of guys to fill that void and for the most part, in spurts of the game we didn't but for the most part, we did."
• Box score
• Big Ten Conference standings