Posted on
Sat, Aug 20, 2011 : 5:59 a.m.
3 things sure to be on Brady Hoke's mind during today's closed Michigan football scrimmage
By Kyle Meinke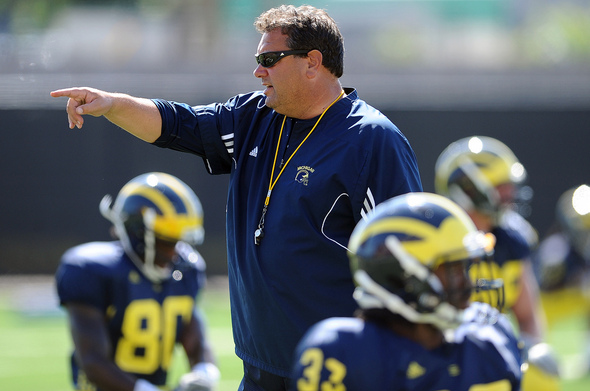 Melanie Maxwell | AnnArbor.com
Two weeks of the Michigan football team's fall camp are in the books. Two weeks remain before its season opener against Western Michigan.
And we still don't know much about this team, other than it'll show up to play Sept. 3 with 11 guys who play offense and 11 guys who play defense. There just might be 11 players who play special teams, too, although we're still waiting for comment on that one.
Yeah, it's been one of those camps.
Michigan coach Brady Hoke has played this one tight to the vest — so much so that, although the Wolverines return nine starters on both offense and defense, he's announced only five starters: Denard Robinson at quarterback, Troy Woolfolk at cornerback (or possibly safety), Mike Martin at nose tackle, Jordan Kovacs at safety and Matt Wile on kickoffs.
None of those guys are exactly surprises.
Hoke said he still hasn't determined his starters at most spots, and seems to mean it. He hopes to have a lot more figured out after today's scrimmage, which marks the halfway point of camp.
It's the first full-fledged scrap of the fall, and will be held at Michigan Stadium. Hoke said he would begin to pencil in his two-deep roster after seeing how players prepare for and react to the tilt, which is closed to the media and public.
"We're treating it like a game day," he said. "That doesn't mean we're going to kick off and do all that kind of stuff, but I want to see how they prepare for that scrimmage from a mental standpoint.
"We'll be 14 days away (from the opener), and how you prepare mentally to play your best football, whether it is watching tape or it is your intensity that you have, thinking about your keys, your reactions from whatever it is from a defensive mindset, and then the same thing offensively, (is what we're looking for)."
Players will look at the scrimmage as a proving ground for what they've learned since spring. They'll make their cases for playing time, especially younger guys such as Courtney Avery, Terrence Talbott, Nathan Brink, Frank Clark, Thomas Rawls and Stephen Hopkins, each of whom appears to be a contender to make the two-deep.
What is Hoke looking for in the scrimmage?
"If we're finishing plays on both sides of the ball and we're not having dumb penalties and we're taking care of the football," he said. "Now, the hard part is that we want to get the football back from a defensive perspective, but if we're doing those things, I may be a little happier (tonight)."
Hoke will be a happy guy if some combination of these things happen: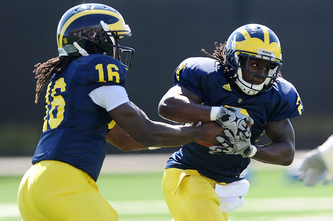 Melanie Maxwell | AnnArbor.com
A running back stands out
It's become more or less obligatory for Hoke and offensive coordinator Al Borges to begin their news conferences with an update on how no one's separated himself in the competition to become Michigan's featured back.
Hoke said at the Big Ten media days in Chicago last month he wasn't concerned no back emerged in the spring, but that he would be if he still didn't have his guy after two weeks of camp.
We're two weeks in, and he still doesn't have his guy.
Robinson looks comfortable
in the pocket

By all accounts, the junior quarterback has adapted well to the new pro-style scheme, and has picked up the footwork and concepts quicker than expected. But the knocks on him remain his decision-making and poise in the pocket.
Where's he at with two weeks to go? Coaches are pleased he's completing more than 70 percent of his passes in practice, but today's battle will give the staff its best idea yet where the quarterback is two weeks before everyone else finds out for themselves.
Someone steps up at defensive tackle

The favorites to play next to Martin appear to be junior Will Campbell and sophomore Nathan Brink, who are just about as opposite as two players can be.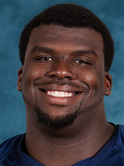 Campbell was a highly touted recruit with high expectations, weighs a robust 319 pounds (which is down from a ponderous 345 pounds) and has been criticized during his career for inconsistent play, focus and drive.
Brink is an unheralded walk-on who wasn't even all-state honorable mention in high school, packed on 45 pounds to weigh an undersized 265 and has been lauded by the staff for his effort, focus, fundamentals and coachability.
It remains unclear if the coaching staff's admiration of Brink is real, and he's a legitimate player for a starting spot, or if this is a motivational stratagem to get Campbell to perform. Or some combination of the two.
Either way, there are clearly issues at defensive tackle right now.
Hoke and his staff will have a better idea where they stand after today's scrimmage.
Just don't expect them to tell you a whole lot about it.
Kyle Meinke covers Michigan football for AnnArbor.com. He can be reached at 734-623-2588, by email at kylemeinke@annarbor.com and followed on Twitter @kmeinke.