Posted on
Wed, Dec 28, 2011 : 5:59 a.m.
5 position battles that will heat up as Michigan football team begins practice in New Orleans
By Kyle Meinke
After 12 games, the Michigan football team's lineup is mostly settled.
But coach Brady Hoke likes to encourage job battles as a way of keeping players sharp, and there are sure to be a few of them as the Wolverines (10-2) regroup today in New Orleans for their first practice since last week.
They will play Virginia Tech (11-2) on Tuesday in the Sugar Bowl (8:30 p.m., ESPN).
Hoke already has formally opened the punting duties to starter Will Hagerup and freshman Matt Wile, but the fiercest competition might be at free safety, where Thomas Gordon and Troy Woolfolk continue to battle for playing time.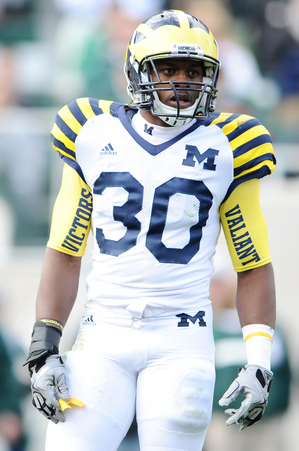 Melanie Maxwell | AnnArbor.com
Gordon began the season as the starter and played extremely well, including leading the team in turnovers. He forced four fumbles — the most in the Big Ten — recovered two others and had one interception.
He also had 59 tackles, third most on the team, and combined with fellow safety Jordan Kovacs to not allow a 40-yard play while the full-time starter.
However, the emergence of freshman corner Blake Countess — and, to an extent, Woolfolk's poor play there — led the coaching staff to slide Woolfolk to safety, where he started in front of Gordon in three of the final four games.
Gordon didn't play a single down against Iowa, and the two split time down the stretch, even though Gordon outperformed Woolfolk in games.
Hoke said he went with Woolfolk because he outperformed Gordon in practices.
Yet, when Michigan needed a stop late in the final moments against Ohio State, and the Buckeyes likely to pass because they were trailing, the Wolverines went with Gordon.
Woolfolk, meantime, was culpable for two long touchdown passes in the first half.
So, who gets the call against Virginia Tech?
That likely will be determined by their performances during this week's final stretch of practices. All but two of them will be held at Tulane University, including today's workout.
Other job battles that will heat up this week:
2. Wile vs. Hagerup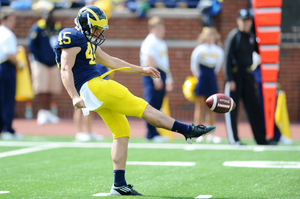 Melanie Maxwell | AnnArbor.com
Hoke has acknowledged the competition here, and said he won't name a starter until a couple of days before the game.
Hagerup was a star as a freshman last year, when he averaged 43.6 yards per punt, the second-best clip in school history. But he's experienced a precipitous decline this season, which began with a four-game suspension to begin the season.
He averages 36.8 yards per punt, nearly 7 yards off last year's mark. His longest boot is 50 yards, which he exceeded 10 times last year.
Michigan was the worst punting team in the Big Ten this year.
It's impossible to gauge how much of Hagerup's struggles can be ascribed to his suspension, but there's no question his leg has lacked the explosiveness it had last year.
Wile, meanwhile, performed at a high level while filling in during Hagerup's suspension. The true freshman, who also handles kickoff duties, averaged 41.1 yards per attempt and had two 50-yarders in four games.
There's no question Wile has performed better than Hagerup this year. Whether he starts will come down to how much Hoke values Hagerup's experience in a BCS game on a national stage.
3. Craig Roh vs. Jibreel Black
Roh has started all 12 games this year at weak-side defensive end, and he'll do the same against the Hokies. But he continues to split time with Black, who has come on strong this season.
Roh is a three-year starter, but Black's evolution has cut into his playing time. Although the starting spot is settled, the rotation is not. Black could make a case for more time with a strong week of practice.
It'll be interesting to see what the coaching staff does with Roh and Black in the off-season. Both have progressed throughout the year, and one could be split to the strong-side to get both in the lineup and shore up depth concerns due to graduating three of four starters up front.
4. Michael Schofield vs. Ricky Barnum
The left guard spot is expected to go to Schofield, who performed well in nine starts this year and might be the favorite to claim the position full-time going into next season.
"I think he's grown," Hoke said recently. "I think he's improved. I think he's really obviously better than he was at the beginning. But I think Michael has just really scratched the surface of how he can play offensive line at Michigan and that standard."
However, Barnum has remained the listed starter on the depth chart for every game this season and is highly thought of by the coaching staff. If his ankles are healthy, he could make a push to crack the rotation, even if Schofield is the primary option.
5. Desmond Morgan vs. Brandin Hawthorne
The coaching staff has raved all year about Morgan, who might have started at weak-side linebacker sooner if he hadn't suffered an injury in fall camp.
But when he was hurt, it was Hawthorne who got the bulk of the time to open the season. He started fast, including recording six tackles against Notre Dame and 10 against Eastern Michigan, before tapering off.
Morgan overtook him for the Purdue game, and he's been the guy since.
"He's always been very physical," defensive coordinator Greg Mattison said recently of the true freshman. "He's a real willing football player and, now, he's starting to make the transition of you don't just run into the guy every time, your job is to make the tackle. He's started to figure that out.
"He's been a guy that's gotten better and better and better."
Morgan is expected to start against Virginia Tech, but coaches have shown they are comfortable going with Hawthorne if the freshman struggles. He was pulled from the Notre Dame game after a mistake-riddled start, and left for a stretch against Iowa before returning.
Kyle Meinke covers Michigan football for AnnArbor.com. He can be reached at 734-623-2588, by email at kylemeinke@annarbor.com and followed on Twitter @kmeinke.