Posted on
Wed, Jul 27, 2011 : 2:31 p.m.
5 questions Brady Hoke will face at the annual Big Ten meetings
By Kyle Meinke
How will the Michigan football team fare under new coach Brady Hoke?
This season is so intriguing because, well, no one really knows.
The answer, though, certainly lies in how Michigan answers these five questions, which the Wolverines' contingent is sure to face Thursday and Friday at the Big Ten's media days in Chicago: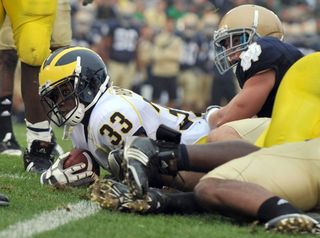 File photo
1. How much shotgun will Michigan run on offense?
The Wolverines are implementing a pro-style scheme, and already have received a verbal commitment from 2013 quarterback recruit Shane Morris to run it. In the interim, though, how will Michigan maximize the talents of junior quarterback
Denard Robinson, who finished sixth in the Heisman Trophy voting last season
largely for what he could do with his legs? Hoke surely will be asked about his usage of Robinson.
2. How long will it take to revitalize Michigan's defense?
New defensive coordinator Greg Mattison has a great pedigree as a 31-year college assistant and was successful the past three seasons in the NFL, but he also is taking over a unit that has posted a school record for points allowed in three consecutive seasons, and finished No. 108 in the country last year. Hoke will be asked about his expectation level for this year's edition, and how much improvement he anticipates it will make.
3. Who will be Michigan's featured back?
The Wolverines' switch to a pro-style offense will utilize a featured back, which former coach Rich Rodriguez eschewed in his spread-option attack. Who emerges as the leader to carry the load (Stephen Hopkins? Michael Shaw?) will be an ongoing discussion during fall camp.
4. How much will Michigan's field-goal kicking improve?
The only reason the question isn't "Will the special teams improve?" is because it can't get any worse after finishing 120th out of 120 teams last year. On-again, off-again starters Seth Broekhuizen and Brendan Gibbons are back, but will be rivaled by heralded true freshman Matt Wile. It might be only a matter of time before the three-star recruit, whom Scout ranks the fourth-best kicker in the country, supplants the incumbents.
5. Will receiver Darryl Stonum play for Michigan this season?
The senior starting receiver was suspended indefinitely this off-season after being charged with his second operating while visibly impaired. Hoke last spoke about the arrest June 11, when he said he still was evaluating Stonum's status. He'll certainly be asked this week whether Stonum will play this year, and about possible replacements.
Kyle Meinke covers Michigan football for AnnArbor.com. He can be reached at 734-623-2588, by email at kylemeinke@annarbor.com and followed on Twitter @kmeinke.